Canon Intros EOS M5 Mirrorless Camera with Faster Autofocus & Built-In Electronic Viewfinder
After appearing at times like it might bow out of the mirrorless camera market, Canon reaffirmed its commitment to the category tonight with the introduction of the new, top-of-the-line EOS M5. While the Canon M5 might resemble a DSLR, this compact interchangeable lens mirrorless camera is smaller and lighter than even Canon's tiny SL1 DSLR, the company said.
The Canon EOS M5 camera has a 24.2-megapixel APS-C sized CMOS sensor, DIGIC 7 image processor and what Canon is claiming as the fastest autofocus (AF) speed in the EOS M-series mirrorless camera line. (And if you've tried Canon's other, notoriously sluggish M models, this is not exactly a huge stretch.)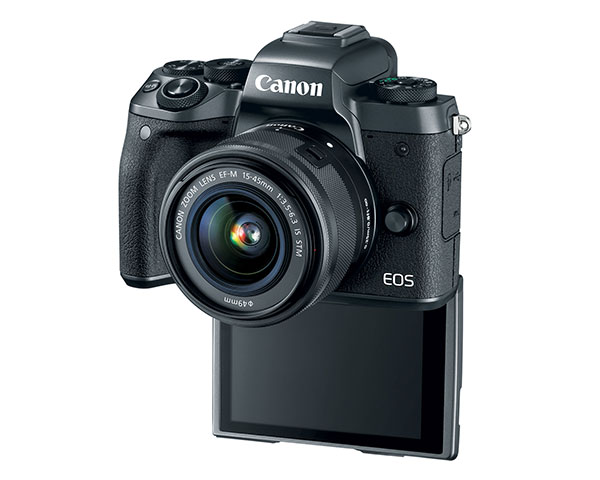 The Canon M5 is also the first model in the EOS camera line to include the low energy Bluetooth Smartfeature that can maintain a constant connection with your compatible smartphone or tablet when you use the Canon camera connect application and both applications are active. Canon also introduced the new EF-M 18-150mm f/3.5-6.3 IS STM lens tonight to pair with the EOS M5.
The Canon M5 mirrorless camera has a built-in electronic viewfinder (EVF) and Canon's Dual Pixel CMOS AF for capturing stills and shooting video with what Canon describes as "smooth and precise autofocus." This allows for Touch and Drag AF so users can switch the subject of their focus by dragging the AF frame directly on the LCD panel, while looking through the camera's EVF. Focus peaking allows users to highlight the area of the image that is in focus from within the EVF or LCD monitor. Along with its touchscreen operability, the EOS M5 camera also has handy dials that allow photographers to more quickly adjust settings on the go.
Here's a rundown of the Key Features of the new EOS M5 Camera, according to Canon
• 24.2-megapixel CMOS (APS-C) sensor, ISO 100–25,600.
• Fast and smooth Dual Pixel CMOS AF designed to help you capture stills and shoot video with quick and precise autofocus.
• High-speed continuous shooting at up to 7 frames per second (up to 9 fps with AF Lock) and new DIGIC 7 Image Processor with improved AF tracking performance.
• Full HD 60p designed to help capture fast-moving subjects in MP4 format.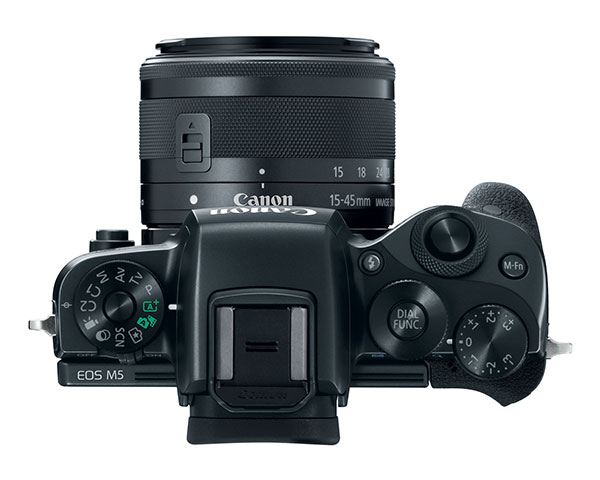 • Digital IS with 5-axis image stabilization when shooting movies plus increased image stabilization with both lens optical IS and in-camera digital IS when shooting with an IS lens.
• Built-in high-resolution EVF (approx. 2,360,000 dots) with new Touch and Drag AF lets you manually move the AF frame displayed for more precise focusing in different shooting situations.
• Touch screen 3.2 tilt-type (85° up/180° down) LCD monitor (approx. 1,620,000 dots) enables flexible positioning and clear viewing.

• Customize functions while shooting using the Main Dial, Quick Control Dial, Dial • Function Button and Exposure Compensation Dial.
• Built-in Wi-Fi and NFC allows for easy sharing and transferring of images and videos.
• Equipped with Bluetooth. Smart for smooth pairing with a compatible smartphone by powering on both devices for easy photo sharing and remote control possibilities.
• Shorter camera startup time and interval time between each image capture for a more efficient shooting experience.
• Compatible with EF-M lenses as well as the full line of EF and EF-S lenses and Speedlites for expanded creativity.
The Canon EOS M5 also features Combination IS with in-camera 5-axis image stabilization, while capturing video, which is a first in the Canon EOS series. With a compatible lens attached, Combination IS combines optical IS and in-camera digital IS to help create smoother videos. The DIGIC 7 Image Processor makes the 5-axis IS possible even with lenses that do not contain IS, because the in-camera image stabilization functions independently to help reduce camera shake when shooting videos.
Additionally, the EOS M5 camera shoots time-lapse videos. The EOS M5 camera also allows for easier panning by setting the optimal shutter speed after analyzing the camera's panning speed and how fast the subject is moving.
The new Canon EF-M 18-150mm f/3.5-6.3 IS STM lens offers a high-zoom ratio. Its image stabilizer is designed to help reduce image blur and make image and video shooting easier at longer focal lengths. Along with the enhanced performance, the EF-M 18-150mm f/3.5-6.3 IS STM lens is compact and lightweight
Here are the key Features of the new EF-M 18-150mm f/3.5-6.3 IS STM Lens, according to Canon:
• Canon's first EF-M high-zoom power lens covering a broad range of shooting scenes with a high-zoom ratio of up to 8.3x (29–240mm equivalent).
• Compact and lightweight design allows for easy portability.
• Optical design helps provide excellent image quality across a broad zoom range comparable to the EF-S 18–135mm f/3.5–5.6 IS USM lens.
• Maximum magnification of 0.31x at focal length 150mm.
• Image Stabilizer effect at up to 4 stops of shake correction helps capture sharp images.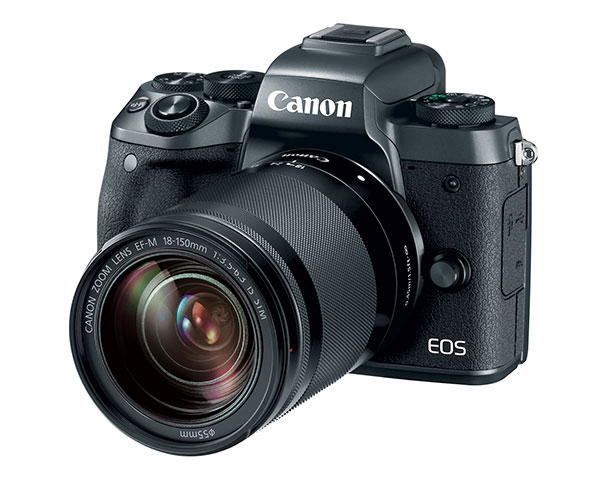 Pricing and Availability
The new Canon EOS M5 camera is slated to go on sale in November 2016 for $979.99, body only. It will also be sold as part of body-and-lens kits with the EF-M 15-45mm/F3.5-6.3 IS STM zoom kit lens. The estimated retail price for that kit is $1,099, and it's scheduled to be available early November 2016. The Canon M5 will also sell as a kit with the new EF-M 18-150mm f/3.5-6.3 IS STM lens for an estimated retail price of $1,479. That M5 kit is scheduled to be available early December 2016.
The new Canon EF-M 18-150mm f/3.5-6.3 IS STM lens, available in graphite and silver colors, is scheduled to be available in December 2016 for an estimated retail price of $499.99.
Additional optional EOS accessories include a Body Jacket (EM-E2) and Neck Strap (EH29-CJ) that come in black or brown.