Canon EOS 20D
The Canon Digital SLR Continues To Evolve Page 2
And More New Stuff
A newly developed shutter, with smaller blades and shorter travel distance, thanks we're told to the smallish APS-C sensor, allows for a top speed of 1/8000 sec and more rugged shutter performance. And due to less power consumption, the EOS 20D is claimed to have 50 percent higher shooting capacity than the EOS 10D. We worked extensively with the camera using flash and monitoring exposures and could get by on a charge for numerous shoots and days. This may not work that way for you, depending on your shooting and reviewing habits, but we were very impressed with battery performance.

But what's most intriguing is the new Multi-Controller, now an eight-direction toggle for autofocus point selection, scrolling during playback and setting white balance compensation.

Speaking of white balance, it's said to be more stable at higher ISOs and easily modified and refined. Both magenta/green and blue/amber bias can be set separately, which means that you can set the processor up to behave like a color conversion filter. According to Canon, one level of the nine available is equivalent to 5 mireds of a color temperature conversion filter. (In other words, going two steps is like changing from an 81A to an 81B filter.) Unlike working with CC filters on the lens, however, there is no exposure compensation required.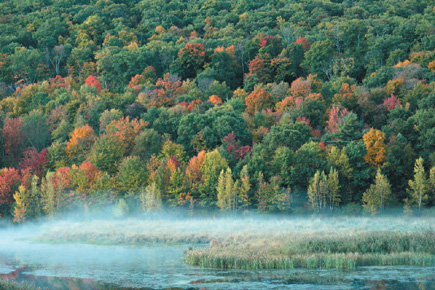 This scene was shot at ISO 800 with a tripod-mounted exposure of 1/4 sec. It was made before sunrise and really grabbed the color from this misty fall pond.
One of the features that black and white fans will enjoy is the one that allows you to add the effect of a color filter for contrast control when you make the shot, much like Photoshop's Photo Filters control. In our tests the yellow and orange and especially the green filter effect worked fine, but we felt that the red effect didn't quite have the punch of actually mounting a red filter over your lens. We got into the habit of working with the green filter with foliage and the orange for deepening blue sky. By the way, if you shoot raw you can make all these changes in the Canon software later.

You can program setups, like black and white/green filter, or high contrast/color saturation into the Processing Parameters memory bank, of which there are three, and call on them later. Unfortunately you can't name these so you'll just have to remember them or put a cheat sheet on your neck strap, like a folk singer does with his or her tunes on the guitar body.
As mentioned, all of this becomes unnecessary when you shoot in Canon's raw mode, in this camera the new CR2 format. This is the second edition of Canon Raw, and you should download the new software that comes with the camera to be able to process and convert later. We're sure that Adobe Photoshop CS and Elements 3.0 will have an update for this when this article goes to press. Our raw shots wouldn't read in the CS Browser, but again we are pretty sure yours will by the time you read this. The Canon utility did fine and allowed us to batch convert to TIFF or JPEG with ease. Another way around this is to choose the raw+ recording option so you can see the JPEG images if not the raw in your Browser, then deal with the raw images in the Canon software later.
The ability to change ISO on the fly gives you the ability to change settings to match every subject and scene. At its native ISO 100 the EOS 20D delivers crisp, colorful images as seen in this photo made at the Cologne train station.
Raw is rightly described as the "delaying processing until later" option. The raw writes about an 8.7MB file to your card if you choose the raw alone option. There's no TIFF, but you do have JPEG available in Large, Medium, and Small with two compression levels in each available. As mentioned, you can also shoot in raw+, which delivers raw plus any JPEG size and compression that's available. These are written as two separate files. Of course this cuts down on card capacity, but it's nice to have as an option. And when opened raw gives you a near-24MB file, great for 11x14 prints.

Body construction is certainly sturdy, with a chassis of stainless steel and front and rear covers of magnesium alloy. And, as mentioned, there's a 1.6 ratio on EF lenses, thus an EF-S 10-22mm lens yields the equivalent focal length of a 16-35mm lens on a 35mm or full-frame sensor body. We knocked around with the camera on two continents and all the travel points in between and it showed narry a scratch.
Raw is the format you use when you want to put off processing the image until later. It also allows you to shape the image in many ways. This scene was photographed in very dull light (left) using Canon Raw. In their raw utility software I added +1 exposure compensation and upped contrast and color saturation by one step. Yes, you can do this in the camera, but not with the kind of nuanced control raw processing affords.
In short, when it comes to specs, the EOS 20D delivers the goods. But how does it perform in the field? We carried the camera on a couple of recent jaunts and, having worked with numerous EOS film and digital cameras, immediately felt at home. As mentioned, when it comes to essential functions, such as changing ISO, white balance, exposure mode, exposure compensation, etc., the EOS 20D is everything we'd want in a traveling companion. We especially liked the ease of changing the focusing target with the toggle on the camera back, and took immediately to the focus lock and exposure lock functions, again, something every EOS user will understand and others will be quick to learn. The shooting modes include all the usual, although putting Scene modes on a $1500 camera seems unnecessary. Playback was swift and having the ability to zoom into and move around a preview very helpful.
In another situation, I was shooting at ISO 400 in the woods because the light was low and I lacked a tripod. Coming upon this waterfall under the same lighting conditions I dropped the ISO to 100 and steadied the camera on a rock, which gave me a shutter speed of 1/8 sec, slow enough to capture the flow effect I wanted.
Any drawbacks? The very low-light focusing could be improved, as we did have trouble with some pre-dawn shots. Going to manual of course allowed us to overcome that, but it's not so easy to focus in low light. It would be nice to be able to change the format (JPEG, raw, and combos) without going into the menu. Also, readers should be aware that there have been some firmware upgrades on the camera. If you are looking at a camera to buy, check the Menu and go to Firmware Ver and make sure it's 1.0.5 (also, please check the Canon website to see if this has been upgraded again since we went to press). If it's not, it's important that you have it upgraded as earlier versions of the firmware had some potentially serious bugs.
The back panel on the EOS 20D allows, from top to bottom on the left, quick access to the Menu, which gives you a complete scroll through using the Command Dial for all shooting setup options. That's followed by the Info button, the Jump button (for more rapid review), and the Playback button, which brings up images very quickly when you're ready to edit. The delete button sits at the bottom. Along with scrolling through and helping you select Menu items, the Command Dial is very handy for rapid exposure compensation decisions. On the upper right sits the eight-direction Multi-Controller, which helps you handle a number of tasks, including setting the autofocus point, setting white balance correction, scrolling around a magnified image, and moving the trimming frame when
doing direct printing. The LCD display is for playback only, as with all digital SLRs.
The Canon EOS 20D is certainly a worthy evolution in the Canon digital SLR line-up that delivers excellent, high-resolution files and is a breeze to use. It's what an SLR should be--fast, responsive, and able to get out of the way when it's time for photographs to be made.
The top panel of the EOS 20D gives access to many shooting and digital controls, making quick decisions in the field easy. The AF/WB button lets you pick an autofocus mode and white balance; the Drive/ISO button lets you pick single or continuous drive and from ISO 100-1600 (3200 is selected from the Menu); and the Metering Mode/Flash exposure button does what it says.
Technical Specifications
Sensor: CMOS, with 8.2 effective megapixels
Media: CompactFlash Type I and II (FAT 32 compatible)
Recording Format: JPEG (various resolutions and compression ratios), raw, raw+ JPEG (various compression ratios and resolutions on JPEG)
Color Space: sRGB, Adobe RGB
White Balance: Auto, Daylight, Shade, Tungsten, White Fluorescent, Flash, Custom, Color Temperature setting
Autofocus: Nine autofocus points
Exposure Modes: 35-zone TTL, Evaluative, Partial, Spot
ISO: Auto, 100 (native) to 1600, extendable to ISO 3200
Exposure Compensation: Manual, +/- 2 EV, autoexposure bracketing available
Shutter: 1/8000 to 30 seconds, bulb, X-sync at 1/250 sec
Flash: Built-in, E-TTL II Autoflash, Guide Number 43 (ISO 100/ft), flash zcompensation available
Drive: Maximum, 5 fps
Playback: Highlight warning, zoom, information
Weight: 24.2 oz
Size: 5.7x4.2x2.8"
Price: Approx. $1500, body only

For more information, visit Canon's website at: www.usa.canon.com.