Canon's Speedlite 580EX II & Metz's Mecablitz 58 AF-1C Digital;
I've been a long-time proponent of Canon Speedlites, and also an avid follower of Metz flashes. I always liked the Metz for its sturdy quality and reliability--I'd owned a Metz potato masher (handlemount, in the old vernacular). But when I switched to the Canon EOS system, I became a devout Canon shoe-mount advocate, finding these flashes dependable and robust. I watched Canon Speedlites evolve over the years, to the point where it seemed to make no sense to use anything else. When the 580EX came along, I immediately bought one to supplant my 550EX as my main flash. (I also keep the smaller, less-powerful 430EX around for less-demanding tasks, and because it's handy for multi-flash setups.) Then the Metz unit appeared on the scene, and I was tempted. But before I had a chance to act, Canon revamped the 580EX and came up with the 580EX II. With this flash, Canon finally had a shoe mount with an auto-thyristor control option as an alternative to E-TTL/E-TTL II (Canon calls it "external metering"--and there's a catch to the way it works). So, should I scrap my 580EX and replace it with the newer 580EX II, or switch to the Metz 58 AF-1C? After all, the two shoe mounts have much in common. Not an easy choice. (I should add that there is a Nikon compatible Metz 58 AF-1N. You can get more information at Bogen's website, or at www.metz.de/en.)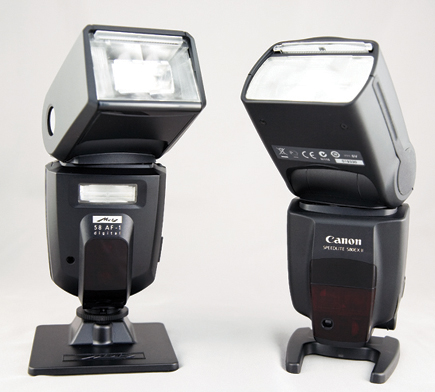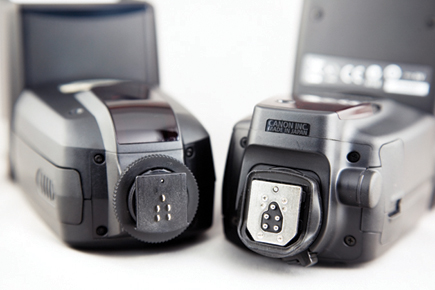 (Above Top): Flash Front--Shown seated in the included mini-stands, the two flash units have much in common, including an auto-sensor on the front--something new to Canon flash units, providing auto-thyristor control in addition to E-TTL/E-TTL II and TTL flash. (Center): Flash Foot--The Canon flash foot (right) is now metal for enhanced durability, in contrast to that on the Metz unit. You'll also note that the Metz features the traditional thumbwheel to secure the flash to the camera's hot shoe, whereas the Canon employs a locking lever with release for speed and added security. (Above): Flash Back--While the flash-ready signal is green on one, red on the other, more significant differences lie in the way functions are accessed on the two strobes. The Canon (right) clearly labels the basic functions. That said, such things as wireless operation are actually easier to set on the Metz flash. You'll also note that the battery compartment on the right side of the Canon flash has a release latch--something new that sets this flash apart as well.
The Good And The Quirky
Simply stated, practically anything you could ever want in a shoe-mount strobe is found in these two flash units. They both offer E-TTL II, E-TTL, and TTL control with compatible Canon EOS cameras (standard TTL is less reliable); flash exposure compensation and auto flash bracketing (remember: settings on the flash override those made on the camera); high-speed sync; flash coverage that corresponds to image sensor size; swivel and tilt (including macro tilt); stroboscopic flash; modeling flash; and wireless remote operation, to name some of the more salient features. However, there are some differences in the way each flash unit can be set up to deliver a few of these features or in the scope of these functions (see Table below).
Canon's Speedlite 580EX II Vs. Metz's Mecablitz 58 AF-1C
Choosing between these two flash units is not easy. Hopefully this table will help in the decision-making process. (Note 1: E-TTL and E-TTL II may not be available when either flash is used with older EOS models. Note 2: On the Metz unit, certain functions, such as E-TTL and high-speed sync, become available--and the settings visible on the display panel--only when the flash is connected to the camera and the camera is turned on.)

Feature/Model

Canon 580EX II

Metz 58 AF-1C

GN (in feet at ISO 100, max. zoom)
190
192
Flash Coverage
24-105mm (auto + manual zoom); 14mm with wide panel
24-105mm (auto + manual zoom); 18mm with wide panel
E-TTL II, E-TTL, TTL Flash Control
Yes
Yes (camera may need to be connected/on for certain functions to be displayed)
Auto-Thyristor Control
Yes (activated via CFn button)
Yes (activated via Mode button)
Manual Flash Control
Yes (with ratio control to 1/128)
Yes (with ratio control to 1/256)
Flash Exposure Compensation/Bracketing
Yes (to +/- 3 stops)
Yes (to +/- 3 stops)
Color Temperature
Controlled through compatible camera
5600K
Flash Coverage Matches Image
Sensor Size
Yes
Yes
Secondary Reflector
No
Yes (activated via Select button--with bounce flash)
Bounce Panel
Yes
Yes
Swivel & Tilt
Yes (-7 macro tilt to +90Þ bounce tilt; 360Þ swivel
Yes (-7 macro tilt to +90Þ bounce tilt; 270Þ swivel)
High-Speed Sync/2nd-Curtain Sync/ Stroboscopic Flash/Modeling Flash
Yes (via various buttons)
Yes (via various buttons--camera may need to be connected/on for certain functions to be displayed)
Wireless Control
Yes (activated by holding down Zoom button)
Yes (activated via Select button)
Custom Functions (to control various operating parameters)
14 (available via CFn button)
Limited and not actually referred to as custom functions (available via Select button)
Backlit Digital LCD
Yes (manually activated)
Yes (automatically activated)
Hot Shoe/Locking Mechanism
Metal/lever with release
Plastic/thumbwheel
USB Firmware Updates
Not applicable
Yes (via USB terminal on flash--but without any actual firmware updates to date, this is a questionable benefit)
PC Socket (for conventional sync cord connection)
Yes
No
Water- & Dust-Resistant
Yes
No
On/Off Switch
Two-position lever
Two-position switch
Battery Compartment
Adds locking latch
Conventional
Size
3x5.4x4.6"
2.8x5.9x4"
Weight
14.3 oz
12.4 oz
Price (online retailer)
$430
$375
Pros
Simple interface makes it easy to access basic functions; weather/dust-resistant; automatically reverts to Normal Sync mode when seated in camera hot shoe even if previously set to Slave Sync mode; wide wireless sensor acceptance angle.
Secondary flash head is really handy for fill flash when using bounce lighting (although it can cast a shadow on a nearby background); setting wireless flash is simpler on this unit; display automatically lights when any button is pressed--I love this feature!
Cons
You may have to hunt down the more esoteric functions, such as wireless flash; display annoyingly blinks when flash head is tilted upward or swiveled--head has to be reset to basic position when making settings.
Complex menu tree and interface: buttons are not clearly identified so you're never sure which button does what; manual is too big to carry conveniently and not user-friendly; needs a direct line of sight for wireless slave-sync.

LATEST VIDEO