Canon's EOS-1Ds Mark II
The Digital SLR Big Shot Page 2
· M
etering modes:
There are five of these, but I stuck with Evaluative, with AE lock for most of my work, a holdover from my old slide shooting days. I have come to trust this mode just as I usually like to shoot in Program exposure mode with Shift, which I find gives me the quickest way to work. But you also have the option to use Partial, Spot, Center-Weighted, or Spot linked to the AF target point selected, which is probably the most nuanced of all. A wrinkle is Multi-Spot metering, which allows you to measure around a scene to figure out contrast ratios, a very useful item for studio photographers and a feature that harkens back to the old Olympus OM-series cameras.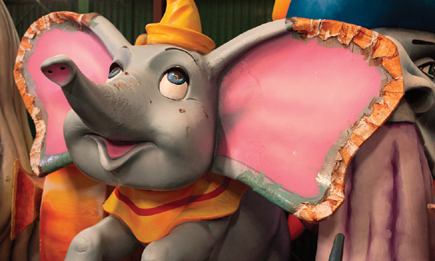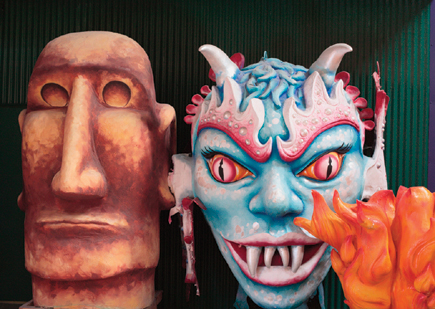 Mardi Gras World: One of the must visits for photographers in New Orleans is Mardi Gras World, located across the Mississippi in Algiers, Louisiana. For these shots I used a Canon 50mm f/1.4 USM lens, and took advantage of the maximum aperture for these available light shots inside some of the "prop" barns. The twin props and Dumbo statue were made at ISO 800, while the huge face mask, which hung in a dimly lit portico, was exposed at ISO 1600. No after-exposure work was done on the ISO 800 shots, while I did use a slight Levels adjustment in Photoshop for the face mask. All the information I saw there was recreated in the file, which is just what you'd want from any camera.
· Bracketing and Compensation: There is in Display, or playback, a histogram read-out with out of range warning displays, but this might be unnecessary if you're into bracketing and editing. The camera allows you to bracket exposure (as usual, with shutter speed brackets in AV mode and aperture brackets in TV mode), ISO speed, flash output (with E-TTL II or FEB-compatible flash units), and the aforementioned white balance bracketing. You can bracket in continuous or single drive mode.

· Custom and Personal Functions: There are numerous ways you can customize the camera to your way of working. I like #4, which allows me to link or unlink the AE lock button with the AF lock; #9 for autoexposure bracketing sequence; and #10, which dims or lights the AF point or points (I like `em lit). One very interesting Custom Function is #15, which if I read it right allows those with EX-series Speedlites lacking a second curtain sync feature to gain one.

Along with Custom Functions comes Personal Functions, which can be used to register and recall a group of Custom Functions, to restrict the number of shots made during continuous drive mode or to loop bracketing sequences during continuous shooting, which means you can follow subjects around through all sorts of light and keep the bracket sequence going and going.

All in all, access to and control over critical and even nuanced shooting controls on this camera is superb. Handling is a pleasure, although it must be mentioned that this camera is a bit on the heavy side. Heard of tennis elbow? Work with this camera for a day and you'll know its weight, especially if you're used to working with a polycarbonate or equally lightweight camera. But I guess that's the price you pay for a pro-level body.
Raw File Processing: All the shots in this test were made in raw+JPEG format, which gave me a full raw file plus Level 2 JPEG. Raw processing with the Canon Digital Photo Professional software was easy and efficient. The software really shines when it comes to nuanced color correction. This shot was made inside a shop in the French Quarter on Auto color balance mode at ISO 1600. I tried various color temperature settings, then used advanced controls to get it just where I wanted, which was a bit warmer than the Flash setting picked. To check out the noise level at this sensitivity I enlarged a portion of the frame in Photoshop, and performed no noise processing procedures. Noise is not apparent in full-frame enlargements, and just begins to creep in the blue areas on this super crop, very impressive performance indeed.
Power is supplied by an integral (but slip out) Ni-MH pack, which takes about two hours to go from dead to full charge. According to Canon, the fully charged pack delivers about 1200 shots, but I never ran out throughout day to night shooting, with some excessive chimping breaks in between. But be forewarned that the battery charger, with two connectors should you want to charge two packs simultaneously, is almost as big as the camera, which makes packing the charger along fairly cumbersome.

So, all these functions are great, but how's the image quality? I can say without reservation that the EOS-1Ds Mark II produced the best quality digital image files I have encountered from a digital SLR. This shouldn't be surprising, due to the large files and full-size sensor (thus large pixels). But as we have learned, pixel count isn't all there is to digital image quality. There's color repro, sharpness, and that elusive quality one can describe as smooth tonality, much of which is delivered by the digital processing system in the camera. The nuance of colors captured, the size of files and subsequent print sizes available, and the tonal range the sensor seems to deliver is, in one word, amazing.

I did shoot most of the images in raw, as mentioned, and by now we all know that raw is the deferment of image processing until later, which means that you do get to spend a good deal of screen time to get these images where you want them to go. I worked with the Canon Professional Raw converter software and after a while found that I could wring just about anything I wanted from the images. This was especially true when it came to portraits, which I found benefited from either setting the Portrait color matrix when I shot or adding a bit of warmth (my taste) later using the Canon Raw software. After playing with nuanced white balance and the various other settings I appreciated what the CR2 raw files contained and suggest that it's the best way to go with this, and other high-end pro digital cameras. But you do get to spend some extra time that you might have had a lab handle in the past. But such is the price of this digital world.
Street Shooting: While a bit on the heavy side, which you'll feel after a full day's shooting, the camera is ideal for street photography. With the very large file sizes, the ability to make simultaneous JPEG thumbnails as proofs, and the excellent response to all levels of light, this is the ultimate stock photographer's travel camera. Here's a weathered wall in the Garden District of New Orleans, which displays as a large print and on screen as subtle, sharp, and color faithful. I exposed at ISO 100 in Adobe RGB color space. Just for fun I did a super crop on this shot as well, which shows how well the detail and sharpness holds up. There's no question that having this size sensor and file size allows for a healthy crop even if you're going for 8x10 prints or reproduction sizes.
One thing I did notice is that the raw files and the accompanying JPEGs looked a bit different, as if the JPEGs took on the image parameters I had set and the raw did not. This can apparently be rectified with a Firmware upgrade, probably available on current production cameras but something that did not jibe in my early camera release tests. The upgrade, should you need it, is available on the Canon website.

And, having image files this size means upgrading, should you not have already done so, to a DVD burner, FireWire, or USB 2 compatible systems and all the accoutrements that befit very large file sizes. CD storage becomes a rather paltry and time-consuming (and CD consuming) exercise, as does working the files should you have skinny RAM on your computer. This camera means getting serious about all the other matters and materials that come with pro-digital shooting.
So, what about that price? Apparently this is not a barrier to some, as a week after working with the camera I walked into a pro shop and witnessed a buyer picking one up at a counter, and happy to pay whatever he was charged for this beauty. To get this kind of quality these days, with the full-frame sensor and megapixel count, that's the going rate. Integral or add-on backs with equivalent power for medium format cameras run a bit more than this, also without any lens or flash add-ons. The EOS-1Ds Mark II is unique in its class. Nothing as of this writing competes with it, but then again nothing in the digital SLR space costs this much.
Exposure Response: One of the keys to a pro camera is responsiveness to changing or challenging lighting conditions and the ability to deliver a useable exposure right out of the camera. I found that in all sorts of lighting conditions the EOS-1Ds Mark II delivered the goods. This grab shot of an artist at work in Jackson Square was made late in the day as the light slanted heavily across the frame. Shot at ISO 100, the Evaluative metering, center-weighted pattern with exposure lock engaged did the trick.
In the end it's what you will use the camera for and how you might justify spending $8000 for a body. If you're a wedding pro, portrait photographer, or you're doing site photography for an architect, or similar work, then you might consider this as your step into digital from medium format. You certainly don't need this camera for candid photography at weddings (where print size won't go above 8x10), news, or sports--the file sizes it can deliver are a bit of overkill. But if you're looking for a top-level digital SLR that can handle everything from high-res stock to portraits to making images for big prints, then you'll certainly get your money's worth.
Lexar's 8GB CompactFlash Card
For our tests we had an opportunity to work with Lexar's new Pro series 40x CompactFlash card with write acceleration. Shooting just raw files, which kick out at about 14.6MB, the card allows you to get about 480 images without having to swap. The card never stalled the picture-taking process, even when we did some burst shots, due in part to the Write Acceleration feature and the Canon processor. Note that this is a FAT 32 card, so check specs on your older digicams to ensure that it is compatible. Almost all digital SLRs today will take the card without problem.


Technical Specifications
Sensor: 24x36mm ("full frame") CMOS, 16.7 effective megapixels
Cards: CompactFlash and Secure Digital, dual slot
Formats: JPEG (four levels of compression), raw (12 bit); raw+JPEG simultaneous recording possible
Patch: FireWire, USB
Viewfinder: 100 percent coverage, interchangeable focusing screens
AF: TTL-AREA-SIR, 45 points available, in groups
Metering: 21-zone TTL; Evaluative, Partial, Spot (center spot, AF point linked, multi-spot)
Flash: No built-in flash; E-TTL II capable
ISO: 100-1600, custom set to ISO 50 or 3200
Shutter: 1/8000 sec to 30 seconds, bulb, X-sync at 1/250 sec
Drive: Four fps, 32-shot burst in JPEG, 11-shot burst in raw
LCD: 2.0"
Sound: Voice annotation on images available; 30-second recording time
Direct Printing: Yes, CP Direct, Bubble Jet Direct, PictBridge compatible
Power: Ni-MH NP-E3 battery pack, up to 1200 shots at 68ÞF
Size: 6.1x6.2x3.1", without lens
Weight: Body only, 42.9 oz
Price: $8000 as of this writing, body only

For a full list of specifications, visit www.canoneos.com.

For more information, visit Canon's website at: www.usa.canon.com.