Canon's EF 85mm f/1.2L II USM; Portraits Plus Optical Speed Page 2
The EF 85mm f/1.2L II USM is so fast that... How fast is it? Shooting outdoors on a sunny day at ISO 100 with a Canon EOS 30D and the lens wide-open, the required exposure exceeded the camera's maximum shutter speed of 1/8000 sec. I had to stop down to f/1.6 to get proper exposure with the least possible depth of field. On a cloudy (really cloudy, not a "cloudy bright") day I was able to shoot wide-open at ISO 100 and get good exposures at 1/1600 sec, which produced tack-sharp images with a delightfully shallow depth of field.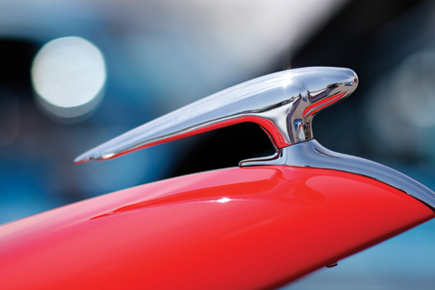 Even at f/1.6, the EF 85mm f/1.2L II USM delivers good bokeh. This characteristic is generally considered to be a product of the aperture's shape (note the almost perfectly circular out-of-focus highlight) and spherical aberration that's inherently produced by a lens.
Bokeh is an optical buzzword derived from the Japanese word for "fool" (as in it's not nice to fool Mother Nature) and is used to describe the pleasing quality of an image's out-of-focus areas. A little more subjective than the Richter scale, most photographers know good bokeh when they see it, even if they don't know the term. At f/1.2, the EF 85mm f/1.2L II USM produces a pleasant bokeh.

For a while I stopped being a fan of Skylight, UV, or even protection filters, but putting a scuff mark on the front of my (expensive) EF 10-22mm zoom convinced me otherwise. Similarly, you'll want to invest in a high-quality 72mm Skylight (or whatever) filter to protect the front element of a $2000 lens like this one. While filter shopping you might also want to pick up a Neutral Density filter to let you use the lens at its widest aperture on sunny days. A lens hood is also a good idea, but while there's a nice pouch included in the box, the (ES-79II) lens hood is a $50 option.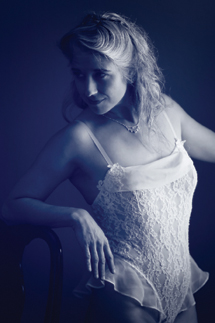 To create this faux cyanotype I photographed Lorie using only the window light coming through my back door. (The cyanotype was invented by Sir John Herschel in 1842 and was the first successful non-silver photographic printing process. It's blue, hence the name.) Image was captured directly in monochrome using the Canon EOS 30D's blue toning capabilities. Exposure was 1/125 sec at f/2.8 at ISO 320. Camera was in Shutter Priority mode and deliberately underexposed by 1/3 stop to increase shadows and blue saturation.
To paraphrase Speed TV's Tom Hnatiw (www.dreamcargarage.com): Do you need a lens like this? If you are a professional photographer the stunning image quality Canon's EF 85mm f/1.2L II USM delivers is what you want and your clients expect. If you shoot weddings and portraits, the ability to capture luminous low-light portraits gives you an edge in capturing that decisive moment, and can make the different between a good shot and a great one. Do you want a lens like this? Oh yeah, but it's still heavy.
Technical Specifications
Focal Length & Maximum Aperture: 85mm, f/1.2
Lens Construction: Eight elements in seven groups
Focus Adjustment: AF with full-time Manual
Closest Focusing Distance: 3.2 ft
Filter Size: 72mm
Max. Diameter x Length: 3.6x3.3"
Weight: 36.2 oz (2.26 lbs)
Price: $2099

For more information, contact Canon U.S.A., Inc., One Canon Plaza, Lake Success, NY 11042; (800) 652-2666, (516) 328-5000; www.canonusa.com.

FEATURED VIDEO