Candid Camera
Casio's Exilim Card EX-S100
Photos © 2004, George Schaub, All Rights Reserved
Dubbed "the world's smallest optical zoom digital camera," the Casio Exilim Card EX-S100 is business-card size at a mere 0.66" thick and just 3.46" at its longest dimension. But despite its size the EX-S100 yields excellent color files from its 3.2-megapixel chip and has a whopping 2" LCD screen and a quite good 2.8x zoom lens. To top it off it has a stainless steel body, a built-in flash, and works with those slim Secure Digital (SD) cards. The camera focuses fast and has virtually no lag time, the duration between pressing the shutter release and the moment the image is recorded. In short, it's the ultimate candid camera, offering both diminutive size and quick response to subjects and scenes before you.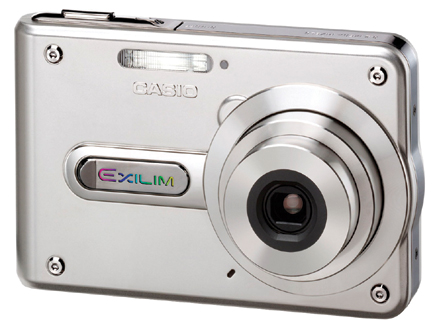 Would we use the camera to make big prints? The 3.2-megapixel sensor precludes that, although very good quality prints up to 5x7" make it a great camera for snapshots, travel, and family fun pictures. (It also allows you to make movies with monaural sound.) Would we take the Casio Exilim Card EX-S100 with us everywhere we go? You bet, as its size and weight make it a great traveling companion. Priced at about $399 (list) it isn't cheap for a 3.2-megapixel camera, but it delivers the goods and allows you to be picture-ready without having to even be aware you have a camera in your pocket.
| | |
| --- | --- |
| | |
| The ability of the camera to handle shadow and highlight was very impressive, as seen by this sunrise shot from the hotel. I did do some Levels adjustment to help the shadow areas along in this image, but the information was definitely in the image. | You might think a small camera wouldn't deliver subtlety of color and tone, but you'd be wrong when it came to this one. Inside Fort Point where rooms filled with intriguing shadows, the Casio handled the dark and light values as if I were working with a spot meter and carefully reading the scene. It was very impressive throughout. |
(Top): The EX-S100 is a great traveling companion as you can place it inside a shirt pocket and hardly know it's there, yet it allows you to make very good pictures on the road. This shot of the Golden Gate Bridge was made from the top floor of Fort Point on our recent Digital Photography Workshop. It was just aim and shoot with the tiny Casio. (Above): This photo was made after sunset with the camera sitting on top of a small post looking down at the bridge. This image was very underexposed but using Levels in Photoshop Elements 2 brought it back, albeit with more noise than we'd like.
Technical Specifications
Sensor: 3.2 megapixels
Lens: Optical zoom, equivalent to 36-102mm in 35mm format
Focus: AF (spot and multi), Macro (6.6 to about 20"), Manual, and Infinity
Exposure: Auto
Shutter: 4 seconds to 1/200 sec
White Balance: Auto, six modes, manual
ISO: Selectable, 50-400
Flash: Built-in, max range 8.2 ft, at wide setting
Features Of Note: RGB histogram display; USB cradle for charging, downloading; long-life lithium ion battery; weight at just 3.95 oz
| | |
| --- | --- |
| | |
| During our workshop we were hopping on and off cable cars around San Francisco. Seeing pro photographer Ken Sklute on the side railing I held the Casio at arm's length and took this grab shot. The Casio caught the color and light just right here, as it did with almost every photo I took. | It was lots of fun to walk around with the Casio as it started up right away and didn't give me any of the bothersome lag time when I wanted to make a shot. This statue and background are in the Embarcadero area of San Francisco. I shot this with fill flash on the Casio, but frankly the flash is pretty weak, especially when working at anything but the wide focal length range, so I had to open it up in Photoshop's Shadow/Highlight tool. |
For more information, visit Casio's website at: www.casio.com.

LATEST VIDEO