Camera Bags & Cases; Innovation And Visual Appeal
Camera bags these days are becoming increasingly fashion forward. While photographers are happy with a fully functional camera bag that keeps gear protected and well organized, manufacturers have taken it upon themselves to focus equally, if not more so, on trendy looks, sometimes sacrificing functionality for style. But when a bag is both utilitarian and stylish, you can't go wrong and there's no doubt that a good-looking camera bag makes a statement. The new crop this year displays some innovatively sensible thinking, especially where backpacks are concerned. Sling bags appear to be on the rise, although I have still to be convinced of their practicality. And roller cases are beginning to address some of the previously inherent drawbacks. On top of that, hard-shell cases have not stood idle, with one new company entering the fray. In fact, there were several new additions to this year's line-up of players.
Artisan&Artist is an exclusive line of camera bags that is new to our shores (THK Photo Products), with numerous models available—all with distinctive and fully padded, customizable red interiors. These handmade bags cater to a discerning Leica clientele (a messenger bag goes for $239). While certain bags are tailored to the specific needs of the Leica rangefinder system, select models can tote compact D-SLRs and other camera systems, such as Micro Four Thirds. Made largely of leather and nylon, these shoulder bags include models that will also hold a small laptop.
Case Logic's XNSLR collection (up to $179 MSRP) includes a backpack and messenger bag. Each bag provides full-featured functionality, but what really stands out are the molded EVA camera cradles, which add utility to the bag, enhanced by user-configurable interior compartments. The expanded SL line (to $119) features an adjustable neoprene Hammock Suspension System that cradles an SLR with lens to minimize impact while you're on the move, with enhanced protection provided by an impact- and moisture-resistant base. This summer will see more bags in this line: the SL Large SLR Camera Case ($79) and SL Backpack ($119).
Aimed at the outdoor photographer, Clik Elite introduced the BackCountry Medium Nature pack ($235 MSRP). This backpack carries photo equipment in a fully padded 450 cubic inch camera bay, protected from the elements with weather-resistant zippers and ballistic nylon shell. Lenses ride snugly in cradle dividers, flexible convex frames coated in the same gentle microfiber used for lens cloths. A larger second compartment holds all those extras you'll need on a hike or nature walk, with a hydration sleeve and tube port. For added comfort during long treks, there is an adjustable harness system. Another new bag is the Pro Elite pack ($325). The Pro Elite uses a bidirectional compression waist belt which adapts to different shapes of hips. At the shoulders, users can customize the advanced harness to fit their torso using the proprietary LadderFit system. On location, the Pro Elite zips wide-open to reveal a 2500 cubic inch camera bay, which users can adapt to suit their own workflow. Built with memory foam and laminated with a microfiber Lycra-based fabric, cradle-style dividers flex into concave shapes to snuggle round lens surfaces.
Crumpler 8 Million Dollar Home
Crumpler is always good for innovating product naming, and their "recession-proof 8 Million Dollar Home" is a low-profile shoulder bag ($170 MSRP). The entire line-up of Million Dollar Homes now comes in five vibrant colors and boasts the new "super stealth Velcro" silencer that effectively silences the touch-fastener closure so you can work unobtrusively in quiet or noise-sensitive environments. You can vertically stash a pro-size D-SLR with lens attached. There's room down the sides for chunky optics and shoe-mounts. The new configurable divider transforms the case into a photo/laptop bag suitable for a 13" laptop along with photo gear. Construction includes water-resistant 900D shell and 150D ripstop lining, with a plastic stiffening layer in the base. There is also a wealth of pockets for stowing accessories.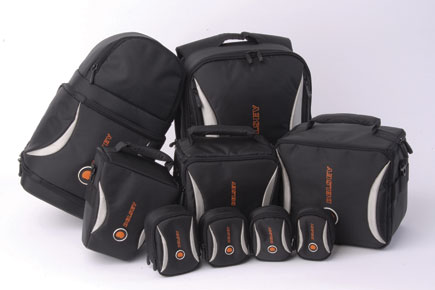 Delsey's camera bag division has introduced the Rondo Collection, consisting of eight lightweight but rugged bags largely geared toward the outdoor enthusiast. Among these bags is a full-size backpack (under $200) that holds a laptop, in addition to photo gear, as well as a sling bag, which lets you work out of the bag while wearing it. They are all made of lightweight construction employing Delsey's slimline design. The fabrics used, namely, ballistic nylon and silver trim with red highlights, aim at durability and stylish appeal. Fully padded on the outside, these bags come with padded, customizable interiors.
Just when I thought the Domke bag had gone as far as it could go, The Tiffen Company introduced the Waxwear line to its Domke Classic Collection, available as a limited edition of the F-2 Shooter's Bag ($159 street), the F-803 Satchel ($139), and the F-5XZ Large Shoulder Bag ($99). These bags make this already distinctive line even more so with a unique distressed and weathered look. These bags feature high-quality, weather-tough, durable cotton canvas that is treated with special non-solvent, environmentally-friendly waxes that imbue the fabric with a lifelong resistance to the elements, while letting the fabric breathe. By using the included refinishing oil, bags can be restored to their original finish. As with other Domke bags, the Waxwear collection features modular, padded inserts, time-proven YKK zippers, and a highly durable, clingy shoulder strap. Of course there are pockets inside and out. Domke has also added the F-3 Backpack ($169), which is a modified F-3X Super Compact bag. The bottom of the bag is configured exactly like the F-3X, with extra room at the top for sundry items. As with all Domke bags, this one is made of cotton canvas, with traditional Domke straps, hardware, and modular inserts.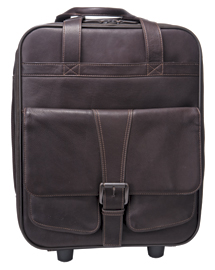 Jill-E Jack Large Rolling Camera Bag
We should have expected a companion series to the Jill-E Designs women's fashion-forward bag line, and here it is, Jack. No, Jack is the name—a fitting moniker for the men's bag line. Jack bags come in weatherproof brown Colombian leather with contrast stitching. There are three camera bags in the line-up: medium ($239 MSRP), messenger ($299), and large rolling camera bag ($389). At 14.5x14x18", the roller may be a tad too large for the airline overhead bin (or a tight squeeze at best). It features dual carrying handles, telescoping handle, two main compartments (customizable, padded dividers for camera gear, and a second section for a 17" laptop), and numerous pockets.
Kata T-216 Large Sling Torso Pack
The Kata Global Digital Collection (Bogen Imaging Inc.) continues to grow, with the addition of the T-216 Large Sling Torso Pack ($200). This sling bag is designed to carry a D-SLR with a 70-200mm lens and battery grip attached for quick access. The rest of the compartment holds other lenses and flash units with the aid of a customizable, padded divider system. This bag gives you the added convenience of being carried on your back or against your torso by swinging the bag into position. During long treks a second strap can be employed to provide a well-balanced configuration for added comfort. The bag comes with a tuck-away raincoat.
Lowepro Pro Roller x-Series
Lowepro launched the Pro Roller x-Series, designed to be suitable as airline carryon (although it may be a tight fit on some airlines—but read on for Lowepro's solution to that problem). A unique innovation is Lowepro's fully padded and customizable Reserve Pack camera backpack that is built into the hard case and serves as an alternate carrying option. To "shrink" the size of your carryon to fit the regulated size, simply remove the Reserve Pack and board the aircraft and check the outer case as baggage (or better yet, store clothes in it). A zippered front panel closes and secures the hard case for check-in or storage while the Reserve Pack is in use. Another unique feature of these wheeled cases is Lowepro's proprietary locking system, which features a three-digit, TSA-approved combination lock and retractable cable to keep all zippered compartments secure. The retractable TelePod Handle can serve as a camera support in a pinch (albeit with less stability than a tripod). Additional travel-friendly design details include premium left-tread/right-tread wheels that are removable and replaceable with an Allen wrench. Placed at the sides of the case, these wheels provide extra stability when on the move. As with all Lowepro bags, organization lies at the heart of this case, which comes in three sizes, each with space for a notebook computer. Prices start at $359 MSRP.
M-ROCK has a new line of rugged camera bags designed specifically for outdoor photographers and travel enthusiasts. The Adventure series includes laptop-compatible backpacks, convertible sling bags (to backpacks—$130 MSRP), and several D-SLR shoulder bags. Every bag in this series is constructed of water-resistant materials and includes a weather jacket and water-resistant zippers to further protect contents from moisture, dust, and dirt, with dense closed-cell foam and plastic paneling for extra shock absorption and soft non-abrasive internal lining to prevent scratching stored gear. Included in this series is the Great Smoky Mountain roller case ($180). This wheeled bag holds a 15.4" laptop, along with two D-SLRs with lenses attached (up to 9"), plus two flash units and various other gear in a user-customized, padded compartment. And it fits in the overhead bin of most airliners. In addition to numerous pockets, this roller features a shoulder strap, weather jacket, and lens changing bag to protect the lens and camera sensors from dust and moisture. What's more, the top cover of the bag opens away from the photographer when carried on a shoulder (strap provided) to provide easy access to equipment without tipping the bag. Also new is a line of modular camera bags and support belt designed to conveniently carry additional gear independently or securely attached to any M-ROCK D-SLR bag.
Naneu Correspondent Series

LATEST VIDEO

SPONSORED VIDEO