Camera Bags & Cases; Innovation And Visual Appeal Page 2
Naneu (formerly Naneu Pro) announced the redesign of the Correspondent Series. These bags are constructed of water-resistant 1680D ballistic nylon, with YKK zippers, and are aimed at providing quick access to photo gear, with a lid that opens away from the body (models C500 and C700 shoulder bags). All cases come with a rain cover and feature a quick side-access opening. The C-700 ($89) holds a D-SLR with 4-6 lenses, plus flash, while the smaller C-500 ($74) will hold 2-3 lenses. Exterior dimensions for the large bag are 10x13.25x8.5", weighing in at under 2 lbs.
National Geographic Walkabout
National Geographic (Bogen Imaging Inc.) introduced the new Walkabout Photo Bag Collection, featuring a blend of style and functionality in a wide range of environmentally-friendly carrying solutions. The Walkabout Satchel is a multifunctional shoulder bag in two sizes, midi (NG W2140, $90 street) and medium (NG W2160, $145). These bags have removable protective inserts for carrying a D-SLR. Both bags feature a rugged handle and shoulder strap, as well as a rear trolley strap. The Rucksacks—small (NG W5050, $150) and medium (NG W5070, $180)—feature a customizable, lower padded photo compartment and an upper tier for personal items. In addition, all these bags have internal sleeves to hold a compact laptop computer. The Tote Bag (NG W8120, $75) gives you a discreet means of carrying a compact D-SLR.
Pelican PCS182 Rolling Backpack
Pelican (Brandess-Kalt-Aetna), once known exclusively for their hard-shell cases, seems to be making as much a name for themselves in soft-sided luggage. New rolling cases include the PCS182 Rolling Backpack ($389 MSRP) and RSV-Series Softsided PCS283 Rolling Camera/Computer Case ($399). The redesigned PCS182 now has a larger removable daypack, with capacity for a laptop measuring 14x11x2". The main case comes with a removable tray that holds a D-SLR plus lenses, a flash, and other accessories via customizable, padded dividers. And it has an earphone port for an MP3 player. Another new feature is the cushioned grab handles, which make it easier to lift and stow the main case in planes and vehicles. It also features in-line skate wheels with corner protectors, a molded stair guard, 1680D material in high-wear areas, and a recessed, multi-stage, locking retractable handle. An ergonomic, cushioned backpack harness facilitates carrying the bag over rough terrain. The PCS182 is carryon compatible with the front daypack removed. Sporting a removable computer case for a 17" laptop, the PCS283 also comes with a removable tray for camera gear. The main case exterior dimensions are 22x14x9", and it comes in a choice of colors.
Plasticase, another company new to the photo trade, introduced the Nanuk line of hard-shell cases, made of a new, high-impact resin to withstand environmental extremes. Rounded corners are always a welcome feature on a hard case and hint at only part of the story. Reinforced wall construction helps absorb shocks, while the tongue-in-groove closure with O-ring seal makes the case watertight and impervious to dust and dirt. These cases, available in numerous sizes and colors, come with a proprietary PowerClaw Latching System, which prevents the cases from opening unexpectedly during transport or when dropped. The molded, foldable handle is designed for enhanced comfort. And to top it off, these cases come with a lifetime warranty.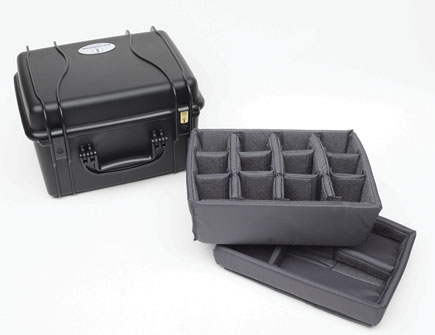 Seahorse Protective Equipment Cases now has a case deep enough to hold a D-SLR with a lens attached. The Seahorse SE-540 is a hard-shell case and features die-cut matrix foam layers deep enough to do just that, with a camera in a horizontal or vertical position. The case is also available with a soft, padded, adjustable divider tray. Typical of Seahorse, this injection-molded case is watertight, airtight, dustproof, and crush-resistant—and manufactured in the US. It has an automatic pressure relief system, unbreakable hinge and latch pins, plus is UV protected and rust and corrosion proof. Available accessories include locks built into the latches with a choice of chromed metal, keyed locks, or non-corrosive plastic lock and keys, and a padded, adjustable shoulder strap. And it carries an unconditional lifetime guarantee.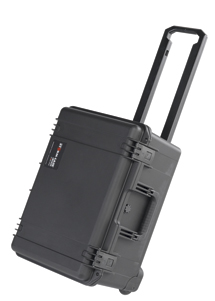 Storm Case (Hardigg) has introduced the iM2620, which measures 20x14x10" (including lid). This hard-shell case's unbreakable, watertight shell—available in black or olive—shields gear from the harshest of conditions, with gear secured and cushioned within multiple layers of cubed foam, which is easily customized to fit specific items. Padded dividers are also available. Like all Storm Cases, the iM2620 features a proprietary latching system. Provision is made for the addition of a padlock. Carrying comfort is ensured with a cushioned handle, while hinged feet provide a flat surface for upright stability. For added mobility, the iM2620 is equipped with in-line wheels and a telescoping handle. MSRP pricing on this case is $252 with foam and $338 with padded dividers.
Tamrac expanded its diverse line-up with the Ultra Pro Series shoulder bags, namely the Ultra Pro 13 ($169) and smaller Ultra Pro 11 ($149). The Ultra Pros are designed to carry two bodies with lenses attached. With two cameras at the ready, you're prepared for practically any situation. For instance, keep a tele-zoom on one body, a wide angle on the other and start shooting at a moment's notice. The closure system combines a zipper, quick-release buckles, and fast-access hook-and-loop fasteners. A removable rain cover is included to protect camera gear in extreme weather. There are lots of pockets inside and out. The front pockets incorporate Tamrac's patented card and battery management system, which uses red flags to identify available memory cards and batteries from ones that are used up. A clever innovation is the Piggy-Back Pocket, which converts from pocket to trolley harness with the aid of a zipper. In addition, a rigid plastic platform in the bottom provides shock protection. Tripod straps, carrying handles with torsion bars, and heavily padded, contoured shoulder straps round out the feature list. The Ultra Pro 11 (Model 5611) holds a 13.3" laptop, whereas the Ultra Pro 13 (Model 5613) will carry a laptop with up to a 15.4" screen.
Think Tank Photo Shape Shifter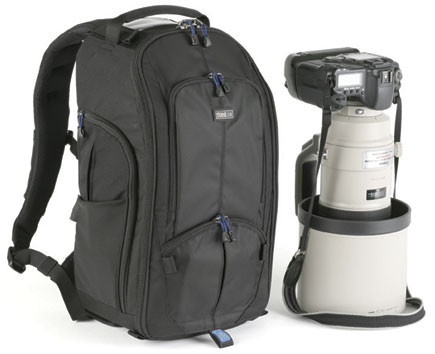 Think Tank Photo Streetwalker
Think Tank Photo has released the Shape Shifter ($249), a unique backpack designed to shape itself to the gear carried. It bears a narrow profile and becomes even slimmer when empty, so you can squeeze in between narrow rock crevices or easily maneuver in crowds on a busy New York street. What's more, the bag is lightweight. A modular add-on belt system lets you carry gear at the ready. And the bag will hold a 17" laptop without noticeable bulge. Padding has been minimized to allow for compression, with the addition of interior neoprene pouches to hold individual items, among them two D-SLRs and several lenses, with room for a flash or two. And it will hold a tripod on the front. Weighs under 4 lbs. Also new is the Streetwalker series of backpacks, again with a slim profile. The shoulder straps on the Streetwalker have been specifically engineered to fit a wider range of sizes for both men and women. The Streetwalker HardDrive ($179) will hold a 15" laptop.
Vanguard Kenline i-Pro Backpack
Vanguard has the Kenline i-Pro series (prices start at $119) designed to hold a D-SLR, lenses, a flash, accessories, and a laptop (select models), and comprised of six models, including shoulder bags and backpacks. While taking a modular approach so pouches can be added, these bags provide water and UV resistance, an adjustable and ergonomic shoulder strap, carrying straps, and a mobile phone pouch, plus rain cover. The Pampas sling bag series (prices start at $64) was designed for on-the-go photographers and photojournalists. Secure side and front openings keep equipment safe, with fast access. Made of weather-resistant, double-density, 600D polyester, a Pampas sling bag holds a D-SLR with attached zoom, 1-2 additional lenses, and accessories. The soft, velvet interior's padded dividers provide a snug, custom fit for your gear. Pampas sling bags are available in five sizes.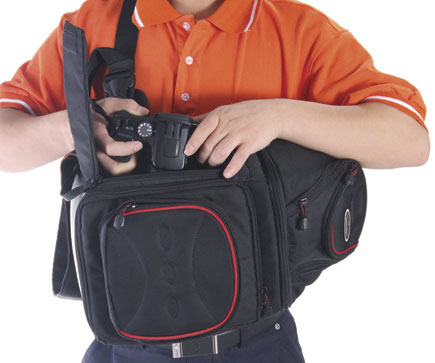 Vanguard Pampas Sling Bag

LATEST VIDEO

SPONSORED VIDEO