Calumet's Travelites; Professional Capabilities & Portability
Serious lighting equipment isn't just for high-paid commercial photographers anymore. There are a growing number of new, sophisticated, electronic lighting systems available that meet the needs and budgets of most serious photographers, including those who previously would never have considered acquiring professional-type flash systems.

One reason that professional lighting systems are becoming a more realistic option for many photographers is that configurations are changing. Whereas once "bigger is better," the catchwords now are "portability" and "versatility." There's a move toward powerful, self-contained, lightweight monobloc heads. More and more lighting equipment manufacturers are coming up with gear that can be powered by either AC or battery.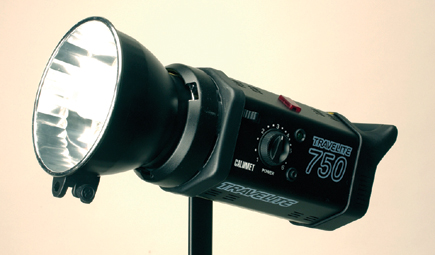 The Calumet Travelite monobloc 750 is a full-functioning, self-contained head.
PC cords are being replaced with systems that are triggered by radio waves. And increasingly, rather than just marketing individual pieces of lighting gear, companies are bringing out complete pre-packaged lighting sets that include the heads, stands, power packs, and umbrellas or softboxes.

At the same time, most of the new lighting equipment has been specifically designed to be used with digital cameras. Because digital cameras rely on electrical power to operate and capture their images, they present their own design and operational considerations.

One company that has taken the lead in providing both portable and versatile units is Calumet Photographic, with their latest generation of Travelite professional electronic flash systems. They're ideal for both studio use and working on location. For studio work, they provide all the power and versatility that any photographer might need. They're not just applicable as a good back-up gear, they can easily serve as the primary lighting gear system.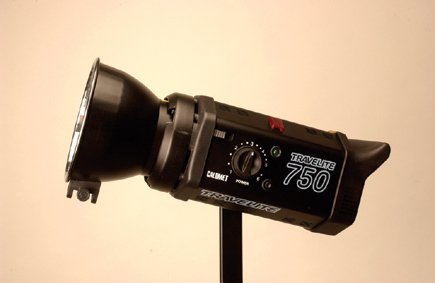 Power output is controlled by a continuous dial on the side of the unit.
They're just as well suited for location work. While, when packed up in the carrying case with stands, power pack, and brackets, they're a little heavier than some of the competing portable light systems out there, their advanced capabilities make up for the marginal extra weight.

There are two Travelite monobloc heads: a 750 watt second (ws) unit and a 375 ws unit. Both offer variable flash output over a five-stop range, from full to ¼ power, modeling lamp power control, visual flash-ready indicator, built-in slave cell, voltage stabilization, and circuit protection. Both heads are the same size, approximately 15x6.75x5", and both are lightweight. The Travelite 375 weighs in at only 6.4 lbs and the Travelite 750 at 7.5 lbs. Both heads accept either 275w photofloods or 250w Halostar halogen modeling lamps. Two 750s were used for this review.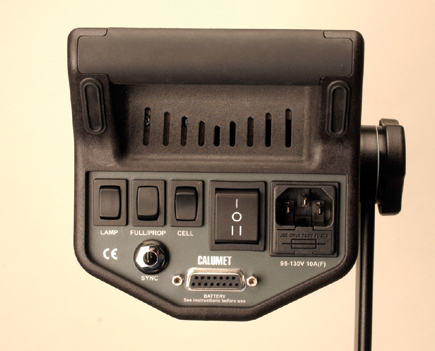 Most of the unit's other controls are on the back of the 750.
Recycle Time
For some photographers such as those shooting weddings and portraits on location, recycle time and flash duration may not be particularly important issues. But for others, such as fashion and sports photographers, they might well be two of the most important factors. On AC at full power, the Travelite 375 recycles in just under 2 seconds and flash duration is specified as 1/900 sec. The Travelite 750 recycles in just over 2 seconds at full power on AC, with a flash duration of 1/600 sec.

Both heads accept the full range of "S-Type" accessories from the Calumet/Bowens line. These include eight direct reflectors ranging from 6" (120) to 17" (40), grid spots, light boxes, and speed rings to adapt third-party light boxes.
Paired with an umbrella, the monobloc is an ideal primary light source for any studio operation.
Control Panels
Considering the compact size of the heads, controls are laid out very well. The main control panel is on the back of the heads. That's where the sync cord connector, the power inlets, the main on/off switches, and the modeling lamp and photocell controls are located. A large rotary dial on the side of the unit controls output power. The photocell, flash-ready indicator, and test/open flash button are also located on the side. A bracket underneath holds the umbrella stem.



LATEST VIDEO