Calumet's Travelites; Professional Capabilities & Portability Page 2
Even though the heads are compact, controls are large enough and spaced sufficiently well to make them easy to adjust. Marked in ¼ stop increments, the oversized rotary power dial on the side can be used to set power output to the precise level required.
(Left) Simple portrait lighting with a single light source. (Model: Erika Layva.)
(Right) A dual-head setup, with the primary light above and to the left of the camera and a half-power light on the right.
All Photos © 2006, Ron Eggers, All Rights Reserved
Really the only thing that might be changed with the ergonomics of the head is the flash-ready light. It should be on the top of the unit, rather than on the side. When shooting with multiple heads, the way it is now, it's only possible to see the ready lights on units that are to the left of you when you're shooting. But that's only a minor thing when shooting in the studio, since it only becomes an issue when the modeling light is off. When the modeling light is on, it can be set to dim when the flash fires and then come back up to full power when the head is ready to fire.

Digital Considerations
Digital capture puts more stringent demands on electronic flash equipment than film photography, but the Travelites are fairly well up to the challenge. The sync voltage is 5v, which is appropriate for use with digital SLRs. Voltage stabilization holds the color temperature at any given power setting to a consistent value. However, the color temperature varied somewhat at different power settings. But it was still close to the specified range of 5600 ±300Þ Kelvin. Measured with a Minolta color temperature meter, the color temperature varied from 5350 Kelvin at ¼ power to 5940 Kelvin at full power.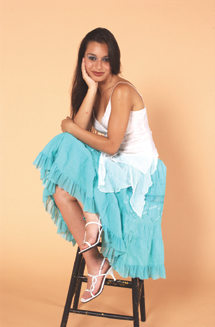 Softboxes result in very light shadows.
Firing Options
The Travelite units can be triggered with a sync cord, through slaves or remotely with Calumet's optional LiteLink Radio Trigger System. Each LiteLink unit is a transceiver that can trigger flash units, film and digital cameras, and light meters at a distance up to 300 ft. Four individual channels are available. The units can be configured so that each channel has a unique ID to trigger different devices. They can also be configured to trigger all equipment within a given setup. Power consumption is very low; they are specified to operate continuously for 200 hours on two AAA batteries. Their operating voltage is low also, about 3v, making them safe to use with digital cameras and perfectly matched to the Travelite heads. The units are 3¼2x1¼" and weigh only 4.3 oz.

On Location
While the Calumet heads are ideal for studio work, they also work very well away from the studio. Calumet had the photographer's need for versatility in mind when they put together the Travelite system, which includes compact battery power for location work. Weighing only 9 lbs and measuring 7x4.75x7", each Travel-Pak battery can power two heads simultaneously, for a total power output up to 1500 ws.

One of the drawbacks of operating on battery power is that the modeling lights don't work. Also, recycle time is about double what it is when on AC power. Without the modeling light to indicate the unit's status and the longer recycle times, having the ready light on top, rather than the side, would really be an advantage.

Even though it's a relatively small battery, in testing, the Travel-Pak was able to power two Travelite 750 heads for close to 200 exposures at varying power levels and still have some power available. For longer location shoots, battery life can be increased with the addition of the optional Travel-Pak Battery Booster. It's also possible to daisy chain Travel-Pak batteries together.

A proprietary cable, one of which is supplied with the battery, is required between the Travel-Pak battery and each Travelite head, so make sure they're packed when going on location. Also included with the battery are a charger and a waterproof carrying case that protects the battery even when sitting in water up to 3" deep, something not recommended but good to know.

The Manufacturer Suggested Retail Price (MSRP) of the Travelite 375 is $470, while the Travelite 750 costs $570. The MSRP for the battery, charger, cable, and case is $550. A spare battery and case is $400, the booster battery is $100. An additional Travel-Pak to Travelite cable is $70.

For location photography, the best deal is to buy a Travelite kit because the kits include a heavy-duty rolling case. The case holds everything needed with room to spare for Travel-Pak batteries or Battery Booster. A kit with one Travelite 750 head, umbrella, light stand, sync cord, and case sells for $590. The price of the same kit with the Travel-Pak battery kit is $1000.

A 2250 ws LiteLink kit with three Travelite 750 heads, three stands, a softbox with speed ring, two silver umbrellas, two LiteLink transceivers, a sync cord, a light stand case, and a rolling carrying case goes for $1900. There are a number of other kits available priced between these extremes.

More information is available on Calumet's website at: www.calumetphoto.com. You can also contact Calumet Photographic, Inc. at 900 W Bliss St., Chicago, IL 60622; (800) 225-8638, (312) 944-2680.

LATEST VIDEO

SPONSORED VIDEO