Build It And They Will View; A Tribute To Those Making The Effort Themselves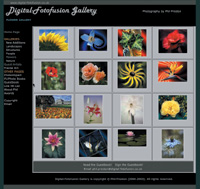 Phil Preston is an amateur photographer located in Aylesbury, England, who's created an attractive, easy-to-navigate site that not only showcases his dramatic, painterly images, but also includes "guest" artists.
© 2003, Phil Preston, All Rights Reserved
"It ain't easy being green."
--Kermit T. Frog
To paraphrase the singing amphibian, "it ain't easy having a website," especially like those appearing here each month. After a short life, my first site unceremoniously disappeared when the sheriff arrested the hosting service's hardware for non-payment of taxes. I hired a Denver company to design and host my second site only to have them produce something that would never appear here. My third site was created by a friend Len Kaltman (www.kaltman.com) and is maintained by another friend Kevin Elliott (www.macmdcare.com) and can be seen at www.joefarace.com. Recently I had a new, updated site designed by a highly recommended Missouri-based artist only to want to cry after seeing what he built. I've heard similar stories from other photographers who swore that, like my pals Paul and John, they "would learn HTML" so they could do it themselves. Four years later, neither of their sites exist. It is a tribute to this month's featured photographers who are able to produce websites of such style and substance.
Digital Fotofusion
Phil Preston is an amateur photographer in Aylesbury, England, who's created an attractive,
easy-to-navigate site (www.digital-fotofusion.co.uk) that not only showcases his work, but also includes guest artists. The Galleries' six collections range from Landscapes to Structures to People and are displayed as a matrix of medium-sized thumbnails that, when clicked, appear in a separate window. Preston's work is a fusion of painterly and photographic traditions, which I guess explains the fusion in the site's name.
Preston is a master of the wide angle lens, as can be seen by the impressive architectural images in Structures that includes bridges, ferris wheels, and the Taj Mahal. These "structures" are photographed in an epic style not often seen these days. Some of the images are subtly manipulated, some not, but all offer a larger-than-life view of their subjects that's worth your examination. In People, he's photographed knights, civil war soldiers, and gladiators in a heroic style that's somehow lacking, although not for want of trying, in the formal portraits in this section. Preston's Nature images appear to be simply nice photographs of captive animals, but I can't say for sure because, like the rest of the site, there is little if any caption information. Nevertheless, his images of birds, especially the swan and pink flamingoes, are striking to the extreme. Preston's Landscape photographs are like a visual symphony celebrating nature and people that includes crescendos and sotto voce. Look, and listen to a little Beethoven while you view.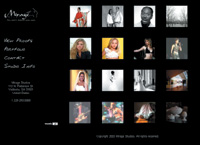 Steve Heddon is located in Valdosta, Georgia, and his website wraps his classy images in many elements of show biz! Watch the opening and you'll be hooked by the music and fast-paced imagery within a few seconds; you can only imagine what his clients must feel.
© 2003, Steve Heddon, All Rights Reserved
It's Not A Mirage
Within a few seconds, you'll be hooked by the music and fast-paced imagery in the opening of Steve Heddon's website (www.heddonphoto.com) so you can only imagine how his clients must feel. While it takes a while to load the Flash (www.macromedia.com) opening on my crappy dial-up connection (I know, I know, they promised me broadband real soon now) it's worth the wait. The site's tag line, "You won't believe your eyes," may be a bit optimistic, but Heddon has produced a stylish site that should get him lots of business.
The inevitable Portfolio section has a long list of subcategories including Fashion, Advertising, and Weddings, and includes many examples of Heddon's versatility, including topnotch architectural photography, fun 1960s imagery in an ad for a radio station, and calendar images of hard-bodied women and men. But this is a working site, so you can also see proofs from recent assignments including "Keri & Graham's Wedding" that shows all 404 photographs (he's a hard worker) that Heddon made at the event. This is yet another client-friendly feature that lets potential buyers see real-world photographs, not just a "best of" portfolio. The Studio Info section has a classy photo of the facilities and you can even download a video clip showing their custom video editing services. Valdosta, Georgia's Mirage Studios is clearly a full-service studio serving its community with great-looking images and, I'll bet, great service, too.
Manik Roy's attractive and cleverly designed site attests to his personal interests of numerology and Visual Basic, certainly an odd combination to Western minds,
but maybe not to the East.
© 2003, Manik Roy, All Rights Reserved
Ab Fab Design!
Manik Roy is located in Kolkata, India, and the quality of his images attest to the worldwide nature on the web. His attractive and cleverly designed site (www.pixnum.com) also shows his personal interests of numerology and Visual Basic, certainly an odd combination to Western minds, but maybe not in the East.

To demonstrate these differences in outlook, there's a button on his homepage labeled "Feelings" that includes the Webmaster's altruistic view of life that is refreshing in this post-9/11 world. He likes to photograph close-up images and still life, but his portfolio also contains images that would clearly be labeled commercial product photography. Clicking on any of the thumbnails opens a small gallery with larger images. I was especially taken by the shear elegance of his flower photographs. Even something as mundane as men's shoes take on an interesting aura under his lens, and all the images are photographed with the professional care you might expect of a big-time studio in Los Angeles or New York.

The Download section is an eclectic collection of software and documents that includes Roy's resume, a freeware text editor, and several numerology programs. I tried one that showed that my special number was "37" and for fans of "The Hitchhiker's Guide to the Galaxy," I don't have to tell you how important that is--towel or not. There is also a Prediction section that while mostly aimed at India, I suggest you only view if you're secure in your own dharma; otherwise, look at the photographs, play with the software, and enjoy.

Melanie Kipp's abstract images are not only beautifully but strangely involving in an Escher-like way and she gives them captions, too. Here's an example of some of the posters she has for sale.
© 2003, Melanie Kipp, All Rights Reserved
Caught In Time
While Melanie Kipp's URL (www.caughtintimephotography.com) doesn't exactly roll off your tongue, her outstanding photographs, especially her abstract images, are not only beautiful but strangely involving in an Escher-like way. Kipp tells me she is "self-taught through reading and experimentation" and is living proof that practice makes perfect. She's responsible for the no-frills site design as well, and you guessed it, she taught herself.

The Galleries section has (wow!) captions, and since I've already teased you about it, go there first. When you do there'll be small thumbnails that when clicked open to large captioned images. Bravo, Kipp. Here, formally playful photographs of reflections, kaleidoscopic flowers, and close-up shots will delight you. My favorite has to be "The
Do-All Machine" that looks like some kind of airplane. Her architectural work consists of dramatic images in monochrome and color, although I think that black and white suits her vision better. One color but very monochromatic exception (there's always one) is titled "A Touch of Escher," so she's obviously aware of that artist's influence.

Tossing all these genres out the window is her pictorial black and white and sepia-toned infrared images of famous and not-so famous buildings that plainly deserve their own gallery. "Monticello in Panorama" would be a great photo without the two tiny figures in front of it, but with them it is outstanding. Don't miss Places & Faces that contains three more collections that dramatize Kipp's talent and versatility. There is much to see and enjoy here, so browse freely and visit Order Information to purchase a print or poster.
The only remnant of my newest and ill-fated website is the header that appears on the top of my SmugMug page.
© 2003, Joe Farace, All Rights Reserved
Up, Down, In, And Around The Web
One of the problems of having more than one website is keeping them current. Who knows what my sites will look like when you get this issue, but I invite you to also take a peek at www.joefaraceshootscars.com, www.takeyourcameratoworkday.com, and http://farace.smugmug.com. If you want to recommend your own or a friend's website for an appearance in this department, e-mail me at editorial@shutterbug.net.

LATEST VIDEO

SPONSORED VIDEO
Testing Tamron's SP 150-60mm G2 lens while capturing birds and alligators in Apalachicola, Florida.