In Brief; Tamrac's Aero 80 Backpack; The Search For The Perfect Carryon Backpack, Continued
Two things have changed in determining the best bag for lugging around gear while traveling by plane--the type of gear a photographer travels with and the airline restrictions on carryon gear. These days there seems to be a need for more space for accessories required than actual camera and lens, what with more and more photographers traveling with laptops, card readers, wires, memory cards, etc. On the opposite side of the coin, airlines, particularly when traveling overseas, are quite strict about size limitations and the number of bags--the "main" bag and the oddly called "personal items" bag--being the norm. But that's not always the case, as some airlines are restricting carryon to one bag only.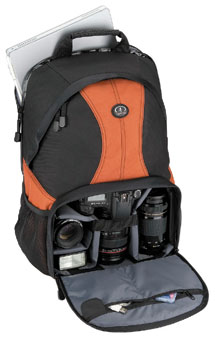 You should check with your airline first, but most domestic airlines permit a carryon piece of luggage that is 45 linear (total) inches. A commonly sized bag for carryon luggage is 9x14x22". Most airlines have a carryon weight limit of 40 lbs. Overseas restrictions vary, with some being quite restrictive and worrisome for photographers. Indeed, you might want to pack according to airline flown rather than gear needed. One website I have found helpful is from Luggage Pros, which has a helpful chart on size restrictions. Go to: www.luggagepros.com/policies/luggage-restrictions.shtml.

In any case, a new bag from Tamrac, dubbed the Aero 80, recently caught our eye as offering an excellent combination of the recognition of how photographers travel and what they carry on the plane with them these days. Dubbed a "photo/laptop backpack," the bag has a separate laptop compartment that is nicely padded, and fits my MacBook Pro 17" model with ease. The camera compartment, located at the front base of the bag, offers padded inserts that can be fit around most cameras as well as two lenses, and more. There's also a top compartment for all the other gear, such as an AC adapter and paperwork, one might carry onto a plane and not pack into the checked luggage--meaning anything of value. And for field shooting when not waiting for the late plane, there are mesh pockets on the sides and front, as well as two lash tabs on the bottom to attach a compact tripod. To do this you will need an accessory strap (Model S-113), not included with the bag.

One very pleasing aspect of the bag is its weight. Some backpacks can add unnecessary poundage to your load. Not the Aero 80. At a bit over 2.5 lbs it can be lifted with one finger. And the external dimensions--9x12.5x18.5"--are well within carryon limits for the U.S.A. (45" total) and even match the limit of the most stringent airline we found, Aer Lingus at 9x14x18". OK, it's over a 1/2", but I'd be surprised if that 1/2" is going to cause you problems.

To protect the goodies inside the bag its laptop compartment has a water-resistant zipper enclosure. There's by our standards excellent stitching and easy zipping, with adjustable backpack straps. There is no belt strap to hold the bag at the base, but that seems unnecessary in a bag this size. Best of all is the price: street price for the Aero 80 Model 3380 is about $99.

For more information, contact Tamrac, Inc., 9240 Jordan Ave., Chatsworth, CA 91311; (800) 662-0717; www.tamrac.com.

LATEST VIDEO