Book Reviews
In My Mind's Eye: Seeing In Black And White; by Charlie Waite; Guild of Master Craftsman, Distributed by Sterling Publishing Co. Inc., 387 Park Avenue South, New York, NY 10016; hard cover; 120 pages; $40; (ISBN 1-86108-282-7)
Charlie Waite has earned a highly dignified reputation for his beautiful landscapes and this book explores an exciting and dramatically new aspect of his work. The pages are graced with a never seen before collection of 73 gorgeous black and white images that reveal his level of expertise and sharp eye for details. It's a wonderfully fresh look at his work that will take your breath away and I highly recommend picking up a copy for your personal library.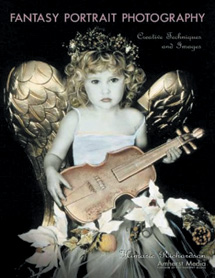 Fantasy Portrait Photography: Creative Techniques And Images; by Kimarie Richardson, Amherst Media, 175 Rano Street, Suite 200, Buffalo, NY 14207; soft cover; 128 pages; $29.95; (ISBN1-58428-124-3)
Kimarie Richardson has a talent for designing wonderfully creative portraits that set her work far beyond the competition. Her book will open the door to fantastic new creative possibilities as she helps you explore the realm of fantasy portraits. Transform your subjects into shining angles, gossamer fairies, ethereal brides, and glamourous 1940s movie stars with the aid of alternative printing techniques and handcoloring. Richardson even provides tips on makeup and costumes while reviewing the types of equipment and settings used to capture each of the 90 sample images. This book is both enlightening and inspiring, I highly recommend testing her techniques for yourself.


LATEST VIDEO

SPONSORED VIDEO