Book Reviews
The PhotoshopWorld Dream Team Book, Volume 1, edited by Steve Weiss, 9x9", softcover, 308 pages, $29.99, New Riders/Peachpit Press, www.peachpit.com.
Once a year, Adobe Photoshop gurus and would-be gurus from around the globe gather at the PhotoshopWorld conference to trade techniques, give and attend seminars, and much more. Now, some of the best tips and tricks presented there by the masters have been compiled in this volume. Running the gamut from basic to advanced, they're presented here in a step by step format with lots of color examples and screen shots.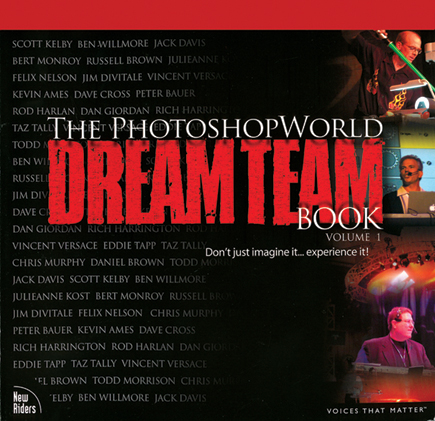 Want to make a seamless panorama from several digital shots? Adobe's Russell Brown goes into great detail to show you, as well as how to solve common problems like uneven skies and mismatched edges. Using the Photomerge feature in Photoshop and Elements, he reveals the secrets of how to use this tool's perspective controls and advanced blending modes. For those who yearn to get back to basics, Dave Cross says, "Stop working so hard, there's an easier way to make selections." Peter Bauer covers how to reduce digital noise, preview fonts, and determine the right resolution for scanning. Ben Willmore offers a creative cookbook for filters and blend modes.

Among the 21 chapters, you'll find how to create a ghosted object effect, do a still life/product makeover, add creative focus with the Photoshop Lens Blur filter, assemble commercial and fine art montages, create unique lighting effects, use Photoshop with video, make menus for DVDs, professional portrait photography techniques, color management, photo-realistic illustration approaches, how to create simulated studio lighting and backgrounds for existing photos, workflow, removing glare, and from celebrity photographer Vincent Versace, a detailed presentation of how he did a color shoot of a modern model and digitally transformed it into a classic Hollywood-style black and white studio portrait. To work along with the masters, you can download files from the publisher's website. At over 300 info-filled pages, this book is quite a bargain.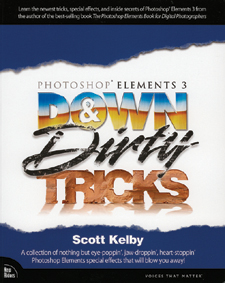 Photoshop Elements 3 Down & Dirty Tricks, by Scott Kelby, 8x10", softcover, 286 pages, $34.99, New Riders/Peachpit Press, www.peachpit.com.
Want to know how to create all those special effects you see on movie posters, CD and magazine covers, and TV ads? Whether you're a beginner or beyond, Kelby reveals scores of techniques and secrets in a step by step style that's easy to follow. To keep you on track, everything is illustrated with full-color photos and screen shots. A top trainer, Kelby is the editor of Photoshop User and other magazines, as well as the author of numerous image-editing books.

What favorite tricks will you find inside? How to make a person or object pop out by blurring the background, lots of edge and border techniques, how to create a high-key portrait with blown-out highlights yet retain detail in the eyes and lips, and how to create a fine art poster. Want to add a new person or object to an existing photo? See how to do it realistically, and then learn other techniques to assemble multiple-image collages with smooth gradient blends. Need to add motion to a static subject? You'll find four different approaches. To make a subject stand out from its background, Kelby offers a myriad of paths for you to try. In the realm of color, learn how to colorize a black and white photo, to paint away color for a selective look, and how to change specific colors for objects such as a car or dress. Add sepia and other monochrome tints to enhance the mood of your image.

As far as lighting effects, explore how to add backlight digitally after the fact, and to create studio spotlight backgrounds, or add realistic reflections that fade gradually. There's a large chapter on how to work with type, including how to put a photograph inside your title, grunge and distressed type, and how to make type look like it was carved in stone. Special effects include how to add pixilation, divide a photo in pieces of a puzzle, add realistic lightning, TV scan lines, shadows, highlights, and lens flare, and how to transform your image into an oil painting, line drawing, or woodcut. You'll find a wealth of information and inspiration here, presented clearly and cleanly.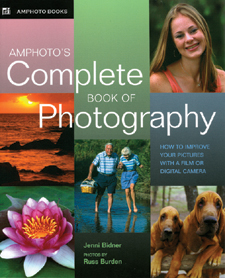 Amphoto's Complete Book of Photography--How to Improve Your Pictures with a Film or Digital Camera, by Jenni Bidner, photos by Russ Burden, 8.5x10.5", softcover, 192 pages, $24.95, Amphoto, www.amphotobooks.com.
While information on digital cameras and software to manipulate photos is included, the primary focus and strength of this book is how to take better pictures with whatever type of camera you have. Basics covered include how to choose lenses and use the power of perspective, getting the right exposure, using aperture and shutter speed controls creatively, using blur for special effects, multiple exposures, lighting including flash, filters for both correction and effects, and many approaches to composition.

Bidner, a photo book author and former magazine editor, continues with specific examples based on subject categories. For example, in the chapter on photographing flowers she includes basics, easy ways to control backgrounds, reflectors and diffusers, using flash, and bringing flowers indoors to a home studio. Are you a fan of travel photography, close-up and macro, or landscapes? She devotes chapters to each, as well as to photographing people, pets, zoos and wildlife, for the adventurous-aerials and underwater, even how to shoot pictures to sell items online.

Everything is fully illustrated in color (300 photos) with comprehensive before and after, comparison, and striking display images.

LATEST VIDEO

SPONSORED VIDEO