The BEST Way to Remove Noise and Save Photos That Were "Unsalvageable" (VIDEO)
Handheld photography under low-light conditions often involves extremely high ISO settings that you'd never use under any other conditions. But taking this approach typically results in those ugly artifacts we call "noise."
In the past, it was sometimes impossible to fix noisy images and achieve acceptable results. But as you'll see in the quick tutorial below, times have changed.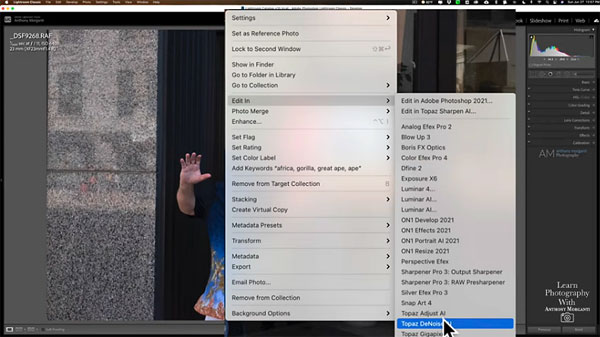 Artificial Intelligence (AI) has enabled hardware and software firms to make great strides of late, and one of the areas where this has occurred involves image-editing plug-ins with remarkable improvements in noise removal and resizing.
In the eye-opening tutorial below, you'll see how Anthony Morganti uses the latest AI software to salvage images he previously thought were beyond hope. Morganti is sort of a photo hoarder, in that he rarely deletes images even if they're bad. And since discovering three plug-ins from Topaz Labs—Denoise AI, Sharpen AI, and Gigapixel AI, he's revisited his library of rejects and turned many of them into winners.
In the 10-minute episode below, Morganti demonstrates how he rehabilitated a terribly noisy image that occurred when he moved from a sunny spot to deep shade without remembering to change his camera settings. The resulting image is one that most of us would have immediately relegated to the trash.
As Morganti admits, "I did everything wrong." But thanks to advancements in artificial intelligence, he was able to save the image with a little help from Denoise AI. The technique is simple, and Morganti quickly walks you through the necessary steps.
There are many more editing tips on Morganti's YouTube channel, so be sure and take a look. You can read all about the revolutionary software from Topaz labs by visiting their website.

FEATURED VIDEO