Best Of Show: Our Reporters' Top Picks
While our reporters were assigned specific product categories to cover for the show, we also requested that they pick what they considered their favorite product of the show. The product didn't have to be in their area--indeed, the product could be a prototype or something that wouldn't appear in any real way for the near future. So here's the Shutterbug Best of Show for PMA 2005:
Elevated Camera Support & Nikon Software
My pick of Best of Show were two products that I actually got to use while at the show. I picked Elevated Photos Ltd. for their camera support that can rise to a height of 65 ft and enable the camera to be positioned remotely and Nikon's Capture 4.2 software that can remotely control the D70 from a laptop using an extended USB cable. Elevated Photos' aerial camera support can be set up and broken down in minutes and only takes one person to transport it. Nikon's latest version of Nikon Capture 4.2 brings more processing power to raw shooters and enables remote control of Nikon's pro digital SLR bodies. The combination enabled us to create this overview photograph of the Nikon booth at PMA.
--Larry Berman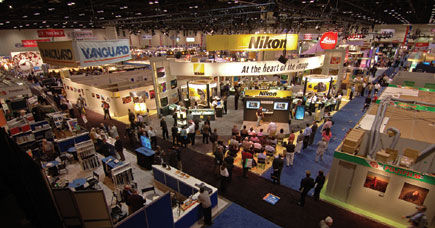 The Nikon booth at PMA. Photograph taken with a D70 and 12-24mm Nikon zoom at the 12mm setting. The camera was elevated to a height of approximately 25 ft using the camera platform from Elevated Photos Ltd.
HP's Photosmart 8750
Consumer-grade photo printers are getting better every year, and I'm particularly impressed with the models now available in the tabloid (13" wide) format. I decided to select the HP Photosmart 8750 as Best of Show because it's a significant indicator that Hewlett-Packard is serious about meeting the needs of advanced photo enthusiasts. Formerly known as a printer manufacturer that competed primarily on low price, the company has reached an impressive level of excellence with its recent letter-size printers such as the Photosmart 8450.


The new Photosmart 8750 is even more desirable for several reasons. It's the first consumer-grade photo printer to employ a full nine inks for an ultra-wide color gamut. Based on the 13x19" samples that I inspected during PMA 2005, it can make superb color prints as well as remarkable black and white prints that will knock your socks off. (Look for George Schaub's full test report in a future issue of Shutterbug.) It achieves a remarkable permanence rating with dye-based Vivera inks: 100 years for color and 115 for monochrome prints when framed, matted, and displayed under glass. Designed to satisfy serious imaging enthusiasts, the included software provides a wide range of color management solutions. And finally, the HP Photosmart 8750 offers exceptional value at the estimated $499 street price. Dealers may sell for less and some probably will, after HP has made an adequate number of machines to meet what I suspect will be the very high initial demand.
--Peter K. Burian
SeeFile's Online Image Catalog Software
Tucked away in the outer limits of PMA, those places where you find badger-skinned wedding albums and $29 preset lenses for Exacta cameras, is where the innovators are also located. My Best of Show goes to SeeFile's Mac OS-based software that's designed for producing an online image catalog for photographers. Nothing new here you say? Oh contraire, mon frére. SeeFile turns your computer into an image server that clients and potential clients can access with their web browser--no special software needed--even if they are on Microsoft Windows. At the show, SeeFile offered their software bundled along with a Mac Mini computer for under $1000. Read more about SeeFile in my report on new software at PMA 2005. If you are looking for a way to control your images instead of having them controlled by somebody else, SeeFile is the answer and in honor of their brilliant concept, program interface, and usability I'm awarding them my Best of Show.
--Joe Farace
Sakar's Battery Charger
With ever more hungry digital cameras and portable flash units literally "eating" up AA-size batteries, having a rapid charging renewable source of power is a major asset. That's exactly what the new 8.5-minute charger from Sakar was designed to do. In a scant 8.5 minutes it will fully recharge special Ni-MH AA-size batteries and have them fully operational once again. You could easily allow this charger to do this task while taking a short coffee break. The small charger accepts two AA-size batteries; if you need more, just remove the first two and start two more. Lights on the charger let you know it's operating and when the batteries have reached a full charge. If you happen to have spare rechargeable AA batteries that are not the special 8.5-minute type, they, too, can be recharged, but it will take an hour to fully recharge them. At an MSRP of $60 for the charger and two AA batteries, and just $10 for two or $20 for four additional AAs, this will take the place of many dollar's worth of conventional expendable batteries.
--Robert E. Mayer
Leica à la Carte
How do you define Best of Show? Product you'd most like to take home? Product you'd use most? Product you suspect would be most useful? Product you'd like to try most? Biggest novelty?

If I'm honest I have to admit that the product I'd most like to take home and the product I'd use most are one and the same, a Leica à la Carte MP with black paint and red leather and 0.85x viewfinder showing only 35, 50, and 90mm frames. On the other hand, I can't pretend it would be most useful, because it would only replace equipment I already know and love: I have four other M-series Leicas, an MP 0.72 black paint, an M4-P, and two M2s. For exactly the same reasons I can't pretend that I'd be trying it out, and it's hard to call it a novelty: it's a 50-year-old design, the older of my M2s is 46 years old and I've been using Leica M-series cameras for over 30 years.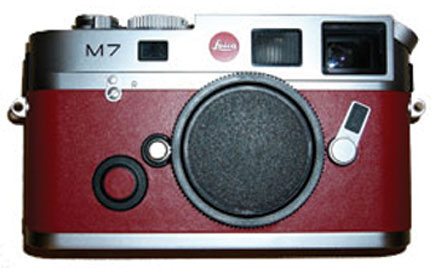 If you are not familiar with the Leica à la Carte program it is a means of customizing the seemingly immortal Leica M-series (M7 or MP) to suit your personal preferences. You can choose the viewfinder magnification; the finish on the metal; the color of the leather covering; and even the viewfinder frames you prefer. I love the way black paint wears; despite my modest and unassuming nature I like a little flamboyance (hence the red leather); and as I don't use 28, 75, or 135mm lenses I don't want the viewfinder cluttered up with surplus frames (28+90, 50+75, 35+135). I might just have it engraved (discreetly) with RWH EIGENTUM as well: "Eigentum" translates best as "property of." This wouldn't be just another Leica M-series, not just another of the finest cameras ever built: it would be my Leica-M, exactly the one that suits me.

It may seem perverse to choose a recent revision of a frankly ancient camera as my "Best of Show" in a year that was swarming with state of the art electronic marvels. I defend my choice, however, precisely because there are not many classics that can go head to head with the latest products. Not only go head to head, but unflinchingly face them down and command the equivalent of a muttered apology as the young gunslinger suddenly realizes he's facing Doc Holliday and slinks away. If he doesn't have the sense to slink away, he suddenly finds out that he isn't quite as good as he thinks he is. Megapixels? Forget `em. The MP has mega style, mega durability, and above all mega quality. If that doesn't make it Best of Show, what does?
--Roger W. Hicks

FEATURED VIDEO