Auto FX Software's Mystical Tint Tone And Color 2.0; Lots Of Filters For Enhancement And Drama Page 2
MTTC 2.0 offers other possibilities, though, notably the HDR Tones slider which you can crank up to increase the surreal, hyper-gritty HDR effect. While it's not appropriate for this image, it may be just what you need for a shot of a 20-something rock band. Also of interest is the Infuse Color slider which can be used to bring back as much color as you want. Adding just a touch of color can yield a splendid hand-tinted look. MTTC 2.0 also offers a number of other black-and-white conversion options, including Black and White, Cool Gray, Warm Gray, Soft Black and White, and High Key Blast. There are also two sepia conversion choices.
Get Real
"How about some realistic effects?" I can hear you thinking. MTTC 2.0 has plenty of those, too. My image of two zebras (#9) is rather flat and washed out. From the Color Effects category, I selected Saturate Colors (#10). After trying various sliders, I left the Saturation at 30 but bumped the Strength all the way up to 100. The final image (#11) exhibits much stronger color, yet still looks natural, as if shot in bright sun.
Selective Effects
A contemporary portrait (#12) that I took with flash in Soho, New York, could use a bit of a saturation bump. Also, I'd like to infuse the pale facial skin tones with a bit of color. First, I chose Color Effects>Vitality (#13) and boosted the Saturation to 81. This enhanced the colors in the blouse and added some tone to her face. Next, I chose Portrait>Flesh Tone to add more color to the skin. I selected the Brush-On tool and drew a rough outline around her face and neck, and her hand (#14). Once you've outlined the area where you want to apply the effect and closed the shape drawn by the brush, MTTC 2.0 applies the effect to that area only. This is a powerful tool to subtly and realistically add color to skin that has been overexposed or is naturally pale (#15).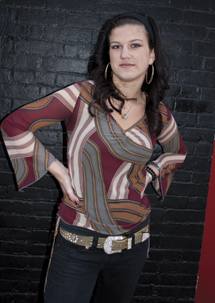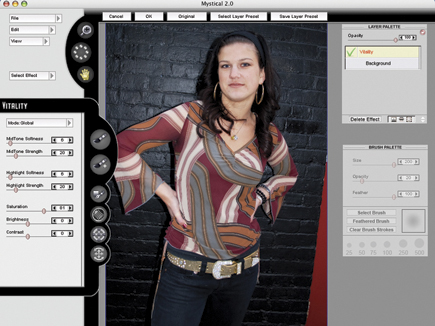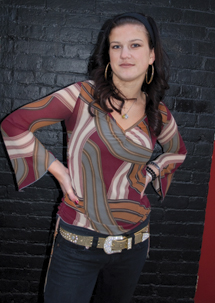 Final Thoughts
On my color-managed Mac with a profiled monitor, the preview version seen in MTTC 2.0 significantly differed from the final save in Photoshop CS4. I tried working with both Adobe RGB and sRGB images but found the same problem. For the final result to look like the MTTC 2.0 preview, I had to significantly lower the contrast (and sometimes increase the brightness)
in Photoshop. Auto FX acknowledged that MTTC 2.0 does not recognize color profiles.

I do want to add, though, that MTTC 2.0 offers a wealth of powerful retouching options, encompassing skin softening and smoothing, as well as realistic removal of oily skin, blemishes, scars, sun damage, and even freckles. More than 200 effect brushes apply color and tonal effects using patterns like watercolor brushes, oil, charcoal, chalk, sponges, scratches, splats, clouds, and many other styles. Effect Masks let you choose from a catalog of textures such as Grunge, Grain, or Vignettes and apply any effect in these patterns. Finally, the Effect Ellipse is a tool which lets you select which area or areas of the image you want to apply an effect to with full strength while fading away within the image outside the zone (ellipse) that you have selected.

In conclusion, I found MTTC 2.0 to be capable of a wide variety of effects, ranging from striking, contemporary, over-the-top to subtle and realistic. Rendering time was on par with competing plug-ins. However, with sRGB and Adobe RGB images (the two color spaces most used by photographers), the marked increase in contrast and saturation between what you see in the MTTC 2.0 preview and what is saved in Photoshop meant I had to make further adjustments in Photoshop in order to get the effect that I saw in the MTTC 2.0 preview.

To see how MTTC 2.0 performs on your machine, go to the Auto FX Software website (www.autofx.com), look at the in-depth tutorials and comprehensive slide show of before/after effects photos, and download the demo to try it. Note: The demo version allows you to apply effects to your photos on screen but does not allow you to save the results.

LATEST VIDEO