Atwitter In The Summer; A Star-Spangled Web
"The computing field is always in need of new clichés."—Alan Perlis
If you haven't signed up to follow me on Twitter (www.twitter.com/joefarace) at least take a peek to see what you're missing, such as behind-the-scenes photos of images being shot for Shutterbug reviews. I'm using Twitpic (http://twitpic.com) to share photographs on Twitter because it's easy to post pictures through their site or a smartphone. If you have a Twitter account you already have a Twitpic account; just log in using your Twitter username and password and you're ready to go. If you don't have a Twitter account you can sign up for one at Twitter.com.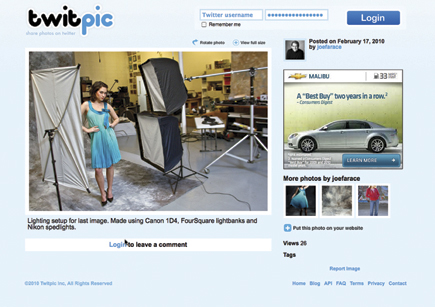 www.ascenicworld.com
Keitha McCall's combination website and blog was created using a WordPress (http://wordpress.org) template that looks as good as sites costing lots of money. McCall's images are found in 11 galleries under the "Photography" menu in the site's header. There are too many images and collections to describe, so let me give you a taste and you can explore the rest on your own. In "Landscapes" you'll see her take on this tired old genre as she explodes one cliché after another by beating those old conventions over the head with an elegant formality and grasp of color that will make you look at this collection in ways you never imagined. There are lots of photos and she even makes time to give them titles even if it's just "Tree with Green Fields," which hardly gives this haunting image the credit it deserves.
© 2010, Keitha McCall, All Rights Reserved
"Self-Portraits" are often self-consciously precious but McCall adds mystery, color, drama, and style while showing, I'll bet, much less of who she is really like than what these photographs hint. When she turns the camera around and focuses on other people the results are completely different, which leads me to believe that McCall is shy. (Maybe I'm wrong.) In "Flora" her work revolves around strong composition and dramatic use of color that echoes her landscape imagery but is seen here in macro. In addition to being a terrifically talented photographer, McCall is a brilliant technician, so before leaving the site visit her Lightroom tutorials and download some of the presets. Thanks and a tip of the old Farace chapeau to Pentaxian (www.pentaxian.com) Marc Sabatella for recommending this site.

http://khcphotographics.com
The first site by a reader this month belongs to Chicago-based Keith Harris. He's a reportage and street shooter who photographs The Windy City with an emphasis on its life and people. That means most of his images are gritty, monochromatic slices of life, but when he's capturing color his photographs will knock your socks off. Harris has collected his amazing images in six galleries, each with a distinctive style yet each inextricably focused on Carl Sandburg's "City of the Big Shoulders." In "Classic Chicago" he mixes color and monochrome cityscapes at night and early morning made when only a few people are up and about, all displayed in a window large enough to appreciate his artistry. "Chicago Is About People" is the opposite, focusing up-close and personal on the musicians, workers, bicyclists, and street people, including a terrific shot of a woman kissing her dog. These are made in traditional black-and-white street photography style but what I see in Harris's imagery (that I don't see in others' similar work) is a direct connection with the subject along with a touch of wry humor in an Elliott Erwitt sort of way.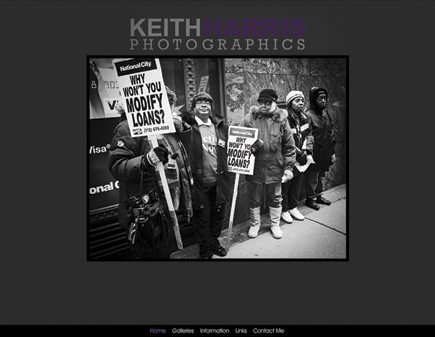 © 2010, Keith Harris, All Rights Reserved
"Tunnel Vision" includes images of people riding Chicago's famous EL. Here his people are different, in a hurry, self-absorbed, and wary. This is street photography at its best, shot on film, yet captured under or above the street in the best cinema vérité style. In "Unseen Chicago" Harris embraces the cityscape in such a way that it almost seems as if he's a different photographer than the one who produced the images in "Classic Chicago." It's gritty, yet formally composed, and again there are few people present. Harris says "he's a realist" and that certainly shows in his work, but that doesn't come close to describing that Harris is really an artist.

LATEST VIDEO