APS, Point And Shoot, Medium Format, Bags, Flash, Batteries, And Lighting
The new millennium 2000 edition of PMA was decidedly larger and busier than in recent years, with numerous new exhibitors.
One surprise was the resurgence of daylight-balanced, continuous "hot" lights for multiple-light studio applications. These lights are intended primarily for use with digital cameras, some of which don't respond well to electronic flash. Of course these types of lights can also be used with conventional film for many subjects.
The array of camera bags seemingly grew exponentially from recent years. Many new or extensively redesigned bags with ever more stylish materials and trim were seen.
There were fewer new compact 35mm and APS point-and-shoot cameras introduced this year. But the new models were tinier and easier to carry and some had even longer zoom ranges than before. One noticeable trend was the introduction of cameras, mostly rather basic models for younger shooters, in a dazzling array of colors. A few featured transparent covers displaying the electronic innards for all to see.
One interesting new item I saw was a line of varied sizes of self-adhesive, pale cyan mylar dots for placing onto glowing redeyes in snapshots. You simply position the right size dot from a 5x7" sheet containing about 1600 dots of varying sizes over the offending eyes, and burnish with a pencil. The dot sticks to the photo and masks the red. If you don't size or align it properly, simply place a small strip of cellophane tape over the dot to pull it off, and then put on another one. This simple process can be done by anybody to eliminate the dreaded redeye effect. The product is called Red Eye Out Magic Dots and lists for under $7 per sheet. They are said to be nondamaging and will not fade, smudge, or stain the photo.
Argus Camera showed several new 35mm cameras including the M8500D with a 38-120mm power zoom lens; super macro; LCD display; date imprint; and panorama mode. The AF 710D has a 35mm f/4.5 autofocusing lens, a flip-up flash that extends above the lens, and date imprint. For APS there is the AF Zoom 400 with a 24-48mm power zoom lens; multimode flash; and LCD display.
At the BKA booth we noticed several items for studio photographers. The Red-Wing Cocoon is an egg-shaped translucent white plastic dome for quick, nearly shadowless lighting of small reflective products. Two sizes are offered, one for products up to 9x15", the other for up to 12x18". Each dome has three photo portholes so you can shoot the product inside from overhead, at 45°, or nearly horizontal. The panels are fastened with zippers for easy assembly or storage. You can view info about the Cocoon and its design philosophy at the designer's web site at: www.plume ltd.com Also new from RedWing is the Quick Stand light stand. Set it down and it stands by itself, pick it up and the legs close for carrying. No knobs to twist or levers to lock. This three-section stand extends to 941/2" and collapses to just 281/2". This handy stand should make location shooting far simpler, especially when having to move lights about in a crowded room.
Bogen Photo offers the small Metz 34 CS-2, a tiny, pocketable, hot shoe flash with a powerful GN up to 112; sliding diffuser; three-stop auto settings; plus two slave flash modes. Unlike earlier, similar units, this model is nondedicated but has a MSRP of $198. Fully dedicated for major camera systems are the larger hot shoe Metz 40AF-4 series of flash units; with an auto or manual power zoom tilting head; GN 131; LCD panel; and a MSRP of $186.
Britek now offers the Dayphoto 5000 System of daylight-balanced continuous lights that use a ballast power pack and produce 500w of 5200°K light. Each light accepts many light modification accessories and has a MSRP of $796.
The newest tiny APS model from Canon is the ELPH LT 260 (featured in our March issue) similar to the ELPH2 but with a lower MSRP of $220. It has a polycarbonate body instead of stainless steel; a 2x, 26-52mm f/4.2-6.7 zoom lens that autofocuses down to 18"; active AF; an excellent flash range of up to 18'; five caption imprinting; capability to select 0-9 prints of each frame; and weighs only 5.3 oz. A new Macro Ring Lite MR-14EX supports full E-TTL flash capability with EOS cameras having this feature or TTL auto flash plus manual on all EOS cameras. It has a powerful GN of 46 with new features such as: flash exposure lock; high-speed synch; variable power manual flash; wireless remote functions; and seven custom functions. It has two independent flash heads plus two focusing lamps and a MSRP of $750.
Case Logic added to their line of moderate-priced bags for photo and electronic equipment. New are five models of CBV bags each having rounded corners and new hardware plus added storage features such as reinforced opening for more security; a gray interior to make it easier to see the contents; additional slip and zippered pockets for storing accessories. These bags are suitable for compact 8mm or digital camcorders, digital or 35mm cameras as the interior has removable padded dividers for a custom fit. The MRSP ranges from $17-$45.
Cases Plus is brand-new to the photo market, and formerly concentrated on industrial, broadcast, and motion picture markets. They were formerly marketed under the Sea King/Tundra brand. They offer a broad line of equipment cases made from tough ABS plastic with silicone O-ring seals to protect the contents from water, dust, and other contaminants. Each case is available with standard pluck foam interior or plush divider system and is offered in a variety of colors. New models, which have outside dimensions to meet airline carryon requirements, are the XL1 and GL1, which have a MSRP of $240 and $142 respectively. New add-on attachments can convert existing shell cases to wheeled units with pull handles.
Contax introduced the Carl Zeiss T* Tele-Apotessar 350mm f/4 lens for the new Contax 645 SLR camera line, plus the Carl Zeiss T* Mutar 1.4x tele-converter which extends the existing focal length of longer focal length lenses by 1.4x. The 350mm autofocus lens, which is powered by an ultrasonic motor, has a minimum focus of 5.8' at a magnification ratio of 1:3.9; weighs 8.4 lbs; is 10.75" long; and takes a 95mm filter. When used with the tele-converter the lens becomes a 490mm f/5.6. A new adapter ring permits using Hasselblad lenses on the Contax 645 camera in non-AF, aperture priority exposure mode, with focus confirmation in the viewfinder.
Digipower Solu-tions offers some new items for the battery-hungry digital cameras. DPS 9000 is a direct attachable, external power pack with a long lasting, rechargeable, Ni-MH battery. They also have new car charger cables for existing batteries.
Fuji now calls all of their APS film Nexia, and have dropped the name Endeavor for APS cameras in the U.S.A., now calling them Nexia worldwide. Four brand-new Nexia models were introduced. The top model is the Nexia 3100ix Z with a 3x, 23-70mm zoom lens; MRC; pop-up flash; landscape mode; plus many more features at a MSRP under $300. The Nexia 320ix Z has a 23-69mm 3x zoom lens and similar features priced under $260. Nexia 270ix Z has a 2.2x, 23-50mm zoom lens but is a bit thinner and more pocketable at $230. Nexia 220ix Z has a 22.5-45mm 2x zoom but no MRC at $150. The Fujicolor QuickSnap Waterproof 35mm is a one-time-use camera in turquoise blue transparent casing with a rounded body; big lever-type shutter release and top-mounted film advance for easy use with gloves; it lists for $15. In medium format the GA645Zi is now offered in black in addition to the original titanium finish.
The f.64 Company has redesigned some of their shoulder bags to accept add-on outside pockets, which also fit onto an accessory waist belt for modular carrying of equipment. A waist belt is fastened to the bag for extra security. Thicker foam is used in the walls of the bag. It has new hydro seals on the zippers for weatherproofing and mesh outer pockets. A new model BPW wheeled backpack has an extendable handle and a flap to cover the wheels when used as a backpack. A large external pocket can hold 4x5 or 8x10 film holders, or other items. Other new items include a large telephoto lens pouch with thicker foam, and a film holder pouch, both of which can be attached to the strap of bags or accessory waist belt.
Hakuba now offers an extensive line of moderate-priced bags and hard shell cases. They have an in-house designer for their four families of aluminum and Plashell attaché-style and rectangular cases. In their many different designs of soft bags is the new "Black-rock" series offered in two sizes and two colors; constructed of tough polycanvas and leather; heavily padded with board reinforcement; non-slip shoulder straps; and adjustable interiors. This bag's MSRP ranges from $59-$89.
HP Market-ing introduced a new line of Kopho bags and cases. Some of the features include: a strap all around the case for security; reverse opening for easier access when carrying over the shoulder; belt loops; waist strap to keep the case close to the body; and a rain flap. Many shapes and sizes including hiker, waist pack, and backpacks are found in the broad line.
ICI (Imaging Concepts Internation-al) is the distributor for Bowens International flash units. They showed four new AC powered monolight models named Esprit 250, 500, 1000, and 1500. All models have interchangeable reflectors, handle on the back, and easily accessible power adjustment knobs on the side. The larger 1500 model has three banks of capacitors each delivering 500 ws for a stepless power range of 15-1500 ws, auto dump, digital readout, and audible flash ready/confirmation.
Jazz Photo introduced several new 35mm compacts under the Bell&Howell name. Model PZ 3100 has a 38-120mm power zoom lens; LCD panel; macro and panorama modes. The PZ 2100 has a 35-70mm zoom; LCD; and multiple flash modes.
JTL has added some new flash units to their broad line. There are three Prolite series (L-500, L-800, and L-1000) digital design flashes with computerized micro power packs. Output is controlled by a stabilizer over a full six-stop range. The modeling lamp can be used alone as a constant light source for digital cameras. On the side panel a large LED display shows the output in watt seconds. Sensitive touch-tone keys are used to make adjustments and an internal fan cools the two larger models. The full line of JTL accessories such as barn doors, color filters, snoots, softboxes, etc., fit these lights. Superlight 1200 is a new hot light with a halogen quartz lamp which is smaller for easier storage; it also has a cooling fan.
Kodak introduced five new APS cameras. One is the first film camera to have a preview screen on the back like those found on digital cameras. The Advantix Preview Camera features a 2.6x zoom lens for capturing a vivid 1.8" color image of the most recently taken picture and lists for under $300. When the user verifies they have the picture they want, they can use the PQIX feature to select the desired print quantity (0-9) and select any of the three APS print formats (C, H, or P). There are two new C-series Advantix cameras, the C750 and C800. The C750 has MRC, PQIX, a 2.5x zoom lens, and wide area, multi-spot autofocusing. The C800 zoom has all of the same features plus a 3x zoom lens and print quantity selection plus an interactive LCD panel that displays the text. All three APS models also feature the exclusive Flip Flash Plus system with an extended flash range. The T700 zoom is a second model in the ultra-compact T550 series which now has a 2x zoom lens, weatherproof construction, and MRC. The Advantix Access flash camera is a very lightweight one-time-use APS camera with metallic-pewter color and a colorful wristband. Two entry-level 35mms were shown which both have a proprietary EasyLoad 35mm film-loading system wherein the user just slides the film into the camera and closes the door without worrying about the film leader. Both cameras have three-zone autofocusing to 1.5'; Sensalite flash technology; redeye reduction; and a safety film door lock. The Kodak KE85 has a 2.2x, 39-85mm zoom lens and a MSRP of $110; the non-zoom KE60 is $70.
Konica makes it easier to make self-portraits with their expanded three model line of tiny Revio APS cameras by incorporating a unique fold-up mirror adapter and a special shooting mode for more accurate framing composition when the camera is held at arm's length away. The new Revio Z3 model has a 3x, 21-58mm zoom lens; measures a mere 31/4x21/4"; weighs less than 6 oz; and has a brushed champagne gold aluminum alloy finish. The non-zoom Revio CL (designating "Color" and "Lightweight") is offered in high fashion shades of silver, green, orange, and brushed gold at a price point of $99. New in 35mm is the Konica Z-up 150VP with a 38-150mm 3.9x zoom lens; many operating modes plus a new Flash Power Management recharging method said to reduce battery power consumption by 50 percent. The Z-up 110VP has similar styling and features but has a 2.9x, 38-110mm zoom lens. Z-up 118 Super has a 3.1x, 38-118mm zoom lens plus a close focus capability of 32" at all focal lengths.
Leica showed the small model C1 compact 35mm with a 2.8x, 38-105mm f/4-10.5 Vario-Elmar lens; active infrared autofocus; and LCD display. In addition to conventional shutter speeds, long timed exposures of up to 99 sec can be made; and it will list for $479.
Lowepro now offers a line of discreet equipment bags, called the Pacific Collection, that don't brag about the expensive camera contents. These handsome gray bags have precision detailing with a wide trim strip around the flaps. Five sizes range from the large Monterey backpack; Sonoma backpack for smaller sizes of equipment; Berkeley that looks like a designer briefcase; Napa mid-sized shoulder bag; to the small Santa Cruz large enough for a compact camera, which can be worn as a shoulder bag or on a belt. Many other models of their extensive bag line have been redesigned.
Lumedyne introduced the TTL and TTM rechargeable, variable power packs that can be adjusted from 3-2400 ws, to fire a single flash or two lights when needed. They can be used with Lumedyne heads or other brands or can be used as external power for the camera motor drive. Owners of older models of Lumedyne packs can send them in to TechnoTransform the existing pack for a moderate price.
Mamiya announced a new compact, lightweight telephoto lens for the Mamiya 7II and 7 medium format cameras. Unlike other lenses for this camera, the 210mm f/8 L lens does not couple to the rangefinder so it must be manually focused from 23' to infinity. It comes with a parallax adjustable viewfinder and nylon bayonet lens hood. For the economically priced Mamiya 645E camera there is now a Rapid Wind Grip for comfortable, fast handheld use. It has a double stroke rapid wind-lever and will accept a standard cable release.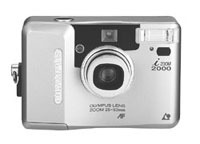 At the large Minolta display there were many new cameras in addition to a sleek ultra-compact APS camera the Vectis 2000. When the sliding lens cover is opened, it extends the pop-up flash further from the lens to minimize redeye. This tiny APS camera measures only 4x2x1" and weighs just over 5 oz. It focuses to 15", and has an LCD mask in the viewfinder to help proper composing when closed. It features a 22.5-45mm f/5.4-6.6 lens; three-beam active infrared autofocusing; a wide 8-1/500 sec shutter speed range. A bunch of new champagne gold colored 35mm cameras include the top model Freedom Zoom 150 with a 4x, 37.5-150mm zoom lens that autofocuses down to 24"; passive AF with 900 focus steps; broad speed range of 10-1/500 sec; three-segment metering; and a film chamber lock. Freedom Explorer EX has a 2.7x, 28-75mm zoom lens; close-up mode to 1.3'; speeds from 8-1/500 sec; subject program mode selection; and a pop-up flash. The Freedom Family Zoom II has a 35-60mm zoom lens; autofocusing as close as 4.3'; and a multifunction flash. The more basic AF50 Big Finder has a 27mm lens with autofocusing to 3.3', and a slim body.
At the Leica booth we also saw the new Minox CD 140 35mm camera with a 4x, 38-140mm f/3.9-10 zoom lens that will autofocus down to 2.5'; three flash options; and a MSRP of $219. For the 8x11mm subminiature camera enthusiasts, Minox launched the year 2000 versions of special edition "spy cameras." The elegant Minox LX-2000 is clad in ornate black with 24-carat gold trim, and has a Minoctar 15mm f/3.5 lens; electronic shutter with speeds from 15-1/2000 sec; and a MSRP of $1645. For their 60th anniversary, Minox is also producing the CLX Special Edition, a subminiature with manual focusing from 8" to infinity; 1/30-1/2000 sec speeds; and a MSRP of $1445.
Nikon showed several cameras including the Nuvis S 2000, a small and light clamshell APS camera with a 2x zoom. It measures 3.5x2.4x1.1" and weighs only 4.9 oz. The lens is 24-48mm f/4.5-8.2 with a broad shutter speed range of 2.5-1/500 sec. Other specifications include passive autofocus to as close as 15"; a multimode pop-up flash; imprinting of 30 titles; and an MSRP of $225. The Nikon Nuvis 200 has a contoured case, and a MSRP of $155. Features include 2' close-up capability, and slow synch setting. The Nuvis 300 has a 3x, 28-80mm lens; weighs only 5.5 oz; has rounded lines; and an MSRP of $199. In 35mm there was the Lite-Touch Zoom 120ED/QD with a 3.2x, 38-120mm zoom lens; autofocusing down to 2'; panorama; and a MSRP of $255. The One Touch Zoom 90QD has a 2.5x, 38-90mm zoom autofocusing down to just 11", and a MSRP of $140. They also introduced a Macro Speedlight SB-29 ringlight for close-up use.
Olympus introduced the i Zoom 2000 APS with a 2x, 25-50mm zoom with cubic retro design. Available in both black and metallic silver, it measures 3.5x2.4x1.2" and weighs just 4.4 oz. That's similar in size and weight to a pack of playing cards. Features include autofocusing down to 2'; a multifunction six-mode flash; and a MSRP of under $250. The Stylus Zoom 140 Deluxe 35mm expands on the visual confirmation viewfinder system which dims as the picture is made, which was first introduced a year ago. It has a 3.7x, 38-140mm zoom; all-weather construction; intelligent variable-power flash; optional spot mode metering; panorama; and quartz dating.
Op/Tech now offers their Bino/Cam Harness for actively moving photographers in an elastic version, which self-adjusts for better fit and mobility. This innovative device provides a wraparound belt behind a neck strap harness from which your camera or binoculars are suspended via free moving snap hooks. Thus the device can be kept tightly near your waist when not in use, or easily slid up to your eyes for use. New is the "Hood Hat," a neoprene protective cup that slides over a hood or sunshade to protect the lens from moisture and impact when the hood is in the forward, in-use position. "Retrieve-It" is a securing system for carrying a variety of small items such as cameras, radios, cell phones, keys, tools, etc., weighing up to 10 lbs, via a roll-up stainless steel cable that extends up to 30" then retracts when released. Clips on each end are used to lock on the equipment while the other end is fastened to your bag or belt.
Panasonic announced a brand-new 3v CR-V3 photo lithium battery designed for digital cameras. Although the same size as two AA size batteries, it's said to provide up to four times more shots compared to alkaline batteries and is lighter weight. It will be used in so far unnamed digital cameras and other high-drain products such as PDAs and portable data terminals. A new family of Panasonic Alkaline for digital batteries will be offered in AA, AAA, C, D, and 9v sizes. Long a OEM manufacturer for other brands, Panasonic brand rechargeable Nickel-Metal Hydride (Ni-MH) batteries that last up to 2.5 times longer, and have no memory effect, are now available as well as a super-fast charger.
Pentax introduced a number of new products. The efina T is a tiny APS camera with a 3x, 23-69mm f/5.6-9.9 zoom lens; passive five-point autofocusing down to 2.1'; date and 31 title imprinting; PQI; and MRC. The IQZoom 145M Super boasts a 3.8x, 38-145mm f/4.8-12.5 zoom lens; 2-1/400 sec speeds plus 1/2 sec to 1 min. in Bulb; a close-up compensation frame; panorama mode; and data imprinting. One of the few compact 35s with a 28mm wide angle lens is the improved IQZoom 928M with a 3.2x, 28-90mm f/4.8-10.9 zoom lens; 2-1/300 sec speeds; and autofocusing down to 1.6'. Clad in elegant aluminum is the IQZoom 120Mi with a 3.2x, 38-120mm f/5-12.5 zoom lens; 2-1/400 sec speeds plus 1/2 sec to 1 min. in Bulb; multi-pattern metering; and five-point autofocusing down to 2.1'. Also new are two medium format lenses for Pentax cameras. The SMCP-M* 67 300mm f/4 ED [IF] for use with the 67II camera and the SMCP-FA 645 150mm f/2.8 [IF] for the 645 SLR. The IF (Inner Focus) feature maintains an ideal weight balance as the lens moves throughout the shooting range and the length does not change. Both lenses have a large lens hood with a removable section for easier adjustment of polarizing and similar screw-in filters.
Phoenix showed two sizes of new Pro Series equipment bags with adjustable contoured padded shoulder straps; protective rain flap; front padded, zippered pocket and a zippered webbed pocket as well as a rear storage pocket. They have a new heavy-duty tripod bag that measures 35x10", and is padded, tapered, and water-resistant.
Photoflex has a new MultiDisk 5'n1, a 42" diameter collapsible reflector disk with five of the most popular reflector fabrics (gold, soft gold, white, silver, and translucent surfaces) included and interchangeable. There is a CineDome Pro, a narrower, deeper softbox intended for use with the narrower beam angles of Fresnel lights. Available in three sizes, the internal baffle has been enlarged and moved forward for more effective diffusion.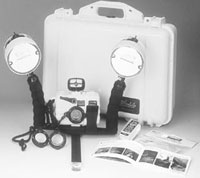 Photogenic announced a new line of commercial lighting equipment and accessories, the Godard line, which was designed in Europe. Two asymmetrical power packs, the G180 (50-1800 ws) and G330 (100-3300 ws) have outlets for three heads; oversized digital LED displays on the top and side of the pack; and optional two-channel IFR remote control. The Photogenic PowerLight 300DR flash was designed specifically for low power ranges with power settings of 4-125 ws, and has a back panel with touch control for flash and modeling lights and a lit digital display. A new light source for digital, conventional, and video photography are the DigiLight CL1200F, CL1200, and CL500 PhotoFlood series. The CL1200F has a MSRP of $459. They have a quick change feature which enables locking on over 80 Photo-genic PowerLight accessories. For entry-level situations, there is the DigiLight PhotoFlood FL500 series, which utilizes standard photoflood lamps and accepts three sizes of reflectors for soft, even illumination at a MSRP of $199.
Pioneer Research introduced the new SeaLife Reefmaster MAXX dual flash system underwater camera that's waterproof up to 164', has an oversized sports viewfinder and shutter release. The camera's dual external, slave operated, flashes are positioned 12" away from the lens to not only expand the distance range but also create better color by illuminating from two sides. Housed in unbreakable rubber-armored housing with a sure grip, it functions well on land, too, and has a MSRP of $649.
Polaroid had a bunch of new instant items aimed at the youth market. The JoyCam which produces 4.4x2.5" instant photographs on Polaroid 500 film is focus free for use from 3' to infinity; has built-in flash with redeye reduction; uses a rip-cord to eject the developing print; and a MSRP of $25. For the younger kids there is the I-Zone instant pocket camera that makes 1x11/2" instant color photos or photo stickers; a 2' to infinity focus outdoors; has a flash range of 2-8' for indoor use; and a MSRP of $25. It is now offered in 10 new colors (opaque and translucent) plus Barbie or Looney Tunes "Bugs Bunny and Tweety" versions. They were showing a prototype of an I-Zone combo camera that combined an instant and digital camera in one body. It would be turned 90° to switch recording methods, so only one type of photo could be made at a time. The target MSRP was around $100.
Rollei introduced several new compact 35s. The Prego 125 and 140 each have similar operating features, except the zoom range differs. The Prego 140 has a 3.7x, VarioApogon 38-140mm zoom lens with two aspheric elements while the Prego 125 has a 38-125mm lens. Both aluminum clad, cameras have multi-beam autofocusing down to 2.2'; 1/3-1/400 sec speed range; a broad flash range out to 17'; and weighs 8.3 oz. Two more affordable models are the Rollei Giro 70 with a 38-70mm zoom lens that autofocuses down to 2.6' and the Giro 90 with a 38-90mm zoom lens.
R.T.S. Inc. was showing the new Multiblitz digital line of AC powered studio flash units. Conventional electronic flash units do not normally synchronize properly with digital cameras so this specialized light is needed for portrait and studio applications. These monolights are quite lightweight; have a modeling light; full and half-power settings; 1/3 sec recycle time; and are voltage stabilized for repeatable, constant output. They have a MSRP of $479 and kits are available. A new model 35mm underwater camera, the Epoque ET-100 is motorized; has a 34mm f/3.5 lens that is focus free from 2.6' to infinity; is rated for depths down to 150' but can be used above water as well.
Samsung has added a new top model 35mm compact, the Evoca 170SE with a 4.5x, 38-170mm Schneider-Kreuznach Varioplan zoom lens with passive multi-automatic focusing; 11 shooting modes; and panorama mode that will have a MSRP of $540. Other new models include the Maxima Zoom 130GL with a 3.4x, 38-130mm zoom lens; quartz dating plus five caption titles; and a MSRP of $340. The Maxima Zoom 90GL has a 2.4x, 38-90mm zoom, and a MSRP of $200. The Maxima Zoom 80GL with a 2x, 38-80mm zoom lists for $150. In APS format Samsung has redesigned the top model Impax 300I to offer a more elegant, sleek, and stylish appearance. It has a 28-80mm 3x zoom lens, PQI, caption mode, and other handy features.
Satter/Omega has a new Achiever flash, the Z940 LCD. It's a motorized power zoom head flash with a LCD readout; bounce and swivel that's dedicated for major cameras. For use with digital cameras there is the Digi-Slave Ring Flash RF-50. The Tundra Targa bag line now includes new tele-zoom and three sizes of photo bags.
Sea & Sea introduced a new, simplified, point-and-shoot underwater 35mm camera with a 28mm f/9 focus free lens; fixed shutter speed of 1/100 sec; and built-in "smart" light sensor that triggers the flash when it's needed. A sports viewfinder folds down to protect the lens; it's waterproof down to 120'; is available in five bright colors; and has a MSRP of $189.
Speedotron has added a new model to their Black Line series of monolight AC flash units. The Force 5 utilizes digital technology so it's light and fast plus it accepts the reflectors and accessories made for their other units. A large dial on the rear controls the intensity of this 500 ws unit with a MSRP of $800.
SunKosi makes attractive, brightly colored, fleece equipment pouches that are soft, non-abrasive, durable, stain-resistant, and washable. Available in a number of sizes, they have a drawstring closure and some have an exterior pocket for accessories. Brand-new are Kosi Camera Straps with a fleece neck and shoulder pad that is attractive and comfortable for carrying a camera or binoculars. A quick-release lock permits removing the camera and it converts into a hand strap at a MSRP of $15.
Sunpak, a division of ToCAD America Inc., offers the PlatinumPlus Li-ion batteries that are clad in platinum coloring which matches most of today's major brands of camcorders. There are 4, 8, and 12-hour rechargeable models and since they are multifit, if you have several camcorders, you can even use them on more than one model of camcorder. A new multi-pin charger permits charging one or two identical or different batteries of this type at once.
Tamrac announced two new series of bags, the Superlights and Pro 12. The Superlights are said to offer a combination of protection, comfort, and contemporary styling in several sizes. The compact model will hold a single camera and lens while the large professional-sized models will hold multiple bodies, lenses, and accessories. They are foam padded but lightweight; have speed flap tops and easy squeeze buckles for rain coverage; zipper pockets; and easy grip handles. The Pro 12, Model 5612 bag was designed for the photographer who has to bring everything. It will hold two cameras with attached lenses plus many more lenses and accessories. The foam padded main compartment has a patented Lens-Bridge and LensGate divider system.
Tenba showed a handsome new line of entry-level bags named the Image Paks, which are offered in black and forest green. Among the features are: mitten grip zipper pulls; anatomically curved padded shoulder strap; waterproof shell; zippered top with a rain flap; mesh side pockets; and zippered pocket in the back. A new photo vest has padded shoulders; a waist belt inside; waterproofing inside six zippered pockets for rain protection; and black or gray colors. Modifications to their backpack include adjustable height shoulder straps and a removable tripod holder. Another interesting item is the Sun Cover, which is a protective nylon camera cover available in a variety of lengths, for use with tripod-mounted cameras similar to their rain covers, but this version is white to reflect the sun and keep the equipment cool.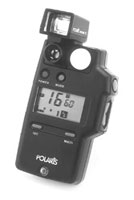 The Tiffen Company had a number of new product and alliance announcements. They will manufacture and market a line of lighting accessories under the name "Kodak Gear." In addition, they will begin distributing the Kodak Professional Wratten filters and Polymax filters. In their popular Domke line of equipment bags they have added the J-803 "Journalist" Satchel designed to protect and carry laptops, electronic organizers, and digital cameras. It has 11 compartments and pockets, padded sidewalls and bottom for protection, and a MSRP of $140. The discreet design downplays the equipment inside and it can be "piggybacked" onto other Domke bags. Existing styles of all four sizes of Domke bags are now offered in "Olive Drab" in addition to black, navy, and sand. Stroboframe has a new POPS moderate-priced line of collapsible light modifiers with a MSRP of $25-$60. Each is double sided with two color combinations; has its own carrying case; and is available in 22, 32, and 42" diameter. For the Polaris Digital Flash Meter there is a new optional accessory which adds a 10° spot metering capability in addition to the meter's normal incident and reflected light capabilities.
Vivitar introduced a bunch of new 35mm cameras. Some of the more interesting models were the PZ3140 with a 38-140mm f/3.9-10 power zoom lens; data back; and panorama mode. The PZ3125 has a 38-125mm f/3.9-11.8 power zoom lens; autofocusing to 27"; and quartz date. The PZ8000 has a 38-120mm power zoom lens; panorama mode; and optional data back. The PZ7000 has a 35-70mm power zoom lens and optional data back. In APS format there was the Z385 with a 30-85mm f/3.8-9.5 power zoom lens. The latest flash was the Vivitar 850AF with TTL or manual mode; autofocus power zoom head; variable power ratio; first or second curtain synch; tilt and swivel head; and dedication for major system cameras.
Westcott, well-known for their studio accessories, introduced two new Westcott Boxes, studio softboxes. The Octabank is a 84" eight-sided softbox while the Stripbank measures 10x36" and functions as a strip light. They also introduced two new umbrellas. Due to the success of their White Satin umbrella with black removable cover in the 45" size, they have added the same umbrella in 32 and 60" sizes. They also added two new sizes to their Illuminator Reflector kits, the 30 and 52" sizes. Like the current 42" size, these offer two reflectors in one and collapse for carrying in a small bag. In the Apollo line they have added Portable Studio Kits consisting of an Apollo Light Modifier softbox and an Illuminator Reflector, with three sizes of kits. Other new products include new fabric grids for use with the Scrim Jim System, new white interiors available on their softboxes, and Chroma-Key blue and green muslin backdrops.
White Lightning by Paul C. Buff now offers a RadioRemote One system for remote control functions of up to 16 lights plus a fully functional radio slave. A setup would include one MSRP $199 transmitter plus a separate $129 receiver for each light. The user will be able to test fire the entire setup or any individual light. A new 22" diameter reflector is available for all their lights.
Yashica showed the Socius, said to be the lightest 2x, 21-42mm zoom lens APS camera available. Available in Ice Blue and Pearl White, it weighs a mere 4.2 oz. Features include five-point autofocus down to 14"; 2-1/300 sec speeds; an easy to use time differential function for changing the date and time when traveling to different time zones; PQI; flash range to 10'; and it measures 4x2x13/32".

That's it for the new products I saw in my coverage area at this photo trade show.
We have provided you with a detailed list of every distributor and manufacturer of all the products mentioned in our PMA reports. Manufacturers/Distributors

FEATURED VIDEO