Always Carry Your Camera: How a Botanical Photographer Captured a Beautiful Butterfly Image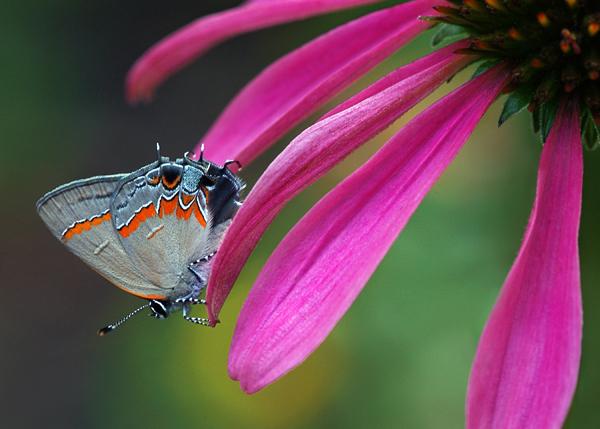 You can call this photograph the result of a fortunate series of events.
Cindy Dyer's photographic specialty is botanical images—gardens and all the elements that comprise them—but on a very hot Saturday in July several years ago she was at Green Spring Gardens in Alexandria, Virginia, to attend a combination lecture and garden tour on the subject of plants that thrive in hot zones.
Of course a photographer of botanicals goes nowhere near a garden without a camera, so while photography wasn't the purpose of the visit, it was happening. "There were mostly gardeners in the group," Dyer says. "I was one of the few carrying a camera—and on a tripod! I'd see something to shoot, the group would go ahead, and I'd catch up."
At one point the something she saw was a cluster of purple coneflowers. Dyer took some photos and was walking away when someone tapped her on the shoulder. "The lady behind me said, 'You might want to see this.'"
A red-banded hairstreak butterfly had landed on the plant just as Dyer began to walk away, and the lady behind Dyer had put two and two together. "That butterfly is native to the southeastern U.S.," Dyer says. "I'd seen photos of it—I knew what it was—but I'd never seen one in person."
The butterfly stayed around just long enough for Dyer to get six shots. This one is the best of two taken from a position that reveals the most detail and captures the best color and pattern display. Dyer remembers being less than three feet away when she took the photo with a micro lens on her camera.
In addition to her camera, three lenses, and tripod, she was carrying an invaluable accessory that played a big part in the photo: a Fancierstudio foldable 32-inch handheld diffuser. "The sun was strong, and it was coming in over my right shoulder," Dyer says, "so I held the diffuser over the top of the butterfly." Her preference for photography is morning and late afternoon, but if she's going to be out in the harsh light of midday, the diffuser is always with her.
Green Spring Gardens is one of Dyer's favorite places to shoot. Only 15 minutes from her home, it's her go-to place from mid-March to early October. "I'm probably there three or four times a week, even if it's just for half an hour to see what's in bloom. I've been doing this for eight years."
To great effect: they sell her photo note cards and prints, and she's had two exhibits of her botanical photography there. At one of the shows her images caught the eye of the wife of an art director for the U.S. Postal Service. He happened to be looking for images to license for postage stamps, and over the years Dyer's photographs have appeared on a number of stamps.
This time the location yielded a photograph of a particularly striking butterfly, and one more thing: the shoulder-tap lady became a friend and a member of Cindy Dyer's garden club.
Cindy Dyer's website, cindydyerphotography.com, features her botanical images as well as portraits, interiors, and landscapes.
Tech Talk: Cindy Dyer took the photo with a Fujifilm FinePix S3 Pro and an AF-S VR Micro-Nikkor 105mm f/2.8G IF-ED lens. The camera settings were 1/125 second, f/8, ISO 400, manual exposure, and pattern metering.

FEATURED VIDEO