Alien Skin's Snap Art; Turn Photos Into Art In A Snap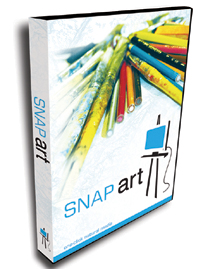 Have you ever wanted to transform your photos into traditional art media such as oil paint, pastel, pen and ink, watercolor, or even the comic book style of pop art? Whether you want to expand the services you offer to clients, or explore your own artistic expression, Snap Art from Alien Skin Software enables you to do it, in a snap. Since Snap Art is a plug-in, to use it you must have Adobe's Photoshop CS or later, Elements 4.0 or later, or Corel's Paint Shop Pro Photo XI or later. Snap Art does not require, nor offer, drawing by your own hand. Everything is done for you by the software. Hundreds of preset effects are only a mouse click away. You do, however, have the option to control, via sliders, some variables such as brush size, color saturation, contrast, light direction, and more.

10 Art Media Styles
Whether you run it on Windows XP or later or Mac OS 10.3.9 or later, Snap Art couldn't be easier to use. Simply open a photo in one of the host programs, then choose Filter>Alien Skin Snap Art. You'll be presented with 10 art media styles to choose from: Color Pencil, Comics, Impasto (thick textured paint), Oil Paint, Pastel, Pen and Ink, Pencil Sketch, Pointillism (inspired by Impressionist paintings), Stylize (this creates posterized or silkscreen looks), and Watercolor. Selecting one will open the preview window. On the upper left you see a list of settings--variations within the style you've chosen. There may be 15-30 of these--click on one and the progress bar at the lower right will indicate that the filter is being applied to the preview in the image window on the right.
#1
Model: Paulina Fernandez.
All Photos © 2007, Howard Millard, All Rights Reserved
You can change the size of the preview by clicking on the magnifying glass icon at the top middle of the window, then click within your photo's preview to enlarge it, or alt/option-click to shrink it. I like to start out seeing my entire photo. Unfortunately, there is not an option to set this as a default, although settings for a particular style (brush size, color saturation, etc.) can be saved as "User Settings" in the box at the lower left of the preview window.

For all the examples in this report, I began with a 6MB, 4x6", 300dpi native Photoshop .psd file. Because Snap Art always opens it at 100 percent, I had to quickly click on the magnifying glass and then the alt/option-click several times to downsize the preview so I could see the entire image. While it is a good idea to check the filter effect at 100 percent, that's not the first step in my workflow.
| | |
| --- | --- |
| | |
| | |
I hope a future version of Snap Art will offer a button and a default option for "Fit in Window."

A feature that is extremely handy is the Preview Split, just above the photo preview. It allows you to split the image to show half of the original and half of the filter effect in eight different ways (side by side, top and bottom, or diagonally). Or, you can choose to see the filter effect on the full image in the preview and toggle between it and the original by clicking and holding the icon to the left of the hand next to the magnifying glass icon.

Multiple Choices
Here's how to apply a pop art effect: First, I opened my portrait in Adobe's Photoshop CS2. Next, I chose Filter>Alien Skin Snap Art>Comics. The preview window opens and the software immediately begins to apply the factory default. If you like the result, click OK at the upper right and wait while the effect is applied to your original photo. If you don't like the effect, try one of the other presets. Here I settled on the "Assorted, exaggerated" setting, after trying several. The portrait is now totally screened with large color halftone dots, and thick black lines have been drawn. Overall, the result is effective, but the eyes need highlights. To add them in Photoshop, I selected a small paintbrush and painted with white on a new blank layer.
| | |
| --- | --- |
| | |
| | |
Check Your Speed
As far as performance, Snap Art is a bit slow on a 3-year-old computer (equivalent of about 1GHz processor speed). It took about 10-15 seconds to render the effect on the preview, and then an additional 30-45 seconds to apply the effect to the 6MB original after clicking OK, even longer for the Pastel and Watercolor options. For an enthusiast, this may be insignificant, but if you're doing commercial production work, it is a consideration. Check out the trial version on your machine to make an informed decision. Another bottleneck arises whenever you change the preview size--the filter preview starts redrawing from scratch.

Instant Sketch
If you can't draw to save your life, but you'd love to convert some of your photos into line drawings, Snap Art has a solution. Starting with the same original portrait in CS2, I chose Filter>Alien Skin Snap Art>Pencil Sketch. After experimenting with several of the effects, I settled on the "Portrait, more coverage" option for the look shown here. To increase the contrast and make the lines darker, I added a Levels adjustment layer in CS2 and found that the Levels sliders offered a lot of control over how light or dark the pencil effect appears.

Stylize It
If you'd like to achieve a look of contemporary illustration, try Snap Art's Stylize filter. Here I chose the "Small lines, rough paper" setting. To increase the color saturation, I added a Hue/Saturation adjustment layer in CS2 and cranked the saturation up to +30. You could also do this within Snap Art under the Color Tab, described later.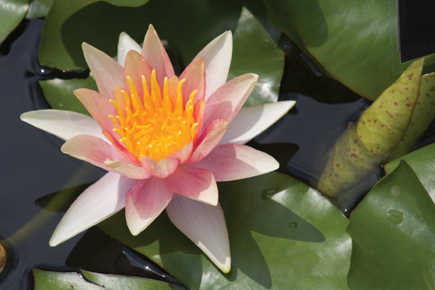 LATEST VIDEO