Alien Skin's Snap Art; Turn Photos Into Art In A Snap Page 2
Fine-Tuning
Let's go back now to the era of the Impressionist painters. Starting with an image of a water lily (#6), I chose Snap Art's Pointillism filter. A valuable option is the ability to add the filter effect on a new separate layer (#7). Simply check the first box found under the Basic tab at the top left of the Snap Art window. This makes it easy to compare the effect with the original by clicking the eye icon of the effect layer on and off in the Layers palette (#8). Furthermore, this allows you to experiment with different Blend modes for the effect layer. The "Factory default" setting gave the best detail and color for this shot (#9), emulating the tiny dots of color used by Seurat. This effect is best seen when the image is printed at 5x7" or larger.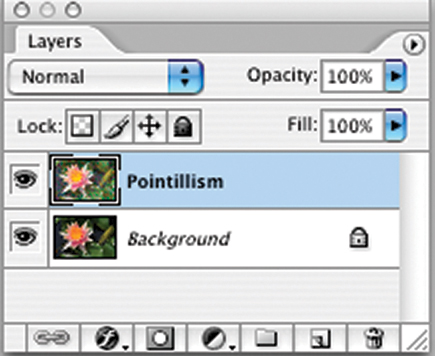 Further controls found under the Basic tab include sliders for brush size, paint coverage, paint thickness, and paint stroke length. These will vary slightly according to the filter you choose. Move over to the Colors tab for similar sliders to adjust saturation, contrast, brightness, color temperature (cool/warm), and random color variation. Canvas, the next tab, lets you choose a background texture from different types of canvas, paper, even brick, leather, and wood. Also, you select the canvas color, thickness, and zoom--so that the size of the texture matches the size of your print. The last tab, Lighting, lets you set the lighting direction and angle, as well as highlight brightness, color, and size (#10). These settings can be saved as a User Setting with a name you choose.
Pastel & Watercolor
For a soft, dreamy effect, I applied the Pastel filter to my water lily photo. While there are many settings within Pastel for oil, chalk, different papers, portrait, and landscape, I found the Factory default gave the best result in terms of color and detail for this flower. Finally, I tried the Watercolor options. While almost all gave a pleasing result, I settled on the "Brush, dry" setting.

In conclusion, while I was initially skeptical of Snap Art because of its total automation, after a few days of working with it, I found it to be a valuable tool, especially for those who do not wish to do any hand drawing. For $149, or discounted to $99 for any registered user of Alien Skin software, Snap Art has a lot to offer. With an older or moderately slow processor, you may sometimes get tired of waiting for previews to draw and final effects to render, but the ultimate result is worth it.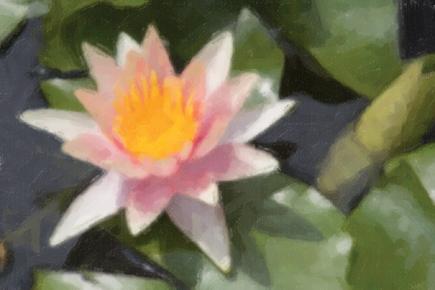 Be sure to check out the Snap Art website, www.alienskin.com, for information, samples, a user forum, a free 30-day trial version, as well as many free preset "User Settings" to download for additional effects within each filter.

For more information, contact Alien Skin Software, LLC, 1111 Haynes St., Ste. 113, Raleigh, NC 27604; (888) 921-7546, (919) 832-4124; www.alienskin.com.

LATEST VIDEO

SPONSORED VIDEO
Testing Tamron's SP 150-60mm G2 lens while capturing birds and alligators in Apalachicola, Florida.