Adobe's Photoshop Express For Advanced Photographers; Serious Medicine For An Underexposed Portfolio Page 2
Members can perform some sophisticated editing functions, create compelling slide presentations complete with music, and decide which groups of images they wish to share with the outside world. As a member you can allow browsers to view, link to, embed, print, or download your images—or not—you decide when you post a gallery. The printing feature is powered by Shutterfly.

When you outgrow the free 2GB of storage you can expand to 20GB for a mere $20 a year. That seems quite reasonable, and 20GB goes a long way if you first re-size your photos to optimize screen resolution.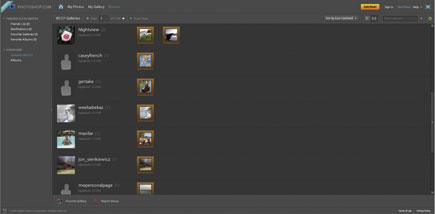 After you register you can freely browse albums that other members have designated "public."
Sharing And Showing Images
How can this simple but spiffy system help serious photographers? Like many photographers, you probably suffer from an underexposed portfolio. You have a collection of arresting images but only a small audience. Adobe's Photoshop Express addresses that syndrome succinctly. Post your albums and open them up to the world. Express is to photographers what YouTube is to professional singers—a 24/7 audition.
(Above & Below): Here are examples of what you'll see at http://jon_sienkiewicz.photoshop.com. For more information about this gallery, check out my blog on www.shutterbug.com.
And it's cool to know that somewhere out there in cyberspace is a blip on the web that others can reach by typing in http://your_name.photoshop.com. I currently have a public collection of images captured with a pair of Pentax D-SLRs last Thanksgiving. Go to http://jon_sienkiewicz.photoshop.com for a look. If you'd like more information about the images, check out my blog on www.shutterbug.com (the name of the related entry is "Thanksgiving").

For more information on Adobe's Photoshop Express, visit www.photoshop.com/express.