Adobe's Photoshop Elements 5.0; Almost As Good As Photoshop…Almost Page 2
In addition to the new online image file back-up service that's provided by Iron Mountain (www.IronMountain.com), Photoshop Elements 5.0 enhances its multi-session CD and DVD burning capability. To maximize the available storage space on a DVD, Photoshop Elements 5.0 keeps that DVD "open" after writing to it. You can then write multiple back-up sessions to the same DVD until the disc is full.
A combination of wide angle (12mm) zoom and low angle produced the classic tilted perspective look that's easily fixed in Photoshop Elements 5.0 with just a slight push of the Vertical Perspective slider. Now the Shah of Iran's Buick (no kidding) stands between two upright perpendicular columns--no view camera required.
What's Missing, And Who Cares?
There are several Photoshop functions not included in Elements but I'm not sure that the true target audience will notice. Photoshop Elements does not offer channel operations, Bézier drawing, vector clipping paths, or support for CMYK images. Do you care? When is the last time you clipped a vector's path? I never have.
In January 2006, Adobe Systems announced a new version of Photoshop Elements for the Mac OS. While working on this First Look an Adobe spokesperson assured me that "Mac customers continue to be very important to Adobe" and told me that Windows and Mac OS versions of Photoshop Elements are currently on different product development tracks.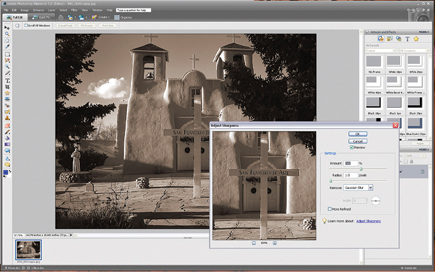 When working in the Adjust Sharpness dialog box you can zoom in and out of the photo in the preview area for a closer look. To see the results of the adjustment more clearly, click and hold the mouse button in the preview area, then release. Is it better than Unsharp Mask? I think so!
My guess is that Adobe is waiting for the now-delayed launch of Mac OS X Leopard to incorporate some of its features into the Mac version of Photoshop Elements 5.0, so it'll be worth the wait. In the meantime, Windows users who are waiting for the launch of Windows Vista can jump into Photoshop Elements 5.0, and that's a good thing.
In addition to working with photographs, Photoshop Elements 5.0 lets you add your photos to flexible themed layouts. You can also animate your photos and create interactive, Flash-based web galleries with no programming required!
System Requirements
· Microsoft Windows XP, Professional, Home Edition, or Media Center Edition 2004 with Service Pack 2
· Intel Pentium 4, Celeron, or compatible processor at 1.3GHz or faster (Dual Core and Hyper-Thread processors supported)
· 256MB RAM (512MB recommended)
· 1.5GB of available hard-disk space
· Color monitor with 16-bit color video card
· 1024x768 monitor resolution at 96dpi or less
· Microsoft DirectX 9 compatible sound and display driver
· CD-ROM drive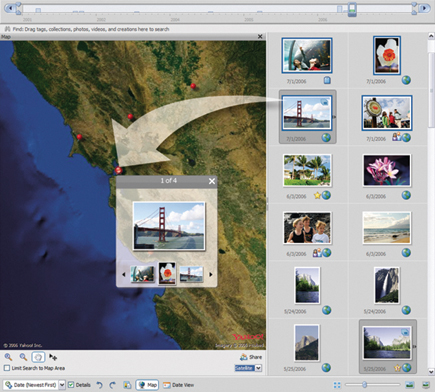 With the new Map View, you can visually locate photos that were taken in specific places, interact with and even search for photos based on the Map View. The Map View has three different visualizations: the default view provides the best view to see street information; a satellite view will toggle the map to show you the satellite imagery sourced by Yahoo! Maps; and hybrid view will overlay street information on the satellite data. Image courtesy of Adobe.
For more information, contact Adobe Systems Inc., 345 Park Ave., San Jose, CA 95110; (800) 492-3623, (408) 536-6000; www.adobe.com.

LATEST VIDEO