Accessories; Studio & Home Helpers Page 2
Print File now offers Crystal Clear Art Protectors, 3.6 mil polypropylene sleeves enclosed on three sides with a 2" flap on the fourth side having a reusable adhesive strip that withstands repeated opening and closing. They are offered in five sizes and come in packs of 10. Magna-Folio Albums have hard covers and an interior tray capable of holding up to 100 prints placed inside archival pages. They are sized for 8.5x11" or A4-size prints and are available in four colors.
Smith-Victor introduced two versions of the ImageMaker kit for simplified tabletop photography. The basic version includes a 20" square light tent, two 10" reflectors with stands and daylight-balanced (5500K) fluorescent lamps, white and black background sweeps, tabletop light stands, and a guide at an MSRP of $150. The larger kit includes a 28" tent, floor stands for the lights, and a carrying case at an MSRP of $250.
Smith-Victor ImageMaker Tent
Snap Totes, a firm that produces customized photo handbags and accessories made from durable microfiber material, has added seven new styles of custom bags. Customers visit a dealer or the website and can design and purchase a bag with their own photo on it. The photo can be black and white or color and appear on one or both sides. These original bags can be delivered in two to three weeks. Prices range from $25-$135.

Videographers will really appreciate the new Steadicam Merlin from Tiffen, an ultra-compact, ultralight balancing platform that allows you to hand hold a video camera while walking and moving about the event to smoothly record everything. It's said to reduce fatigue for longer shots and by itself weighs less than a can of soda. A dual-extended weight system increases inertial stability and counterbalancing weights can be exactly adjusted to precisely balance any video camera weighing from 0.5-5 lbs. A quick-release mount permits swapping the camera from the Merlin to a tripod. The MSRP is $800.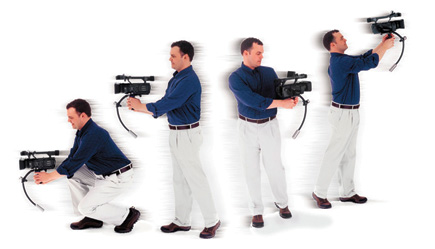 Stroboframe POPS 5 'N 1 Multi-POPS System from Tiffen includes five of the most popular reflectors to produce creative lighting effects in the studio or on location when working with tungsten, flash, or natural light. Included are Gold, Zebra (Gold and White), Silver, White, and Translucent. To use, unzip the two-sided fabric, turn it inside out, and zip it back. The wear-resistant fabric stands up to frequent use and the reflectors can be handheld or attached to light stands with common studio clamps. Give the metal frame a twist and the reflector folds down to 1/3 its open size. They are available in 32" for $66 and 42" for $75.

The Sunblitz BK400 Pro Electronic Flash Converter is a slave bracket that works with any digital camera system, even those with no flash shoe. It holds a flash unit to the side of the camera and works in single flash, multi-flash, and redeye reduction modes. It will automatically synchronize with the camera's flash and compensates for pre-flash patterns to trigger your flash with the digital camera flash.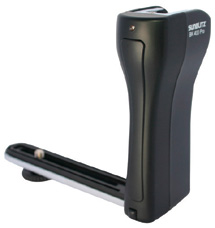 Sunblitz BK400 PRO flash bracket
The Sunpak DFU-01 Flash Diffuser Kit from ToCAD America Inc. is a twin kit that easily attaches to most flash heads to provide soft, diffused, even lighting instead of the typical harsh light produced by a flash alone. It's thin and lightweight for easy carrying and includes both small 5.5x4.3" and large 7.5x6" diffusion heads. It can be used automatically in TTL exposure but in Manual mode requires a 2 EV exposure increase. The MSRP is $49.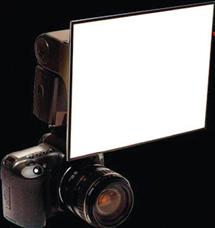 Unibind was demonstrating a low cost, do-it-yourself photo binding system for consumers. With it anybody can easily create a hard-covered 8.5x11" personalized photo album up to 9mm thick. Simply place photo prints or documents inside the special PhotoBook hard-cover album, place the album, spine down, inside the binding system holder, and then switch it on. An indicator light will glow red as it heats the resin in the album spine and turns green when finished. The MSRP of under $100 includes Windows software for photo layout. Albums are available with a window (that shows the first photo inside) or without a window and are offered in a variety of colors and finishes.
WovenArt, the firm that drew lots of attention last year with their capability of transforming any photograph into 100 percent cotton woven blankets, now offers large 26x34" pillows and wall hangings stretched over frames and canvas in three sizes--24x30", 36x48", and 48x60". They work from prints 5x7 or larger or digital files with a minimum of 2000x1500 pixels.
To obtain further information now about any item mentioned, contact the manufacturer at the address listed elsewhere as many of these products are so new that few dealers will have them in stock.

Manufacturers/Distributors' addresses can be found on page 174.

LATEST VIDEO

SPONSORED VIDEO