Accessories, Darkroom, And Bags
Items That Make Your Photo Life Better And More Interesting
My first PMA trade show was 39 years ago, and then it was dominantly photo products of all formats and sizes plus accessories, film, paper, darkroom equipment, and some mass photofinishing equipment. Although films and equipment needed for exposing and processing film were on display this year, practically everywhere we saw digital this and digital that. My assignment was to cover new and interesting accessories, darkroom products, and equipment bags. Nearly every booth contained some product of interest, but the show was so huge that it would be difficult to mention everything we saw. With that in mind here are some of the highlights.
Photo Accessories
AquaTech (Robert's Distributors) showed new Australian designed rain gear protective covers intended for long telephoto lenses attached to Canon or Nikon SLR cameras. They are offered in camouflage or blue-gray colors. Made of three-ply waterproof, breathable fabric, they have silicone sealing around viewing windows, a weather-tight seal around the lens front, and allow easy access to camera controls.

Arbella Enterprises showed a "Pop-Up" changing room in a bag that weighs just 3 lbs, folds flat for storage, and has its own carrying bag. Once opened, your model can easily change clothing anywhere, anytime inside the opaque bag, away from prying eyes. It sells for $50 plus S&H.

Cokin USA has an under-camera attachment to permit using their square "A" size filters with digital or compact cameras that typically don't have lens threads. This new multi-slot holder shoe easily attaches to the tripod socket on the base of any digital or compact camera then positions a filter slot in front of the lens to hold a standard "A" size Cokin filter without need of an adapter ring. A kit containing the holder plus a sunset and starburst filter has a MSRP of $40.

As usual, HP Marketing had a number of interesting accessories in their booth. The Kaiser slide viewer ($6) has a diffuser that easily comes off to turn it into a 2x magnifier for use on the LCD screen of a digital camera for more precise focus and image review. Giotto offers two sizes of rubber squeeze bulbs for dusting various electronic devices; this might be a better bet than the burst emitted from canned air containers.

Lightframe (from Logan Electric) is a backlit frame for displaying photo transparencies. A low-voltage, long-life bulb evenly illuminates these 5x7 and 8x10" frames and they come with transparency material needed for printing the images from digital files on your home computer. They list for $70 and $100.

MEDALlight (from Universal Electronics) showed a number of sizes and types of self-contained loupe lights with circular 5000K output running on battery or AC power. With them you can move the light around over an opaque item, such as a proof sheet, or switch off the light for viewing transparencies or negatives. Other similar light models just have an open central hole for use with your loupe.
A slave flash can improve images from many compact digital cameras by providing more light. Many cameras use a weak pre-flash to assist autofocusing, but this also will fire the slave prematurely before it's actually needed, thus not providing the extra light when it is wanted. The Morris digital slave (DS-1) attaches to a hot shoe and takes a shoe-mount slave flash head without wires or contacts. But it has a switch to change the sensitivity to fire either with the first flash or when the second picture-taking flash goes off.

OpTech USA has a soft pouch filter pack that attaches to a camera neck strap and will hold two filters of any size up to 77mm. A new media holster also attaches to the neck strap for keeping extra memory data cards or batteries handy.

Print File showed a number of new items, including two sizes and colors of WorkBox, a stiff-sided container for carrying slide/transparency pages plus notebooks. Wire bound archival transparent page albums are offered in several sizes (from compact for 4x6" prints to portfolio size for 11x14" prints) for easy carrying and showing of up to 24 prints. CD storage page albums are also new.

Stratos by Siegelite (sold through BKA) offers a mini digital folding bracket of machined black anodized (or other colors) of aircraft aluminum for positioning a slave flash over the lens of smaller digital and 35mm cameras. It folds into a compact size for easier carrying.

Want to transfer your photographic art images onto most any type of durable surface, such as wood, plastic, metal, tile, and more? Surlinx offers a patented process for doing just that. The image actually imprints the surface making it virtually scratch and water-resistant with no peeling or fading. Many interesting examples of image display on architectural and home décor applications were shown.

ZTS announced they soon would offer a new smaller Multi-Battery Tester, sized for easy carrying in a gadget bag. It works on most common sizes and voltages of alkaline and lithium batteries and will list for under $30.
In The Darkroom
Darkroom items were scarce, but we did locate a few new items. Clayton Chemical showed their Extend Plus, a low-contrast developer for both film and paper. Also new are Ultra Cold Tone developer, and an odorless rapid fixer suitable for film and paper, depending upon the dilution. These photo chemicals are offered in quart to 55-gallon drum sizes. They are mostly available through West Coast dealers, but they can sell direct.
Jobo announced the Fujimoto CP-32 automatic, temperature-controlled, three-bath, three-heater, roller transport print processor for paper sizes up to 12x16". It can work with positive/positive color papers,
RA-4 negative/positive color papers, and conventional black and white papers. After loading and closing the shield cover, it can be operated in room light. Accessories include a wash/dry module and auto replenishment unit.

Paterson has a new enlarging test strip printer for 4x5 paper having five, finger-flip light masks. Also new is an 8x10 single format-enlarging easel. Their Acugrade VC printing papers now include a warm grade paper. A kit of 12 dyes for handcoloring photos is also now available.
Bags And Cases
Bags, bags, and more bags were on display everywhere. Several brand-new firms had very interesting looking and functional bags. Some new models are becoming more accommodating to satisfy today's diverse photographer who typically carries many more items than just film or digital photo gear. A number of the larger suitcase and backpack style bags include a padded area for a laptop computer and other electronic accessories such as PDA or cell phone. Some even have a document storage area for passport, paperwork, pens, etc. Security is a common concern and bag manufacturers are trying to help by offering bags that look more like standard luggage, thereby hiding the valuable photographic contents. Some firms offering this type of disguise are Delsey, Lowepro, and Tamrac.

Case Logic offers a variety of small and medium-sized bags at very reasonable prices. New is the "Expandium Series" that can quickly be doubled in size for more equipment by opening a zipper. Their Koskin bags have a soft exterior and a new flip lid having a hook-and-loop closure.

Crumpler bags from Australia (offered by Jobo Fototechnic) have a very broad line of colorful and unusually named bags. This year there were additional new styles and colors. The larger models have a "hidden chamber of secrets," a lower shelf under the main large top that is only accessible by opening a security flap. They appear to be strong and tough with a waterproof exterior and a secure shoulder strap.

Body Glove (from Fellowes) is a new line of smaller sizes of soft, lightweight, shock-resistant padded and very attractive bags intended for digital and point-and-shoot or video cameras. The firm has been making wetsuits for 50 years and is new to the photo marketplace.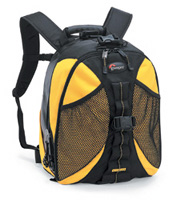 The new line of Delsey bags (exclusively at Bogen Photo) are made in France where this firm has made luggage for 50 years, but is new to photo applications. Two different lines are offered, Gopix models in a variety of colors and more moderate in price and the large PRO Collection with excellent detail and functionality. A wide variety of bags, from small models for point-and-shoot cameras, up to the multi-purpose and backpack styles, were on display. In addition they now offer the Amabilia brand (made in Italy) of hard-shell cases offered in three styles and many colors.

At Domke (Tiffen) new is the Urban Collection, which includes the Brick bag with thick padding and rigid polypropylene to provide extra protection for the adjustable compartment interior. The Curve is a shoulder bag that's ergonomically curved to keep the bag closer to the user's body. Arc 20 is a uniquely shaped long bag for carrying sensitive lighting equipment. The Quest Collection includes some new backpacks.

f.64 bags are offered in a wide variety of sizes and shapes. New are smaller pouch cases for digital cameras, cell phones, etc. Their new Trimline cases were designed without front or side pockets to keep them more slim and trim while offering easy access to the contents in padded interior pockets. A new backpack not only easily and safely carries digital or SLR equipment in the front, but also has a laptop computer space in the back.

Lowepro has expanded their Nova AW line to include six sizes of all-weather bags having a new cover material, overlap zipper, and a foam softened strap. The new very functional Dry Zone 100 bags are completely waterproof. Nature photographers asked for quieter zippers, so their Trekker series now have this feature. For smaller cameras and binoculars, there is the Linx collection that has both belt loop and shoulder straps and, for security purposes, were specifically designed not to look like camera bags.

Pelican hard cases (sold through BKA) have added a line of six sizes and four colors of Micro cases which are small, flat, watertight, and actually float in water. They are designed to safely accommodate small film or digital cameras plus a few accessories in extremely wet or harsh conditions. The larger sizes of Pelican hard-shell equipment cases now use a better double-throw latch cover closing mechanism.

The Seahorse line of watertight hard-shell cases (from Argraph) is new to photographic applications, but they have been produced for other markets for over 30 years. Offered in a variety of sizes and colors they all have soft, comfortable handles, a concealed purging valve, and conventional or key-locking latches. MRock soft bags are intended for carrying digital or film equipment. They differ from other brands in that they have two comfortable shoulder straps, both a buckle and zippered top closure, and a waterproof jacket that will cover the entire bag. A new backpack has a belt compression system, a stiffening aluminum frame, and lower and upper storage compartments that flip open.

Storm Case is another new line from Hardigg Cases. These all-weather, extra-durable, cases are made of hard resin and have press-and-pull latches said to be easier to use. Soft-grip handles make them easy to carry. There are 11 sizes and four colors offered.
Tamrac showed me a new larger Velocity 9 Sling Pack bag that makes a lot of sense. Instead of the conventional double-shoulder strap typically used for a backpack, there is just one carrying strap. When the photographer wants to gain access to the contents, they just slide the bag around while still carrying it. You don't have to remove it and find a place on the ground to set it. New on many other bags for digital products are pullout Slide Pockets packs for easier access to small items stored inside. They have a red flag system to identify fresh memory cards and batteries from ones that have been used.

World Richman offers a wide variety of handsome small to mid-sized leather equipment bags. New are the HiPro camera models with horizontal styling, and most are smaller models for digital cameras with some accessory pockets to hold media cards and spare batteries.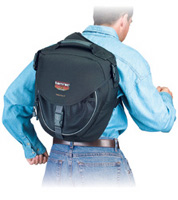 More Accessories
As our intrepid reporters roamed the aisles they found many new products that caught their photographer's eye. Here are some found by Jack Neubart.

DigitalCustom has taken their photo-restoration act on the road, as it were, with a prepaid mailer available at retailers, minilabs, and photo labs. You send the damaged photo by FedEx (prepaid by them and included in the package) and they will send you back the original plus a fully restored 8x10 print, with a CD containing a scan of the original and the repaired image as a digital file as well. It normally takes three to five weeks.

Brandess-Kalt-Aetna announced the launch of 7" tall, heavy poly-resin My Little Photobobble-Heads, which feature a frame to hold a picture of a child's (or adult's) face. A great gift idea for young and old. Themes include tennis, baseball, basketball, football, hockey, soccer, fireman, and policeman. In a different frame of mind? Try BKA's Frameese display framing system, which you can customize to frame almost anything imaginable. No tools or special skills required.

Want another way to show off your pictures? ULTRAline's Personalight is a cross between a lamp and a picture frame that allows you to display and illuminate your favorite photos. Simply print a letter-size transparency with any ink jet or laser printer, then slide the print into the lamp shade between a flexible diffusion layer and a clear rigid shield.

On the cleaning and maintenance supplies shelf at home you may soon find LensPen's Digi-Klear, a digital display cleaning pen for camera, PDA, and cell phone displays that won't scratch or damage the screen, and features a unique self-replenishing tip and cleaning compound that will not spill or dry up, and is non-toxic; Kinetronics' Anti-Static Canned Air Ionizer, which ionizes the canned air for better dust removal, as well as their Optics First Aid Kit with everything needed to optimize your optics; and International Parkside Products' VidiMax monitor display cleaner, which can also be used on scanner and copier beds, consisting of a safe, non-liquid cleaning compound and soft cleaning pad and duster, with its own mounting base.
--Jack Neubart

Manufacturers/Distributors'



FEATURED VIDEO