8 Great Tips for Photographing Swimwear at the Beach (VIDEO)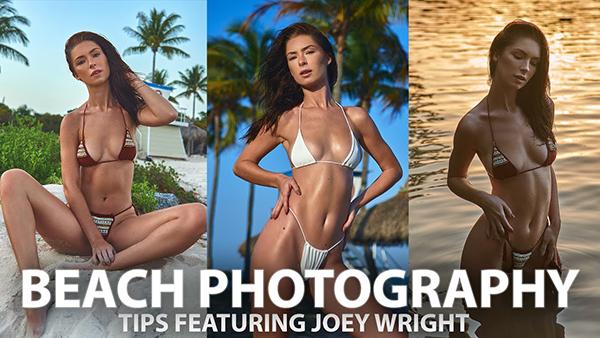 The weather is warming up, which means it's the perfect time to go to the beach. Just don't forget to bring your camera! And, more importantly, don't miss the below tutorial with eight great beach photography tips for photographing swimwear in natural light.
The video comes to us from pro portrait photographer Miguel Quiles but it features swimsuit photography tips from Joey Wright, who specializes in the genre. The video was shot on location in Miami, Florida, so put on your sunscreen and come along for the ride!
Tip #1: Choose Wardrobe that Complements Subject & Location
"While it's pretty obvious that we choose wardrobe that is flattering on the model," Wright says. "I think it's equally important whenever possible to try to complement the location or background of your photos with the wardrobe as well."
Tip #2: Respect Your Model's Hygiene & Privacy
"This tip is especially important if you are shooting lingerie or swimwear. I always let them know that everything has been washed before they're going to try them on and, on top of that, I keep hygienic liners in my shoot bag."
Tip #3: Give a Pre-Shoot Orientation
"At the beginning of every shoot I give the model my little pre-shoot orientation speech. What this is is basically letting them know how I'm going to direct them throughout the shoot."
Tip #4: Use Zoom Lens for Maximum Flexibility
"Whenever somebody asks me what my favorite lens is I always say my 24-70 2.8. Not only is it a fast lens that can get me through lowlight situations, more importantly, I love the fact that I get such range out of it."
Tip #5: Countdown Daylight Using Your Hand
"This is a quick little tip if you are running out of daylight. Maybe you didn't check to see what the exact sunset time was for that location or that time of year. You can actually hold your hand out and for every four fingers you've got about 30 minutes left in your day."
Tip #6: Work with the Wind, Not Against It
"What I always try to do is let the wind essentially dictate which direction I shoot in. I always try to shoot where the wind is kind of hitting her face."
Tip #7: Show Previews Throughout the Shoot to Keep Your Subject Engaged
"For whatever reason, I've heard some photographers say and even models say about photographers that they don't show previews during the shoot. To me, this is like trying to get ready without a mirror. It's really hard to know how things are turning out if you don't have some way to see yourself or get some feedback."
Tip #8: Do Not Experiment on Your Client
"A little birdie told me not long before this shoot that the Victoria's Secret Amber Romance body spray works amazing as a bug spray and smells awesome. So, I hopped on Amazon, got that spray delivered and brought it out to the shoot. And we ended up in this little nook where the bugs were ripe and very hungry, so we were all instantly getting eaten by these little mosquitoes. And I said, 'Hey guys don't worry I brought the Amber Romance.' But it did not smell awesome, and it didn't do [anything] for keeping the bugs away."

FEATURED VIDEO