7 Weatherbeaters: Protective Rain Gear for Your Camera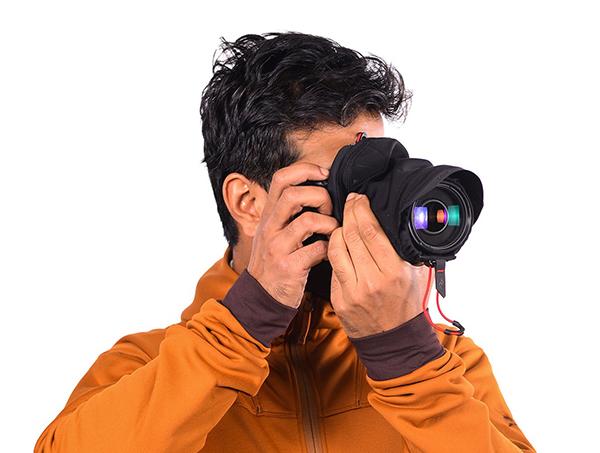 April showers bring May flowers—and water damaged camera equipment if we're not careful. Here are seven nifty devices that fortify your camera gear against the ravages of foul weather.
Poet T.S. Eliot wrote, "April is the cruelest month…" in a poem called The Waste Land which, incidentally, was not about the state of the digital compact camera market in the aftermath of the cell phone camera. I think he must have taken his DSLR outside and was caught in a downpour.
Sure, your camera may be labeled water-resistant, and that's all well and good. But unless that baby can be completely submersed underwater for 30 minutes, there's a chance that those alleged "environmental seals" will spring a leak like a $10 rowboat. You can risk it if you want, but don't say you weren't warned.
All of the products in this roundup are made of plastic, treated nylon or some other water impervious material, and all are draped over the camera gear much in the same way you'd cover a motorcycle with a tarpaulin. They differ in subtle ways although the prices vary widely. All are designed to protect your camera while in use. It's a good idea to always pack a few large (30 gallon) heavy-duty garbage bags, ideally polyethylene bags that are at least 3-mils thick (although you may have a hard time determining the thickness from the product listing, it's often marked on the packaging). That way you're protected from an unexpected deluge.
Peak Design Shell
Available in small, medium and large sizes (see sizing chart) the Shell from Peak Design is made of a stretchy fabric that has a waterproof membrane embedded to keep out the rain. Like all other products in this story, the protection also extends to snow, sleet, most dust conditions and many of the other things that might fall from the sky (e.g., bird bombs). I like I the Shell because it covers the camera gear snugly and can be left on easily even when the camera is not on a tripod. Costs around $45.
Think Tank Hydrophobia
Among the zillions of cleverly designed (and cleverly named) products offered by the creative folks at Think Tank, the Hydrophobia line is arguably the coolest. Available in two models for cameras equipped with either 70-200mm f/2.8 or jumbo 300mm through 800mm f/5.6 lenses, these rain covers use a camera-specific eyepiece and are therefore useable with all Nikon and Canon DSLRs, and some Sony and Olympus DSLR camera bodies. Cost starts at $150.
Ruggard DSLR Parka Cold and Rain Protector
This well-made camera protector is lined with fleece to eliminate any chance of scratching your equipment—nice touch, I think. Ruggard's entry features a see-through panel for the camera's LCD monitor and covers a camera, attached lens with lenshood and shoe-mounted flash. Nice product for $79 and it comes with a storage pouch. Also recommended for camcorders.
LensCoat RainCoat
If not the Cadillac of rain covers, LensCoat products are certainly an industry standard. Offered in a large variety of sizes and shapes to accommodate just about any need (see chart below, all the way at the bottom) RainCoats are made in the USA and priced from $59.
Canon ERC-E5M Rain Cover
Canon's entry in this arena comes in three sizes and uses a dedicated eyecup to facilitate full access to the (Canon) camera viewfinder. The largest size fits a camera body with a Canon EF 400mm f/4 DO IS II USM attached and can sometimes be spotted at pro sporting events. Prices range from $99 and it should be noted that the light color effectively reflects sunlight in addition to repelling raindrops but is of only marginal value during zombie apocalypses.
Dot Line DL-7096 DSLR Rain Cape
The DLC Rain Cover is lightweight plastic material that is secured via hook-and-loop fasteners and a draw string closure. It features a clear vinyl window for the camera's LCD screen. Available in small, medium and large sizes, it's basic—but effective—and has a very basic price of around $27.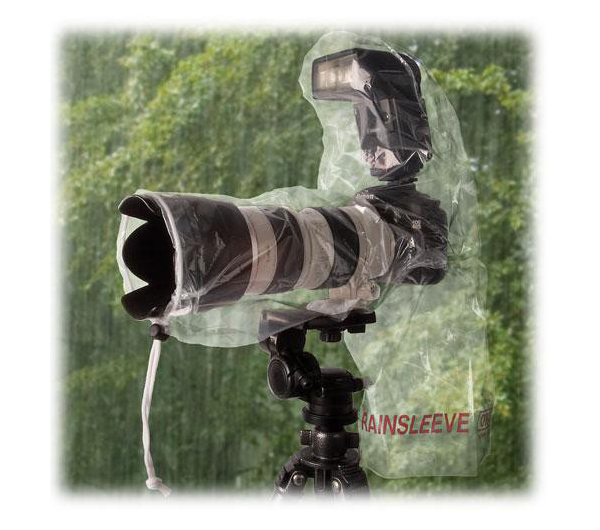 Op/Tech USA Rainsleeve-Flash
We saved the Op/Tech Rainsleeve for last so you can immediately place an order without skipping any of the article. Priced at two for $6.95, it's almost ridiculous not to have these in your main gadget bag, car trunk and backpack so that you are protected during an unforeseen weather emergency. Available in four models to suit a range of camera combinations, the Flash version also covers a shoe-mounted EFU.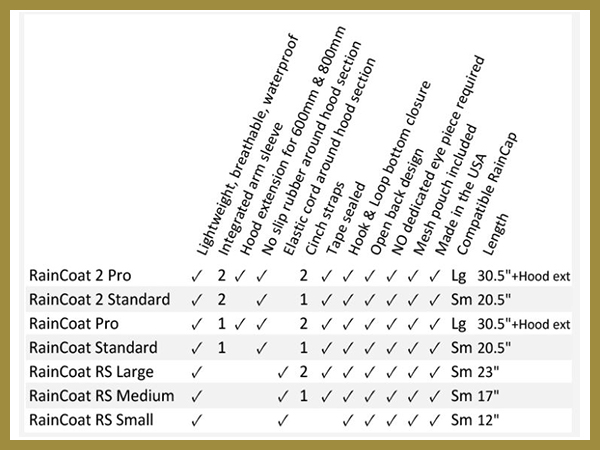 Conclusion
If you are headed to the Amazon rainforest, the top of Mount Washington in NH, or some other adventure location where precipitation is the rule and not the exception, these products may be outmatched (although the Think Tank Hydrophobia may indeed be up to those climates and worse). But if you're likely to be caught in a typical spring cloudburst, any of these will do. If your cameras are weather shy like mine are, invest in some protection so you don't miss some great spring photo ops.
—Jon Sienkiewicz

FEATURED VIDEO