6 Street Photography Tips from Pierre Lambert: How to Take Photos of Strangers (VIDEO)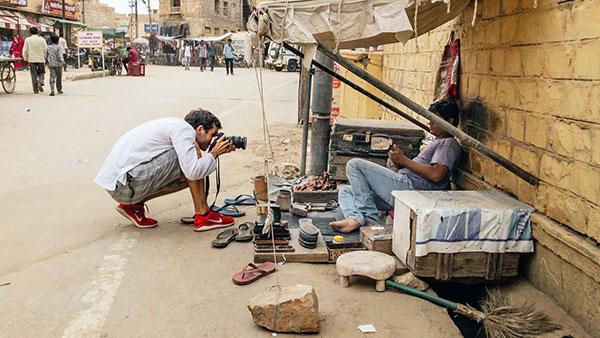 From his travels throughout the world, Pierre T. Lambert has become an expert at street photography. In particular, he's been able to overcome his shyness to capture eye-catching portraits of total strangers on the street.
How has he done this? He explains it all in the below video titled, "Street Photography 6 Tips for Taking Photos of Strangers."
"Taking photos of strangers in street photography is tough," Lambert says. "Today I'm sharing with you tips to take photos of strangers in street photography in India. How to overcome shyness and interact with people you want to shoot. I'm in the street of Jodhpur in India to share with you those street photography tips in India."
Here are Lambert's six photography tips, which he explains on the streets of Jodhpur:
#1 Be Friendly
#2 Show Your Pictures
#3 Practice Patience
#4 Get a Local Guide
#5 Use a Longer Lens
#6 Have Multiple Layers in Your Images
Want more street photography tips? Check out these two other videos from Lambert:
How to Crush Street Photography Using These Great Tips (VIDEO)
Here's How to Overcome Your Fear to Shoot Awesome Street Photography of Strangers (VIDEO)
Don't forget to check out and subscribe to his great YouTube channel! And, while you're at it, check out and subscribe to Shutterbug's YouTube channel as well, where we are posting photo how-to and gear videos from Shutterbug photographers.

LATEST VIDEO