5 Top Ideas for Shooting Epic Winter Macro Photos (VIDEO)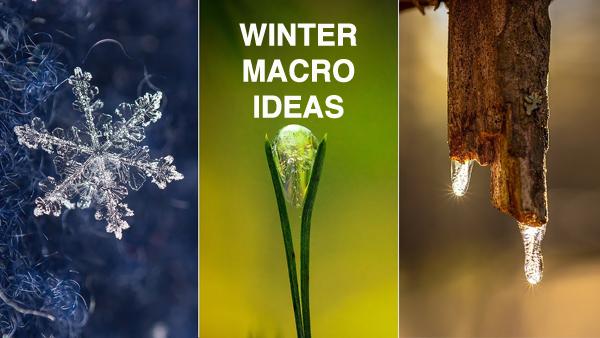 Most photographers consider spring and summer the optimum seasons for macro photography, when interesting bugs and colorful flowers seem to be everywhere you look. While you can shoot small subjects any time of the year indoors, winter offers an array of unique opportunities for close-up photography outdoors.
This is a great time to turn to regular contributor, British pro Micael Widell, as he's an experienced outdoor photographer specializing in macro photography. A quick glance at his fine imagery will convince you of his skills. In today's episode he reveals his five favorite ideas for winter macro photography in barely six minutes.
Widell admits that close-up photography can be challenging in winter, unless you adjust your thinking and explore subjects that aren't available earlier in the year. But once you open your eyes and take a different approach, there are endless opportunities for making amazing photos.
The first thing Widell looks for on a winter outing is what he calls "frosty things." These include everything from barren tree branches covered with a shining layer of frost, to pinecones, leaves, and much more. For these subjects he often adds a white vignette around the outer portions of the image.
Widell suggests camera settings for all of the scenes in the video, noting that in some cases these should be considered a starting point, followed with some experimentation. His second idea sounds a bit peculiar, but he demonstrates how you can capture some very compelling images by photographing dead plants.
You'll see why it's usually important to adjust exposure settings for a clean, soft background to make your key subject stand out, and how positioning yourself with sun entering the frame can make a big difference in your results. Finding subjects with a bit of color also makes photos more compelling.
Other interesting winter subjects include both freezing and thawed raindrops, and last, but definitely not least, sparkling snow crystals that take on limitless forms. Widell demonstrates the necessary gear and techniques for all the scenes in the video, and we suggest you make this your winter weekend assignment.
There's much more to learn on Widell's YouTube channel and in a recent tutorial we posted from another pro, with 10 ideas for shooting magical winter landscape photos.

FEATURED VIDEO