5 Tips for Enhancing Portraits in Photoshop (VIDEO)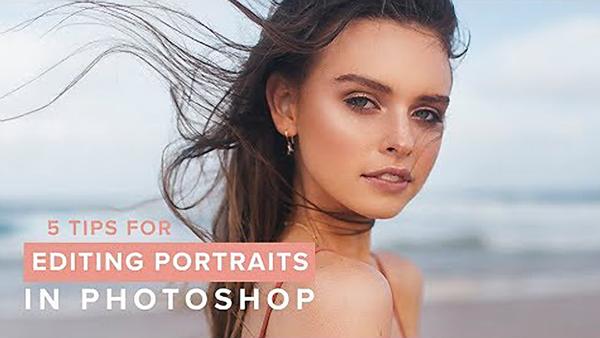 If you're one of those photographers who thinks portrait editing is a complicated and mysterious task, this quick tutorial is for you. In less than five minutes you'll learn five simple tips that will make a big difference in your people pictures.
Julia Trotti is a fashion photographer based in Australia, and in the following quick video she walks you through a quick workflow she uses every day to make her models look their best. She also includes a link in the description below the video, for those of you who prefer to edit portraits in Lightroom.
Below is a quick rundown on the Photoshop tips in this video, in the order Trotti recommends. She provides all the necessary settings, so you can get started right away.
#1 Set white balance for optimum skin tones
"While you're in the raw editing panel, adjust any under- or overexposed areas of the image. It's better to do this with the raw file, and you want a clean, balanced image to start working on."
#2 Use the Spot Healing tool to remove any blemishes or distracting elements in your image
"The Spot Healing tool automatically samples parts of an image. It's really easy to use, and I recommend working on small sections at a time."
#3 Dodge and burn the image to bring attention to key portions of the shot
"The Dodge tool brightens areas that you brush over. Use it on areas of the image where light would naturally fall, such as over the nose, eyes and forehead. The Burn tool darkens areas that you brush over, and it's important to use a soft brush."
#4 Use the Color Balance tool to give your photo a style
"Do this by altering the colors in the highlights, midtones, and shadows. You can either keep things looking natural, or add a bit of personality with some more creative editing."
#5 Use the Gradient tool to further stylize your image
"You can either create your own color for the gradient by changing the color palette in Photoshop, or you can select the pre-made colors in the Gradient tool."
After giving these easy editing tips a try, be sure to watch another Trotti video we posted, with a behind-the-scenes look at how she shoots beautiful portraits on the beach with natural light. You can also find more portrait tutorials on her YouTube channel.

LATEST VIDEO