5 Simple Tricks for Shooting Eye-Popping Photos & WOWING Your Friends (VIDEO)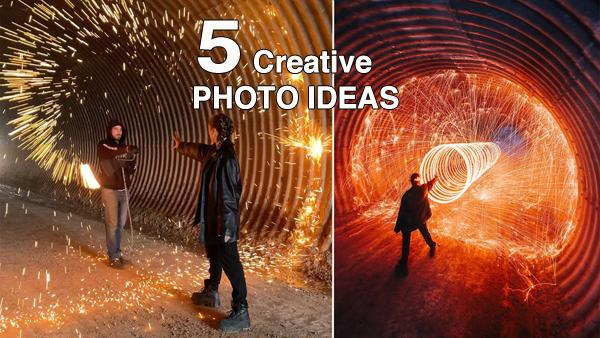 If you're running out of fresh ideas, and need a quick jolt of inspiration, this fun video will provide a quick jump-start and get your creative juices flowing once again. You'll pick up five eye-popping ideas in less than three minutes, enabling you to shoot images with the WOW! factor.
Jordi Koalitic is a popular online instructor with a YouTube following approaching 200,000 photographers of all skills levels. We often refer to him as a "trickster" because he's full of unique, wacky ideas.
In the quick episode below, Koalitic provides five new fun ideas for capturing images with a creative, unique look. And best yet, these shooting tricks are easy enough for anyone to try, and require to exotic gear. There's no dialogue in the video, so all you have to do is sit back and watch Koalitic work his magic.
Koalitic and his crew begin on a beach with a beautiful sky in the background, and using nothing more than his phone and an easel for a prop, he creates an interesting and eye-catching portrait. As with all the setups in the tutorial, he includes the relevant exposure information with his images, whether they're shot from a camera or a phone.
For his second trick, Koalitic moves inside a small tunnel, armed with a smoking sparkler that's swung in a circle from a chain to illuminate the tube. The result is an awesome long-exposure shot. This one requires an assistant, so you'll need to bring along a friend.
Koalitic's other effects include photographing a model from a low perspective to capture beautiful reflections on the water in the foreground. He also shoots three of his friends against a gray wall to capture their shadows with interesting illumination. There are a couple more great ideas to try, so watch the video to see how it's all done.
There are many more fun tips on Koalitic's YouTube channel, so take a look and subscribe. And check out another helpful tutorial we posted, demonstrating the most effective way to use depth of field for pro-quality photos.