5 Minutes of EASY Portrait Tips Using NATURAL Light Outdoors (VIDEO)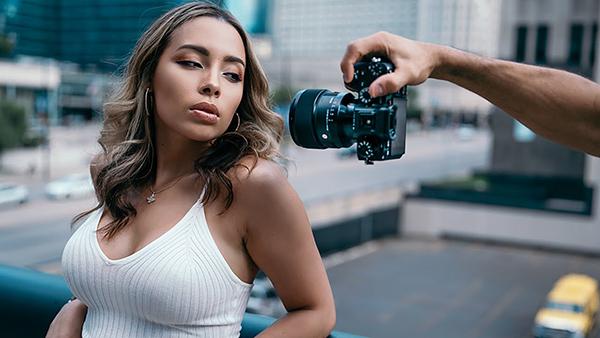 We've been featuring photographer Manny Ortiz's "NO BS" series of portrait photography videos where he shares handy, real-world tips in less than five minutes. One of his recent "5 Minutes of No BS" tips features "straight to the point" advice for shooting portraits in urban, outdoor settings using only natural light.
His subject for his "Straight to the point, NO BS, Urban Photography tips" is his lovely wife and frequent collaborator Diana who poses for Ortiz's lens at several outdoor locations in Chicago. Since he doesn't want to waste time, there's very little intro to his NO BS videos.
Ortiz just jumps right to demonstrating the tips while photographing Diana with the Sony A1 and an 85mm and 35mm lens.
#1 Find Urban Symmetry
"This first location might not look like the ideal spot but look behind her," Ortiz says. "We've got nice symmetry and lines and, of course, that's what you hear me saying every time. Find lines and find symmetry."
#2 Defocus Trick
"I'm going to defocus on the ground and just look and walk around with my lens defocused. Kind of previewing my background. And I'm already liking those lights, which make for great bokeh with the 85mm F/.1.4."
#3 Include the Surroundings
"When you're trying to include the environment in a shot, you want to shoot it from a lower angle."
#4 Seize the Moments
"One good thing about this run-and-gun style of photography is where you're just walking around and just using your photography intuition, your instinct on what could look good. I didn't expect the lighting to be that good here, but it just happened."
#5 Change Levels
"I'll take pictures from high, then from eye-level, then I'll go down to chest level. I'll just keep going down and get different variations. "
Watch the video below and then go hit up Ortiz' channel to see all of his content. Below the video, we'll post links to his other "NO BS" portrait tutorials for you to learn from.
5 Minutes of NO BS Portrait Photography Tips (VIDEO)
Watch 6 Minutes of Straight-to-the-Point PORTRAIT Photography Tips (VIDEO)
How to Shoot Stunning Portraits with Flash: 3 Minutes of Great Flash Photography Tips