The 35th Annual Tokyo Used Camera Show: Leica Dominance & Selling Prices
The 35th Tokyo Used Camera Show was held from February 20-25, 2013, in the Matsuya Department Store in Tokyo. Nearly 100 camera fans began a queue at 6pm the night before the opening at 10am, and it was a chilly evening indeed. Upon opening, these were the first people who ran up the escalators or jammed elevators to the 8th floor, the large exhibition hall where the show was held. Their quest? Perhaps to be the lucky man who would grab a rarity like the Leica KE-7A Civilian with an Elcan 50mm f/2, priced at $12,000.
Frankly, in the last few years the camera business, used or new, was not very good. Prices were down due to overall deflation and even lower prices did not encourage purchases, but at the bottom of it was the fact that the "camera buying spirit" of the people was at a low ebb. This year, however, they came back, and the show had some 22,500 visitors in six days, marking a near 20 percent increase in attendance, and that increase in attendance was mirrored by a corresponding increase in sales.
The Leica Empire
This year, visitors' interest focused on 35mm format cameras—not on SLRs but on rangefinders. For younger generations, the SLR seems to have become mundane, a common thing they grew up with; on the other hand, the rangefinder now appears fresh and attractive to them. And when they seek the best in that class of camera they often think of nothing but Leica.
At a coffee break, I happened to talk with a number of salespeople, and they told me: "We enjoy a good business with Leica, as we do every year, and especially this year. But we sometimes wonder, why Leica? Why is it so exceptional, why is it so prestigious and popular at the same time?" My reply was simple. "While I don't presume to give my point of view to professionals like you, I think there are four reasons. One, Leica established its reputation among early photojournalists with the camera's excellent portability and optical performance. Second is technical advancement. As early as 1932, Oskar Barnack succeeded in creating a complex coupled rangefinder system without increasing the total height of such a relatively small camera body, making it one of the most advanced cameras in the world.
"Third is aesthetics. When you look at a Leica IIIa in matte chromium finish, for example, you are struck by the sophistication of the design, which elevates a 'mere camera' to an objet d'art. It is the reason why there are so many Leica collectors. Fourth is robustness. It has proven itself over and over under the toughest of assignments and shooting conditions These four reasons combined together seem to support the fame of Leica."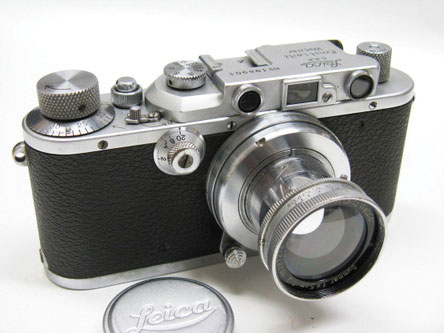 Selling Prices
Here's a rundown of some of the prices commanded at the show. The prices are quoted in US dollars for items in excellent to mint condition.
Leica M3: $1000 to $1500
Leica M4: $1300 to $1800
Leica M4-2: $1000 to $1100
Leica M4-P: $1000 to $1100
Leica M5: $1300 to $1600
Leica M6: $1200 to $1400
Leica M7: $1600 to $1800
Leica IIIf: $500 to $700
Contax IIa: $700 to $800
Contax IIIa: $700 to $800
Hasselblad 500C/M: $1000 to $1250 (with 80mm f/2.8 lens)
Hasselblad 503CW: $3700 to $4000
Rolleiflex 2.8F: $1700 to $2100 (with Planar lens)
Rolleiflex 3.5F: $1400 to $1800 (with Planar lens)
Rolleicord Vb: $600 to $700
Rollei 4x4: $300 to $350
Rollei 35: $360 to $400 (made in Germany)
Super Ikonta 6x9 V: $900 to $1100 (MX)
Super Six V: $600 to $700 (MX)
Ikonta 35 w/Tessar: $280 to $330
Ikonta 35 w/Novar: $150 to $180
Kodak Retina IIIc: $450 to $550
Canon IVSB: $250 to $380
Canon P: $160 to $200
Nikon SP: $1500 to $1700
Nikon F: $300 to $350 (chromium, eye-level)
Mamiya 645 Pro TL: $500 to $650 (with 80mm f/2.8, winder, AE finder)

LATEST VIDEO