35mm SLR Cameras, Lenses And Flashes
In this high tech era, I expected to find a half dozen brand-new 35mm SLRs packed with computerized capabilities at the PMA show. However, this year's show produced only a single pair of that type, since others were unveiled at last fall's photokina. Instead, I saw a surprising number of new manual focus models. The manufacturers may be devoting their advanced research to digital cameras this year, or perhaps, we're entering an age of retro cameras. Whatever the reason, there were also few new lenses or flash units introduced.
Affordable SLR Cameras
Since Pentax discontinued their venerable "student's camera," the K-1000, most of the other manufacturers jumped in to fill the void with similar basic models. While some offer a couple of automated features, such cameras are generally reminiscent of those that we used in the 1970s. Simple to operate (if you understand the basics of photography), they feature old-style controls and omit the safety net of automation, for the most part.
Phoenix Corporation already offered the fully manual P-1, but that model has been joined by a new entry, the Hikari 2002. Made in China by the manufacturer of the Seagull twin lens reflex cameras, the 2002 is a solid, beefy and moderately heavy (15.7 oz) model with a surprisingly nice fit and finish. Although the factory has a fine reputation, each model is closely checked in the US to confirm that it will meet American quality control standards. Thanks to extensive use of metal--including the mechanical shutter that will operate when the batteries fail--this camera should withstand many years of heavy use.
A handsome gunmetal gray body, with rubberized handgrip, the Hikari 2002 includes a surprisingly bright viewing screen with split image microprism. This is a manual-only camera with the basic amenities: center-weighted metering with SPD cell, multiple-exposure capability, hot shoe for non-TTL flash at 1/125 sec or slower sync, and the usual mechanical film advance and rewind controls. Although the specs did not mention it, there's a stop-down button, too, for depth of field preview, essential in a student's camera. Viewfinder data is minimal but offers three LEDs to guide exposure metering and a "flash charged" signal when appropriate. We expect this camera, with a close focusing 28-70mm f/3.4-4.8 zoom lens, to sell for around $225.
Vivitar introduced a V3800N camera with similar cosmetics and features, but 2.7 oz lighter. This model accepts any Pentax K-mount lens. This is good news for anyone on a budget, since there are still thousands of used K-mount lenses available. Unlike the Hikari, the V3800N can also be purchased in a kit with a 50mm f/1.9 "normal" lens. Vivitar suggests a retail price of $170 for the kit with a "normal" lens and $210 for the kit with a 28-70mm zoom, remaining well within the price range that entry-level photographers--and students--can afford.
A "Hybrid" Nikon SLR
Although Nikon's autofocus SLR cameras far outsell their manual focus models, this company has found a continuing demand for the more conventional bodies. Com-bining the best of both worlds, the new Nikon FM3A inherits many of the classic FM2's features, including a die-cast metal body, familiar 60/40 center-weighted metering, and old-style controls. Its shutter will also continue to operate if the batteries fail.
However, it also benefits from some upgrades and more modern technology. The hybrid control shutter system is both mechanical and electronic. It's operated electronically in Aperture Priority AE mode, with a range of 1/4000 to 8 sec in stepless operation. Switch to metered Manual and it becomes fully mechanical, while retaining a full range of speeds from 1/4000 to 1 sec. Because the mechanical shutter operates without power at all speeds, you can keep shooting even if the batteries fail, though without meter guidance, of course.
What's more impressive is the flash metering control. The FM3A offers TTL flash metering with a 1/250 sec top sync speed when used with most current Nikon Speedlights, including the SB-28 and new SB-50DX. Want less flash output in outdoor photography? Then simply press a button for daylight-balanced fill flash. In Manual mode, slow-sync fill flash is also possible. As expected, the camera accepts the full line of Nikkor lenses from AI-S to the latest autofocus models.
The specs include AE Lock and exposure compensation control, an incredibly bright viewfinder with split image focusing aid, automatic (or manual) film speed setting with DX code reader, essential data in the viewfinder, depth of field preview, and multiple exposure capability. Two optional viewfinder screens will be available: B3 for close-up photography and E3 with grid lines for architecture and landscape photography. With the accessory MD-12 Motor Drive, a film advance rate of 3.2 fps is possible. Suggested retail price for the silver/black FM3A is $820 and $845 for the all-black model.
New Nikon Accessories
The latest Nikkor lens, and an ideal choice for the silver FM3A especially, is the new (manual focus) AI-S 45mm f/2.8P Special Edition, an ultra compact lens with metal barrel. The P designation indicates a built-in CPU, making the lens fully compatible with the high tech features of all cameras including the F5, except for autofocus. The short physical size of the barrel was achieved through the use of a Tessar-type design: four elements in three groups. A rounded diaphragm with seven blades should produce pleasing effects in out of focus backgrounds. Suggested retail price, including a matching silver lens hood, NC filter, and lens cap is $450.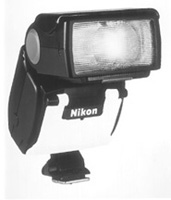 At the other end of the spectrum is the new AF 28-80mm f/3.3-5.6G (D-type), the second in the budget-priced G-series, without aperture control ring. It is very compact and lightweight and is intended for use with recent Nikon cameras that allow for f/stop selection with the camera's Command Dial. This zoom features one aspherical element and seven diaphragm blades. Suggested retail price is $168. This zoom will also be included in kits with the N80 and N65 in the near future. Nikon's AF-S 300mm f/2.8 ED IF--with nearly silent, super-fast Silent Wave focusing motor--was already popular with sports, wildlife, and fashion photographers. Now, it will be replaced with a new ED IF II model boasting two significant advantages. At 5.6 lbs, it weighs a pound less than its predecessor, thanks to the use of magnesium alloy parts; second, it focuses as close as 7.5', a 2.5' improvement. A circular aperture and three ED elements should help to ensure excellent images. The lens should be available now, at a suggested retail price of $5740 including a ballistic nylon case that's dust and water-resistant.
Nikon has always offered Speed-lights with numerous capabilities, but some models tend to be pricey. Their new SB-50DX is a compact, full featured flash unit, with a modest GN of 72 (ISO 100/feet), that should sell for $200. Of course, it will support all Nikon SLRs many high tech capabilities, including those of the new digital cameras. It's jam-packed with features, too, including a 24-50mm zoom head plus 14mm wide flash adapter, flash exposure compensation control, tilt capability, focus assist illuminator, full information LCD panel, and more.
This new Speedlight is also particularly suitable for extreme close-up work--down to 11.8"--when tilted down to the minus 18 setting. There's another useful capability: when the SB-50DX is off-camera, wireless TTL slave flash capability is provided. The remote flash can be triggered by an on-camera Speedlight or with the built-in flash of the N65 and N80. Ratio control is possible, too. Considering its modest price and high versatility, I suspect that this compact flash unit will become Nikon's most popular Speedlight.
New Sigma Equipment
Before photokina last year Sigma had hinted that it was working on a new camera to replace the current SA-5. In fact they had been designing two nearly identical models with slightly different features. Both include an oversized shutter speed and film drive selector knob, a single Command dial, plus well-marked exposure control buttons on the right side. Most functions appear to be intuitive, making for simplicity of operation. Although they use the same single, cross-type autofocus sensor as the SA-5, the algorithms have been upgraded. In the low light of the trade show, response was quick, and tracking focus has been improved, too, according to Sigma.
The latest Sigma lenses are both 24-70mm models, but one is a compact model while the other features a very wide maximum aperture. Neither incorporates the HSM (nearly silent hypersonic) focus motor that's common in many recent Sigma lenses, but they make little noise and seemed quick to focus. The 24-70mm f/2.8 EX Aspherical DF employs three aspherical elements to minimize spherical aberration at short focal lengths plus two Super Low Dispersion elements to correct chromatic aberration. This is a rugged, large, and heavy (24.7 oz) zoom that promises long-term durability and a very high level of performance.
Its much smaller and affordable counterpart, the 24-70mm f/3.5-5.6 zoom, incorporates one aspherical element probably adequate for a lens without wide apertures. It's small, lightweight (10.1 oz), and has a depth of field scale. It is made with lead and arsenic free glass.
Pro Or Flagship SLR?
Although Pentax had exhibited a new camera (under glass) at photokina, it was only a mockup. We finally got to see a working sample of the MZ-S at PMA. Entirely different in shape and controls than the current PZ-1p, this camera was called a pro model in some early literature but is now described as the "flagship of the line." This is probably more suitable, since the MZ-S is well specified but not in the same league as pro cameras that cost twice as much. (However, a price has not yet been set.) Although it includes many PZ-1p features, there are some new amenities. The SAFOX VII autofocus system is far more sophisticated, featuring six focus detection sensors rather than a single wide area sensor. This is certainly preferable for off-center compositions. The user can select any desired point or allow the camera to do so automatically. Apparently, its overall performance--including predictive tracking focus--is also superior.
Other new features include a higher top shutter speed of 1/6000 sec and flash sync at all speeds with the AF360FGZ flash unit; the standard top sync speed is 1/180 sec. With one or more of the same flash units, wireless off-camera TTL flash is also possible. The built-in data back allows date information to be printed on the film, and if desired, also exposure data--between frames. The system is designed so the data is not lost when the film is cut into individual frames.
The top film advance rate is 2.5 fps, and is not increased by the accessory AA battery pack BG-10. Other features worth noting include 19 Custom Functions, four exposure modes, autoexposure bracketing, an extremely bright viewing screen, depth of field preview, eyepiece diopter control, illuminated lens mount index, and oversized LCD data panel.
This moderately small and lightweight body (18.3 oz) includes components of (light but rigid) magnesium alloy. Its "direct-access" control dials are slanted backward, so they're easy to see with a slight shift of the eye from the viewfinder. Their operation is probably simple once you read the Owners Manual, but I certainly could not work them intuitively; still, the MZ-S appears to be less complicated than the PZ-1p. This is a handsome camera with a unique, rounded style and an overall look of a high-precision instrument.
The new flash unit AF360FGZ offers advantages as mentioned earlier. However, its Guide Number is lower than that of the AF 550FTZ: 118 vs. 180 (in feet). Since the 24mm focal length has become common in zoom lenses, Pentax also introduced the FA 24-90mm f/3.5-4.5 AL [IF] lens with Inner Focusing mechanism. It incorporates two aspherical elements plus one low dispersion glass element to minimize both spherical and chromatic aberration. It's a compact and lightweight (12.5 oz) zoom that should become the standard lens for most Pentax camera owners.
Other Lenses And Flash Units
Although Canon had announced their 400mm f/4 DO IS USM lens at photokina, this was the first public opportunity to actually check out a working sample. (See Bob Shell's report on this new Multi-Layer Diffractive Optical Element (DO) technology in February 2001 issue.) Surprisingly compact, this model is also very light; it reminded me of the EF 300mm f/2.8L IS USM lens, but with a much smaller diameter. The DO technology would be great in other long lenses, too, but we're unlikely to see other DO lenses for some time. The EF 300mm, 500mm, and 600mm L USM IS telephotos are very new and will probably not be replaced for a few years yet. Still, this single DO lens does offer a hint as to the future, when all Canon super telephotos will be substantially smaller and lighter than today.
Canon has upgraded their two tele-converters, making them as dust and moisture resistant as the new super telephotos with Image Stabilizer. This is a logical development, since the tele-converters were the "weak link" in terms of susceptibility to rain and dust storms. The new II-designated models include gaskets in the front and back mounts and in the release knobs. The optics of the EF 1.4x II (excellent!) remain unchanged except for superior multi-coating. However, the EF 2x II features an entirely new optical design to more closely match the optics of the new super telephoto IS lenses. Note, too, that these models can be stacked without the need to mount a short extension tube between them. The list price of each is $650, but the estimated street price is $450.
Tamron did not introduce any new lenses, but the duo that was first shown at photokina was finally available. I had a chance to use the SP AF 24-135mm f/3.5-5.6 AD in Florida, and found it to be highly versatile for travel photography. It's reasonably small and lightweight (18.5 oz) and features four hybrid aspherical elements plus one Anomalous Dispersion element. Tamron reps are still waiting for a detailed technical explanation of this AD technology, but it is said to correct two types of aberrations: "on-axis chromatic" at telephoto focal lengths and "lateral chromatic," which is said to be problematic in wide angle lenses. The AF 70-300mm f/4-5.6LD (with one low dispersion element) is a very compact, affordable lens; its extreme close-focusing capability allows for an impressive maximum magnification of 0.5x.
Tokina's long-awaited AT-X 24-200mm f/3.5-5.6 zoom should also be available by the time you read this, at roughly $400. That's a modest price, considering the two aspherical plus two Super Low Dispersion elements. The first zoom that includes this range of focal lengths should be an immediate success, especially for family vacation trips, hiking, cycling, and other activities, it may be the only lens you need to carry. A 24mm focal length is significantly wider than 28mm, making this zoom particularly desirable.
Bogen Photo Corp. already offers a vast line of Metz flash units and accessories, but now there are two new models. The potato-masher style 70MZ-4 and 5 are similar but the 5 has a second flash tube, useful for filling in facial shadows when the primary head is used for bounce flash photography. It also allows for flash exposure bracketing and offers a modeling light function plus faster recycling. These large, heavy models offer a wealth of capabilities and lots of power output: a GN of 164 (in feet) at the 50mm setting and 230 at the 105mm setting. They also offer a high level of compatibility with many cameras' high tech features when used with the SCA 3002 adapter; this unit can be programmed to suit the camera in use.
The smaller, shoe-mount Metz 54 MZ-3 flash includes a small secondary tube and a high GN of 177 (in feet) at the 105mm setting of its power zoom reflector; settings from 24-105mm are available. This unit also offers a very lengthy list of features, including flash exposure compensation and bracketing, and compatibility. It supports Canon E-TTL flash control, Nikon 3D multi-sensor and Matrix flash, high-speed sync with Canon, Minolta, and Nikon cameras, flash exposure bracketing, wireless remote TTL flash, second curtain sync, redeye reducing pre-flash, and more. Simply order the model with the suitable SCA 3000 adapter for your camera system to assure compatibility.
Minolta already has a full line of lenses, including some excellent Macro lenses, so this time they concentrated on developing new flash units. Both require the new Macro Flash Con-troller, which attaches to the camera's hot shoe and offers manual power settings plus several custom functions. The new Macro Ring Flash 1200 is highly useful for extreme close-up photography. Like most ringlights, it attaches to the front of the lens and is intended for shadowless illumination of the subject. You can also set it to provide lighting with a bit of direction; any of the four flash tubes can be illuminated individually, for a more natural effect.
For more traditional lighting in extreme close-focus photography, Minolta now offers the new Macro Twin Flash 2400. It's designed for great versatility in lighting control. The two flash heads--on adjustable arms--can be placed at various angles and accept light modifier accessories. A modeling flash feature is provided, so you can preview the flash effect and a focusing lamp is also included for convenience in low light. The system seemed a bit complicated at first but dedicated close-up photographers will probably become experts in its operation after a few attempts.
Owners of point-and-shoot cameras (digital or conventional) can now buy an accessory flash, too. The new Nissin DigiSlave flash, with a GN of 39 (in feet) is a very simple concept. It's a slaved non-TTL flash, triggered by a compact camera's own flash unit. It comes with a bracket that attaches to the tripod mounting socket of the camera, and then sits to the side of the camera. Of course, it can be removed and placed in other locations for lighting from another direction. Expect to pay $30 for this unit in black, champagne, or silver finish.
The Sunpak Digital Flash unit has a GN of 52 (in feet) and is a more conventional model. It offers manual, non-TTL Auto and wireless non-TTL slave function. In the latter mode, the light from the on-camera flash triggers a remote flash unit. The kit includes a remote flash stand, mini tripod, and PC cord for use with SLR cameras; this model can also be mounted in a camera's hot shoe. The manufacturer indicates that it provides "the 200ms delay for optimum flash sync needed for some digital cameras."

FEATURED VIDEO