3 Carbon Fiber Travel Tripods That Caught Our Eye
There were so many three-legged accessory creatures at the last Photo Plus Expo in New York that for a moment I thought I was at a petting zoo in Chernobyl. Seriously—I dreamed I was surrounded by a herd of tripedal giraffes with skinny, hairless legs. The experience made me realize that for most photographers, choosing the right tripod is more difficult than searching for the right emoji on a smartphone while wearing mittens. Henceforth and therefore, here's a non-zoological look at a trio of terrific tripods.
Last year we published our complete tripod buying guide (link here). It explains what to look for when tripod shopping, and includes a useful Features Matrix which appears below. It's solid general information, and provides a good backdrop for our look at these three carbon fiber travel tripods.
Before we dig in, one word about Load Capacity. Some manufacturers indicate the maximum weight that the tripod legs will bear. Others publish the total weight that entire tripod, including the generally weaker supplied ballhead can handle. Most do not tell you which is which. So I am telling you now to be very careful and do not overload any tripod. Additionally, be wary of shifting the Center of Gravity. Many long teles and heavy zooms attach via a collar-type tripod mount on the lens itself. Never attach a camera to a tripod and then attach a front-heavy lens to the combination. That's a one-way ticket to Bustedcameraville.
Vanguard Veo 2X 235CBP
I keep an old, aluminum Vanguard tripod in the trunk of my car. It's not necessarily the best tripod I own, but it has one distinct advantage over the others in my stable: it's with me when I need it. A tripod doesn't do you any good if it's in the equipment closet, basement or in the trunk of someone else's car (which is how I got mine, now that I think about it). Vanguard is a woman-owned family business that has obtained ISO 9001, 9002 and 14001, plus TUV and UL certifications as testaments to their commitment to high quality and even higher regard toward protecting our environment.
The Vanguard Veo 2X 235CBP is compact and light weight. It folds down to 15.7 inches, extends to 57 inches and weighs but 3 pounds. That's just the right size to lash to a backpack or large shoulder bag. The leg sections are made of carbon fiber (as are all models described here) and it converts to a monopod (again, a common feature for most contemporary units). One truly outstanding, differentiating feature that other manufacturers should imitate: the Vanguard Veo 2X 235CBP includes a pan head handle with a large grip that facilitates smooth but rapid adjustments.
Price: $238
Available on Amazon.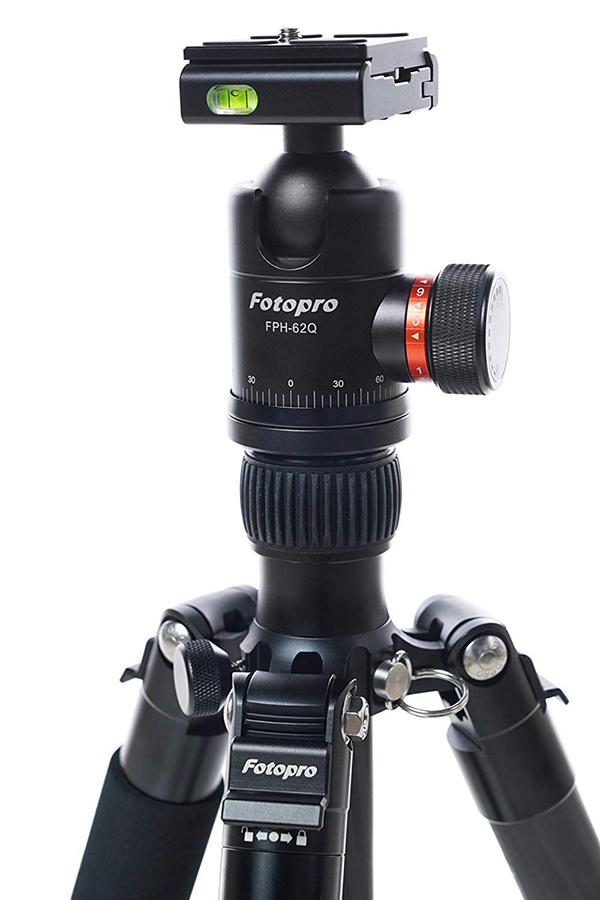 Fotopro X-go Max
Until the aforementioned trade show, I knew nothing about the Fotopro brand. The About Us section on their website is blank, and the News tab (which hasn't been updated for nearly 14 months) is rough reading. Was I skeptical? Sure—but also open minded. And it's a good thing that I was—the X-go Max is awesome.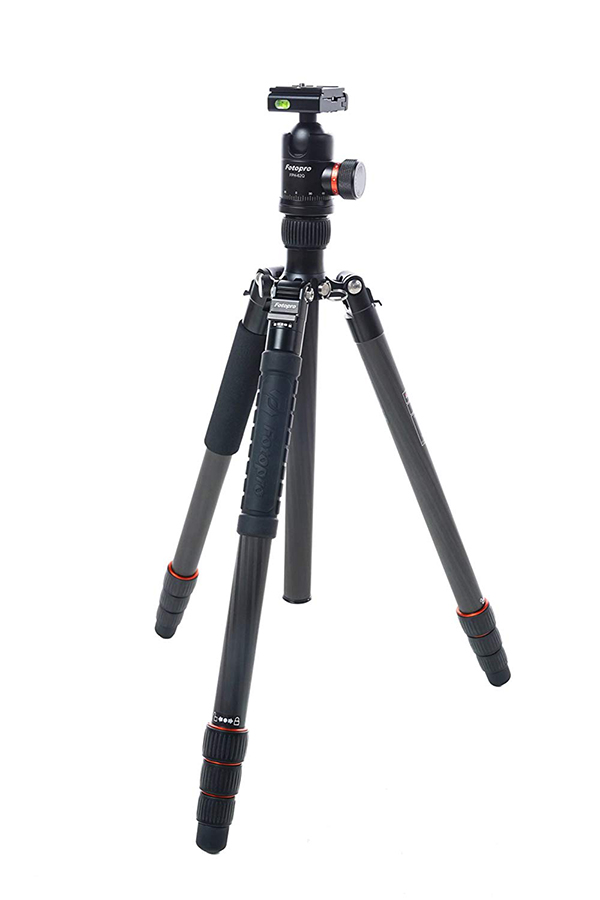 The Fotopro X-go Max is a 4-section twist-lock carbon fiber tripod that converts to a monopod (a la many others) and is packed out with spike legs for soft terrain or thick carpets. Build quality is very high, and it's apparent that only the highest quality materials are used. It's compact, and although not the smallest, it's very portable. Collapsed length is 18.7 inches, extended length is 67.6 and total weight is about 4 pounds. The kit includes a Fotopro FPH-62Q ball head—which is very nice, BTW—and a mold and fungus resistant carrying case.
Price: $269
Available on Amazon.
MeFOTO GlobeTrotter Carbon Fiber Travel Tripod
This brand is widely known for their super-compact aluminum tripods which come in about 7,000 colors. No, actually at least nine colors for sure, and they are very popular with professional photographers. Their Classic and S-Collection series are some of the most useful camera support products I have ever seen, and their SideKick smartphone uni-pod-thing is remarkable.
The MeFOTO GlobeTrotter is very well made and comes complete with a matching Q-series ballhead that features an Arca Swiss style quick release plate and a spirit (bubble) level. The combination enables smooth, easy panning and quick adjustments. Overall folded length is 16.1 inches and it stretches up to 64.2. Weight is 3.67 pounds. Not to suggest that the other models in this roundup are slow, but the MeFOTO tripods are quick to deploy and easy to adjust.
Price: $369
Available on Amazon.
(As an Amazon Associate, Shutterbug earns from qualifying purchases linked in this story.)
Not Just for Video and Time Exposures
Incidentally, a tripod is the only accessory that has the potential to improve each and every photo you take. Think about that. The only reason a tripod is slow and cumbersome is you don't use it often enough to be fast with it.
—Jon Sienkiewicz

FEATURED VIDEO