10 Simple But AMAZING Photography Tricks You Can Do at Home (VIDEO)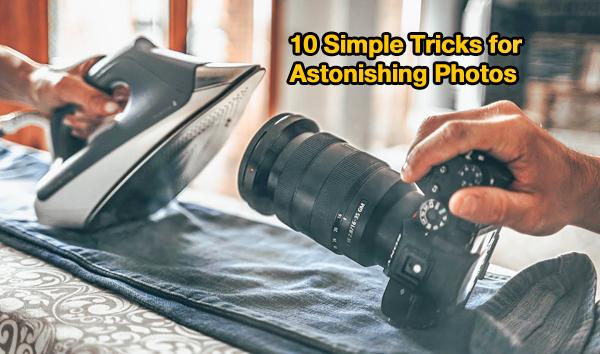 You don't have to travel far to capture images that will astound your friends. In fact, today we're going to show you how to do exactly that from the comfort of your home or backyard.
Last week's tutorial from photographer Jordi Koalitic, with 10 fun hacks for making mind-blowing images from home, was so popular that we decided to present a sequel. The tricks you see here use common household items for props, and are really easy to accomplish.
Instructor Koalitic is known for keeping things simple, and like the first installment of this two-part series, this one is a visual tutorial without dialogue. So all you have to do is watch the four-minute video and gather a few props. Then you can create some magic of your own.
Koalitic provides exposure information with all the images in the video, and he reveals the camera and lens used to get the shot. He begins by attaching a few flowers around his lens before making a very interesting outdoor portrait shooting against the sky.
The video includes tricks for both indoor and outdoor photography, and his props include beer bottles, a stack of books, food and kitchen items, a chessboard, and more. And he demonstrates a couple ways to use your camera's high-speed continuous shooting mode to achieve spectacular results.
One of our favorite tricks is using a steam iron to capture a very striking image. Here, it's important to use a filter to protect your lens from the steam. And an added bonus of this tip is it will encourage you to clean your iron before the next time you press your clothes.
You can find more simple tutorials on Koalitic's YouTube channel, and be sure to check out the video we posted last week, with 10 more of his creative tricks.

FEATURED VIDEO