Our Pick: The 10 Best Lenses for Mirrorless Cameras
Mirrorless interchangeable-lens cameras have become increasingly popular among enthusiasts and pros because they provide a DSLR-like shooting experience in a lighter, more compact form factor, along with robust feature sets and significant technical advantages. The top models deliver pro-caliber performance and hi-res/high-magnification EVFs with incredibly rapid refresh rates that display the image captured by the sensor in real time.
Many of these cameras offer advanced hybrid AF systems that combine fast, decisive on-sensor phase-detection AF plus precise contrast-detection AF. That's why mirrorless cameras often provide faster, more decisive AF, as well as continuous AF and focus tracking before and during the exposure—the latter not possible with conventional DSLRs.
Mirrorless cameras also have fewer moving parts than DSLRs and lower shutter-release noise and vibration thanks to the absence of a moving mirror. Their shorter flange back distance makes it easier to design compact, high-performance lenses and permits mounting a variety of legacy lenses using adapters.
As sales of mirrorless cameras have surged, camera makers and independent lens manufacturers have responded by vastly expanding their optical offerings to meet the demand. And by increasing the creative lens options available to mirrorless shooters, this optical explosion promises to accelerate the mirrorless trend.
To keep the swelling ranks of mirrorless fans up to speed on this sizzling hot lens category, here, in no particular order, are my picks of the 10 best lenses for mirrorless cameras.
1. Olympus M Zuiko ED 14-150mm f/4-5.6 II
This compact Micro-Four-Thirds (MFT) wide-range zoom provides a 28-300mm equivalent focal-length, new dust and splash proof construction, and high-transmission Zuiko Extra-Low Reflective Optical lens coating. Its advanced design incorporates one Dual Super Aspherical element, one aspheric Extra-Low Dispersion (ED) element, one ED element, and 3 high-refractive index elements.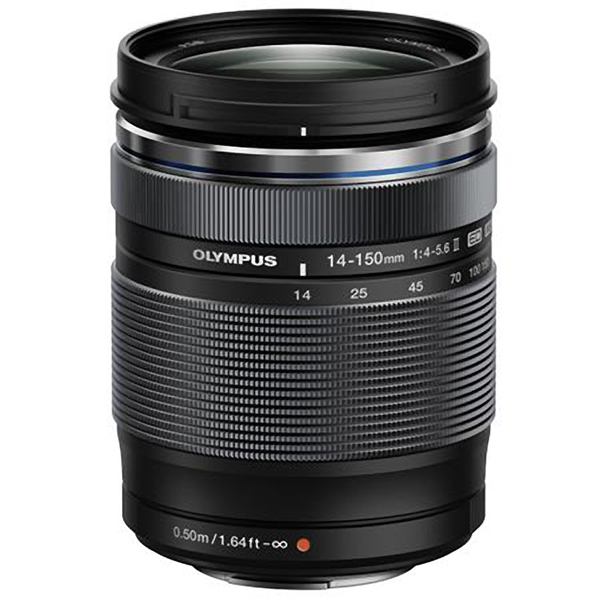 It has a rounded 7-blade diaphragm for enhanced bokeh, focuses down to 1:4, and comes with an LH-61 lens hood.
Street price: $399
2. Panasonic Lumix G X Vario 12-35mm f/2.8 Asph
This small MFT wide-to-moderate-telephoto zoom features a constant maximum aperture and provides an equivalent focal length of 24-70mmm.
It uses Nano Surface Coating to reduce flare and ghosting, and incorporates POWER O.I.S. image stabilization to reduce the effects of camera shake in handheld shooting. Other features include splash proof, dustproof construction, Ultra-Extra-Low Dispersion and Ultra High Refractive elements to minimize chromatic aberration and enhance resolution across the field, a circular aperture diaphragm, and durable metal mount.
Street price: $997.99
3. Sigma 30mm f/1.4 DC DN Contemporary
This high-speed longish normal (60mm equivalent) prime lens for MFT cameras is ideal for portraiture and low-light shooting. Its advanced design incorporates one aspheric element and one double-sided aspheric pair to reduce spherical aberration and enhance clarity and definition. It also employs a high-refractive index element for outstanding color correction, and Super Multi Layer coating to reduce flare and ghosting.
Other features include a stepping motor for fast, nearly silent AF, a rounded 9-bladed diaphragm to enhance bokeh, and a Thermally Stable Composite barrel for uniform performance at any temperature.
Street price: $339
4. Fujifilm XF 55-200mm f/3.5-4.8 R LM OIS
Designed for Fujifilm X-mount APS-C format cameras, this compact telephoto zoom provides an 84-305mm equivalent focal-length, has built-in optical image stabilization, and focuses down to 3.6 feet at all focal lengths—enabling impressive telephoto close-ups to 0.18X magnification.
It includes one aspheric element, two ED elements and one Super ED element to minimize chromatic aberration and enhance sharpness, has a rounded 7-bladed diaphragm, HT-EBC coating on all elements to minimize ghosting and flare, and features dual linear motors for fast, accurate and quiet AF. Its aperture ring provides 1/3-EV click stops, and its metal focusing ring offers precise MF control.
Street price: $699
5. Lensbaby Velvet 56mm f/1.6
Available in Sony E-mount, Fujifilm X-mount, and MFT mounts, this fast 56mm prime lens employs a unique 4-element, 3-group "single-doublet-singlet" optical design said to deliver a "velvety, glowing, ethereal look" at its widest apertures and "sharp but subtly unique" images as you stop it down. It provides an 84mm-equivalent focal length on the APS-C format, and a 112mm equivalent focal length with MFT cameras.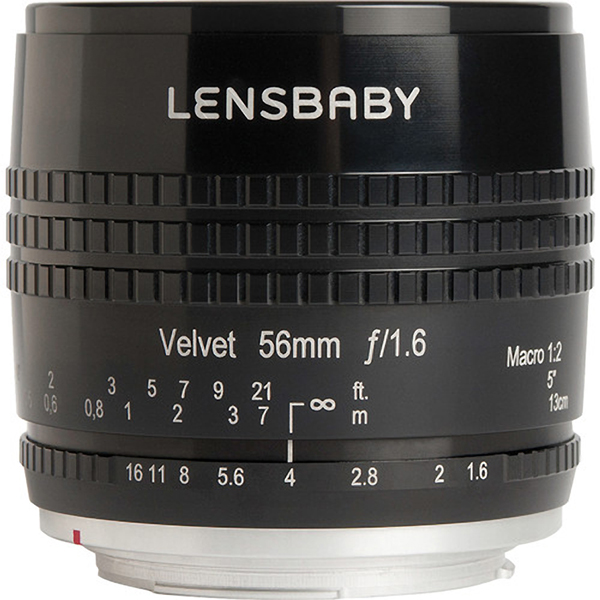 It has an all-metal-body, a smooth well-damped manual focus mechanism that focuses down to five inches with a maximum reproduction ratio of 1:2. It accepts 62mm filters and weighs in at 14.5 ounces.
Street price: $499.95 for Sony E or MFT mounts; $489.95 in Fujifilm X mount
6. Tamron 18-200mm f/3.5-6.3 Di III VC
This lightweight (16.2 oz.) extended-range telephoto zoom provides an effective focal length of 28-300mm on APS-C format mirrorless cameras. It features a stepping motor for fast, quiet, precise AF performance, especially with video and contrast detect AF systems. It provides a minimum focusing distance of 1.5 feet throughout its entire range (1:3.7 at 200mm) for compelling close-ups.
This lens boasts built-in Vibration Compensation image stabilization for effective shake reduction that's especially important at long focal lengths.
Street price: $739 in Sony E-mount; $499 in Canon EF-M mount
7. Sigma 35mm f/1.4 DG HSM Art Lens
Designed for Canon EF and MC-11 Mount Converter for Sony full-frame E-mount and APS-C format Sony cameras, this lens delivers full electronic control compatibility with both Canon and Sony systems including AE, AF and finder readouts. This high-performance, high-speed wide-angle is ideal for street shooting and low-light work and it incorporates one FLD (fluorite equivalent), four Super-Low Dispersion glass elements, and two aspheric elements to deliver crisp imaging and excellent color correction.
Its hypersonic motor provides swift, quiet, precise AF with a floating, internal focusing system. It has Super Multi-Layer Coating throughout, a 9-bladed circular diaphragm for outstanding bokeh, and a durable precision brass lens mount.
Street price: including lens and MC-11 converter for Sony is $999; $1,099 in Canon EF mount.
8. Sony FE 70-200mm f/2.8 GM OSS
This new pro caliber G-Master flagship lens is a full-frame format, high-speed telephoto zoom incorporating one XA element, 2 aspheric elements, 4 ED elements, and 2 Super ED elements to deliver outstanding imaging performance over its entire range. It has built-in Optical SteadyShot image stabilization to minimize the effects of handheld camera shake, Nano AR coating to reduce flare and ghosting, and a fluorine coating on the front element to resist smudges and enable easy cleaning.
Its Super Sonic Wave Motor provides precise, quick, quiet AF. It features dust and moisture-resistant construction, and has a rounded 11-blade diaphragm that contributes to pleasing bokeh. A rotating tripod collar permits quick switching from horizontal to vertical shooting orientation.
Street price: $2,598
9. Tamron 14-150mm f/3.5-5.8 Di III
Providing a 28-300mm equivalent range on MFT cameras, this compact all-in-one zoom employs one low dispersion glass element and two molded glass aspheric elements for superior correction and image quality.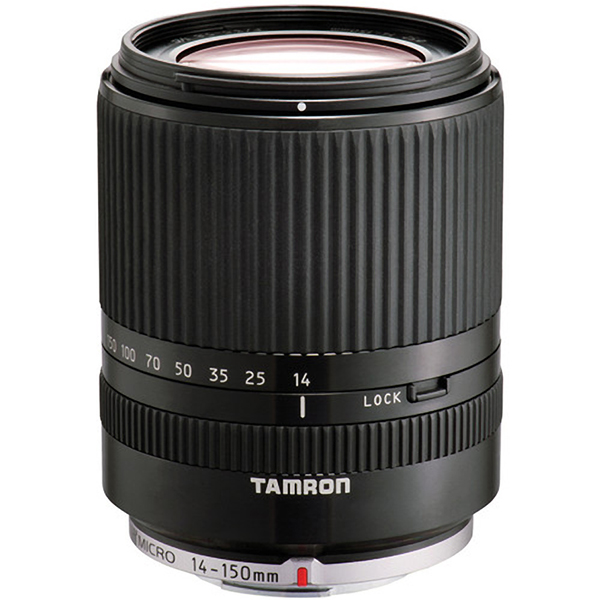 It has a stepping AF motor to deliver quick, quiet, precise autofocus for stills or video, and a 7-bladed rounded diaphragm for enhanced bokeh. A metal lens barrel enhances durability and tactile quality.
Street price: $459
10. Sony Planar T* FE 50mm f/1.4 ZA
This recently unveiled E-mount high-speed normal lens for full-frame and APS-C format Sony mirrorless cameras includes one advanced aspherical element, one aspheric element and one ED element in its classic Zeiss Planar design to deliver exceptional image quality at all apertures, with minimal chromatic and spherical aberrations.
Its ring drive Silent Wave Motor system provides quick, quiet precise AF, and the aperture ring can be de-clicked for seamless control when shooting video. An 11-bladed, rounded diaphragm ensures smooth bokeh, and it features moisture-resistant construction.
Street price: $1,498

FEATURED VIDEO