10 GREAT Landscape Editing Tips from the "Original Photoshop Guy" (VIDEO)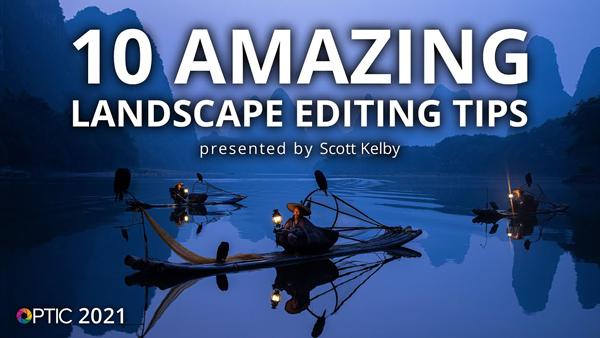 There are a large number of landscape photographers among the ranks of Shutterbug fans, and whether you're a beginner or a more experienced shooter, we have a real treat for you today. That's because in the video below, you'll learn 10 amazing landscape photography tips from a pro known as "The Original Photoshop Guy."
Brought to you by B&H Photo Video, this comprehensive tutorial features Scott Kelby—an award-winning photographer and highly acclaimed instructor. Kelby's advice includes tips he uses in his studio every day, with everything from sky replacement, adding fog to an image, removing unsightly artifacts and spots, and much more.
Despite the title above, Kelby's proven methods not only work with landscape images, but for just about everything you shoot outdoors. He describes the computer gear he uses for editing, and explains why he prefers processing images with the help of a Wacom Intuos Pro Creative Pen Tablet.
Most of Keby's methods work with Photoshop, Lightroom, and other editing software you may have, and are geared toward helping you achieve stunning results while maintaining a clean, natural look. He begins with a demonstration of how to create reflections photos in Photoshop.
You'll also see how to give richer blue tones to a boring sky, or replace the sky entirely with something better. There's great advice on getting rid of glow, dealing with vignettes and Dehaze, and the right way to use masks to enhance your work.
Kelby also offers a handful of special tricks for adjusting exposure, selectively managing highlights, and other handy adjustments. He covers a lot of ground, so make sure you have pen and paper handy to jot down some notes. Then add everything you learned to your editing bag of tricks.
After watching the video, head over to the B&H Photo Video YouTube channel for more helpful advice. And be sure to check out Kelby's website to learn more about his work.

FEATURED VIDEO