Gearing Up: 10 Essential Photo Products to Bring on Your Next Location Shoot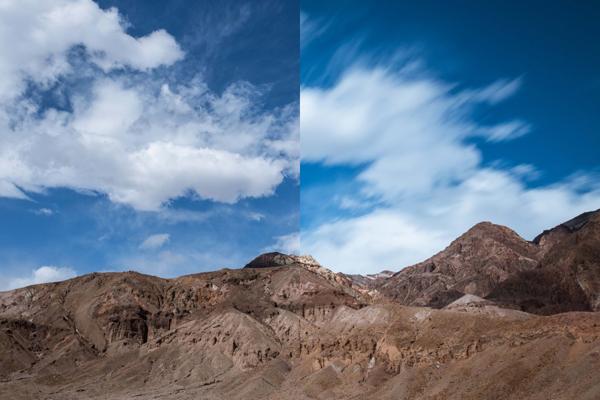 According to official stats, more photos are taken during spring and summer than during any other time of year. Now that the outdoor shooting season is in full swing, more photographers are on the go—shooting on assignment, traveling to vacation destinations, or just hitting the road to have some fun.
Experienced photographers and pros often take their entire shooting outfit with them, maybe a second smaller camera bag to hold what's required for the day's shoot, extra batteries, and a full-size tripod stowed in the trunk. While that's certainly an effective strategy, it sure helps to have a list of essential items that will keep you operational in the field at a high performance level no matter what.
To that end, here are 10 essential items that that not only fulfill that mission but will also help you have a more satisfying experience shooting on location. Please note that while each of the items we've selected is an excellent choice in its class, there may be other branded products that are equally suitable for your particular purposes.
Sanho P18 Hyperjuice Plug 18,000mAh USB Battery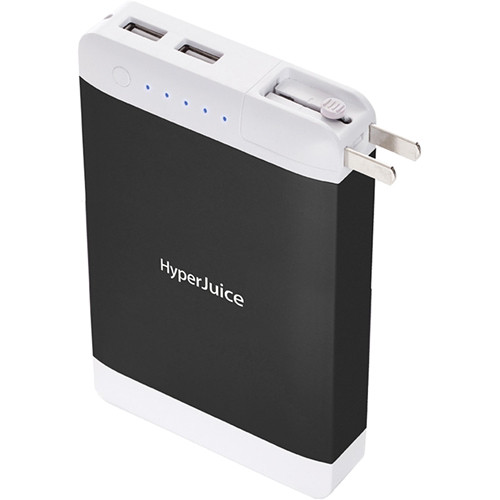 Running out of battery power where there's no outlet can really ruin your day. Having a fully charged 20W Lithium-ion battery like this will let you charge two USB devices simultaneously while you're on the go, providing up to 2.4A of charging power per port and delivering maximum power to individual devices in either port.
It features a retractable wall plug for convenient charging from any standard outlet, an aluminum housing, and a 5-level LED indicator. Industrial/military grade AA cells provide the power. Street price: $108.95.
Seagate 2TB Backup Plus Slim Hard Drive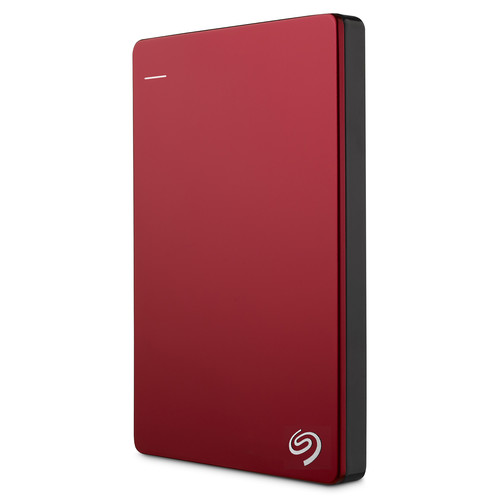 Taking a compact, high capacity hard drive lets you back up your images and videos on the fly and can free up space on your memory cards. This sleek 2TB capacity unit measures a compact 4.5 x 3.0 x 0.5 inches and weighs only 0.4 pounds. It is bus-powered via a super-fast USB 3.0 connection and features a maximum sustained read/write speed of approximately 100MB/sec.
The Seagate Dashboard includes a Protect function that lets you schedule automatic backups in one click, Save and Capture features for acquiring and backing up files from social media, and a Share feature for uploading multiple files to social networks. It's compatible with Mac and Windows operating systems. Street price: $89.
Cullman Magnesit Copter Mini Tripod with CB-2 Mini Ball Head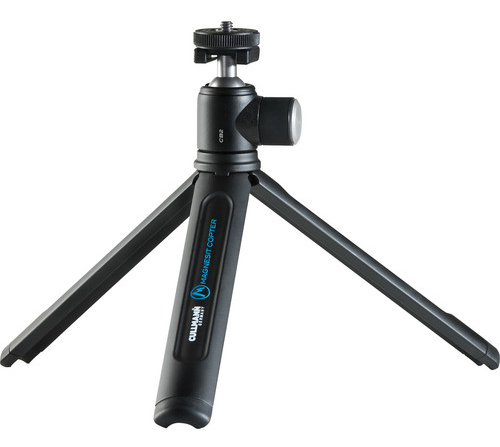 This well-made tabletop tripod will fit in any camera bag, can be used on a tabletop or any other firm level surface, or held against a wall or doorpost for added stability when shooting. It's made of anodized aircraft-grade aluminum, stands 6.5 inches tall, weighs 0.6 pounds, and will support cameras up to 2.5 pounds.
Its legs have rubber feet to prevent slippage and are rounded on their outer sides so the tripod can also be used as a comfortable handgrip with the legs folded. The CB-2 Mini Ball Head features a single knob control and a reversible shoe mount that can hold an off-camera flash, LED Panel, etc. Street price: $34.95.
Manfrotto Compact Monopod Advanced
A monopod is a great ultra-portable accessory that takes up little space and can add crucial stability when shooting in dim light or with long telephoto lenses. This sturdy, aluminum, 5-section unit folds to 16.3 inches, extends to an eye-level 61.3 inches, will support cameras up to 6.6 pounds and weighs just 12.3 ounces.
It has fast operating flip locks for easy setup, a quick wheel that lets you hold the camera with one hand while mounting it with the other, an ergonomic soft grip, and a wrist strap for added security. Street price: $34.88.
Domke 19 x 19 Color Coded Protective Wrap
Fabricated of padded knit nylon with a non-scratch backing, these squares of soft protective material can be wrapped around cameras, flash units and other gear to prevent them from scraping against each other in your camera bag. They'll fit around a variety of equipment shapes, have touch fasteners on all four corners, and come in red, yellow, blue, gray, and black so you can instantly select the equipment you're looking for. Street price: $14.89.
Raya 5-in-1 Collapsible Reflector Disc
This versatile light modification tool provides white, silver, gold, and black surfaces plus a one-stop translucent diffusion panel and is great way to achieve precise lighting effects when shooting on location or in the studio. The white disc provides a neutral fill, the silver one adds contrast and increases specular highlights, gold adds a touch of warmth, black blocks unwanted reflections and eliminates spill, and the translucent disc cuts the light by one stop and creates a broader, softer light source.
The 42-inch size of the discs makes them suitable for ¾-length portraits and medium-sized still life subjects, and they fold to 1/3 their size for storage in the included carrying bag. Street price: $23.95.
ROR Residual Oil Remover
This is the right stuff for cleaning multicoated lenses and electrical contacts and it's used by many top camera repair outfits. It can be applied with a clean microfiber cloth moistened in the solution and several applications may be needed to remove the multi-layer build-up of oils, pollution and dirt on some surfaces.
It will safely clean lenses, scanners, LCD screens, optics and the like, but is NOT recommended for use on focusing screens, CCD/CMOS sensors or internal anti-aliasing filters. Street price (2.0 oz.): $8.
Pearstone 18% Gray Microfiber Cleaning Cloth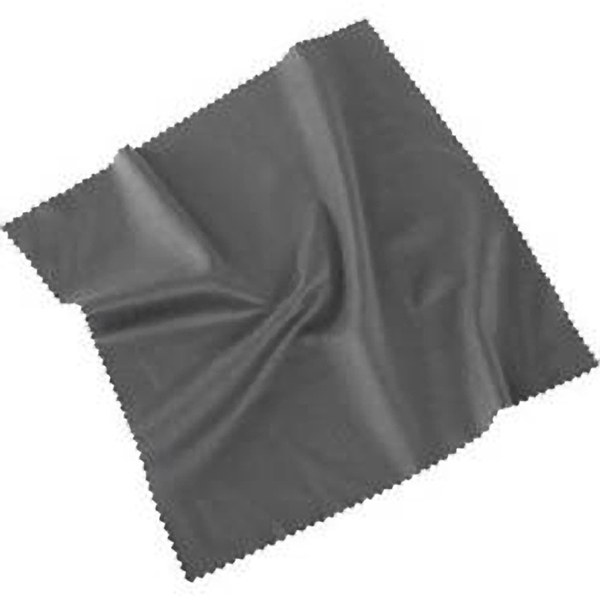 This 7 x 7.9-inch microfiber cleaning cloth is ideal for cleaning lenses, TV and computer screens, and other items that require a gentle touch, and it has an "easy grip textured surface" to facilitate the cleaning process. Because of its color, the cloth also doubles as an 18% "gray card" that can be used to calibrate your camera for the most accurate color balance and exposure settings. Street price: $6.49.
Sigma WR Ceramic Protector Filter
Many experienced shooters use a clear or UV filter over their lenses to protect their precious glass from dust, sand, scratching, and direct physical impact. The Sigma WR Ceramic Protector Filter takes this protection to a higher level, employing a super-hard ceramic substrate that combines an impressive 99.7% transmittance value, a hardness greater than chemically strengthened glass, and greater flexibility than sapphire crystal.
As a result it delivers superior shock, scratch, and impact resistance even under adverse conditions and it features a water-repellant, anti-static coating that resists water droplets, fingerprint smudging, and is easier to clean. Street price: $93.00 (67mm size).
Tiffen ND Filters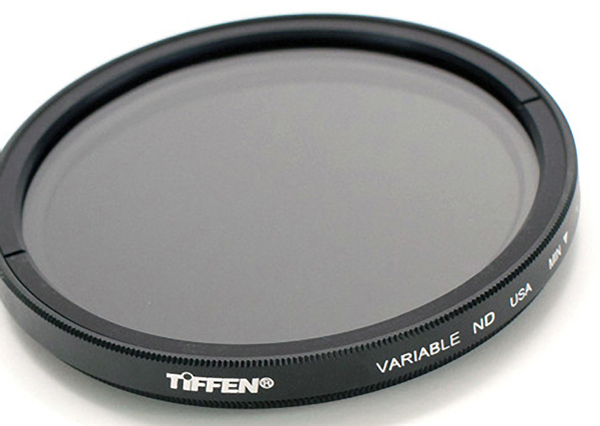 The Tiffen Variable Neutral Density filter has a rotating ring that can be set to provide from 2 to 8 stops of light reduction, allowing you to shoot at wider apertures to achieve bokeh effects in portraits and landscapes, or shoot at slower shutter speeds to blur motion for a more natural look. It has a wider profile front ring to minimize vignetting.
The Tiffen Graduated 0.6 ND Filter lets you reduce the exposure by 2 stops in selected areas of the frame, such as an expanse of sky or beach, and has a feathered edge between the density and clear areas to create a natural looking taper. Neutral density filters do not affect the overall coloration of the image, and Tiffen ND filters are manufactured using the proprietary ColorCore process to ensure uniformity. Street price: In 67mm size, Tiffen Variable ND, $120.85, Tiffen Graduated ND, $49.99.
So before your next outdoor excursion, make your list, gear up, and be prepared!