Microsoft's Expression Media 2; An Organizing Tool For Very Large Image Collections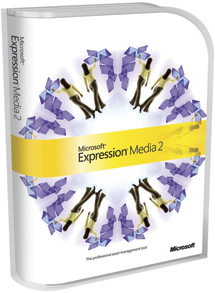 Flexibility in a photographic workflow is not always possible. In just one travel trip, you might accumulate thousands of new photos, but when you finally get back to a desktop system, connect to a storage drive, and start previewing images on a high-resolution display, the options for how you work with those photos start to dwindle. Often, you're restricted by what a specific software program can do, and are forced into a rigid model that the software designers had in mind.

With Microsoft's Expression Media 2, flexibility is the key feature—it lets you avoid a predetermined workflow where you follow the same path each time you manage photos. This is not as true in competing programs such as Adobe's Lightroom 2 and Apple's Aperture. Once images are loaded into the typical management tool your workflow is locked into that program.

With Expression Media 2, you can create a management file, and then take the file with you on a laptop—adding metadata, creating subfolders, and inspecting images. When Expression Media 2 reestablishes a link to the actual image store, it syncs all the changes for you. You can send a catalog file to a coworker so they can manage the images. You can have multiple people browsing images and making color corrections. This functionality is more like Microsoft's Word than Adobe's Photoshop. In Photoshop, you generally open a photo and make edits, one by one. In Word, you can have multiple documents open, share the documents, and even let multiple people access a document on a network drive.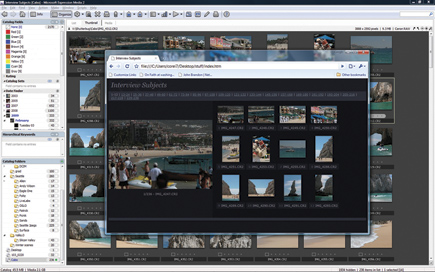 Expression Media 2 offers quite a few options for an HTML gallery, but any customization you do will be through an HTML editor and not in the Expression Media 2 application.
Expression Media 2 is not without its flaws. It lacks an elegant and trendy interface. During an import of hundreds of images, the program appears to crash while it reads metadata and GPS information. Yet, there's a reason the tool is used by such powerful media companies as National Geographic. It has a more flexible, accommodating workflow that matches the needs of busy photographers.
Cataloging And Storage Features
Expression Media 2 catalogs can hold as many as 128,000 images, which is about three or four times as many as other cataloging programs can hold per album. Expression Media 2 can also manage video files, for those who have used their Canon Mark II or Nikon D90 to capture high-def movies. In a catalog, raw files are automatically converted to high-res JPEG files and the changes you make are saved back to raw.

Catalog changes will automatically sync, but you can pick and choose which metadata is synced. For example, you can sync any changes to the EXIF data, but decide that you do not want to sync the GPS data. This is where the workflow flexibility comes in. Say you are a photographer for a magazine. You can create a catalog file and load in all of your images. You might have a personal interest in seeing GPS location data—where you took the shots. Yet, you might prefer that your editor does not see this data, so you can go to a Preferences setting and choose not to sync GPS info.
Saving catalog files is an interesting way to use a photo organizer. For example, you can save a catalog file and distribute it to a client, who has access to large thumbnails but not the actual images. You can save several revisions of a catalog file. Catalog files are still quite large since they contain the preview images. In a collection of about 1200 winter landscape shots, the catalog file was about 130MB, whereas the image store itself was several gigabytes.

Cataloging is a drag-and-drop affair. Once you have copied images from a flash card, you just drop the folder into the Expression Media 2 viewer window and the program creates the catalog file using the folder name. If you use the catalog file on a laptop or send it to a coworker, Expression Media 2 syncs the images back to the raw files as soon as you replace the original file in the same location. There's no button to click to re-sync, which saves on workflow time.
2 is just giving you the basics: contact sheets and media prints.
Media Support
Expression Media 2 works directly with raw files, but there's a slight twist. Again, the emphasis is on flexibility. Expression Media 2 itself does not let you manage raw support for different camera models. Instead, it relies on the operating system. For PC users, this means using the Windows Imaging Component (WIC) plug-in model—your camera comes with a plug-in for Windows or you can download it from the web, install it, and use it in Expression Media 2. This means you can decide which raw plug-ins are available and even use older plug-ins if you choose. For Mac users, the process is more automated and depends on when Apple adds raw support to the core image and QuickTime modules of the operating system.
I prefer this approach because I use a lot of different cameras. I did discover that Expression Media 2 did not work with the Casio EX-FH20—a hybrid D-SLR that I use for sports photography—for raw files, adding only small thumbnails with a reference to the raw file. I could still organize images, but not using full-res JPEG files.

Microsoft makes most raw plug-in files available at Microsoft.com/prophoto. A side benefit to this approach on a PC is that the plug-ins are created by the camera manufacturer so you are using the algorithms of Nikon or Canon—as opposed to a third party—to read raw.
Expression Media 2 uses WIC, a plug-in architecture for Windows, for raw support. It has the advantage of letting you select the plug-ins you want, but Expression Media 2 does not let you manage raw plug-ins.
Image Editing
The image-editing options in Expression Media 2 mimic what you'd find in a darkroom, but not in a processing lab or graphics art studio. Meaning, you can make tonal adjustments for saturation, color levels, and size but not do any extensive analysis. Expression Media 2 does not support Photoshop plug-ins, and there is not a lot of third-party support for the product like there is with Aperture or Photoshop. I did like the duotone editing tool, which allows you to select a light and dark color and apply them to an image—it worked quite well, especially for some stark winter shots. And I should note that Expression Media 2 is not a super-fast program. Even on a home-built Intel i7 Core system, with 8GB of RAM, editing tasks took a few seconds longer than they do on Lightroom 2.

I did like the versioning capability. As in Word, you can save multiple revisions of a file, experimenting with color correction. You can create a versions catalog where all the various iterations of your edits are stored. Still, Microsoft does not promote Expression Media 2 as a powerful editor. The core opinion is that, if you can't find an image to edit, there's no sense in having extensive editing tools. And, once you do find it, Photoshop is the defacto tool.
For photographers in a workgroup, there isn't a better tool than Expression Media 2. You can save catalog files and send them to another user—sans the original photo collection. Any offline changes will automatically sync to the files once you replace the catalog file.

FEATURED VIDEO