Zoom vs Prime Lenses for Portraits: Which Does It Better? (VIDEO)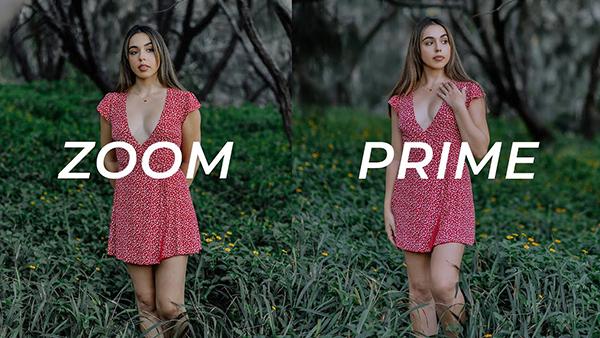 Photographers never get tired of debating the qualities of zoom lenses vs prime lenses for shooting portraits. There are proponents of both camps and there's really no right answer (it's ultimately a matter of preference) but it's a fun optical debate, nonetheless.
To get another perspective on this zoom vs prime discussion, check out the below video from photographer Mitch Lally who compares two primes to a zoom in a portrait shootout with photographer friend Carlo Obrien.
In the lens test, the pair use a Canon RF 35mm 1.8 and EF 100mm F2.0 vs a Tamron 35-150mm f2.8-4.0 lens while photographing Amanda Fotinos in a range of settings at the beach.
"Obviously if you have a really nice zoom lens it means you only need to take one or two lenses in order to cover a really big range of focal lengths, which makes you a more versatile photographer when you're on location," Lally says. "They also allow you to get a bigger range of shots in a shorter period of time so you could quickly zoom in, zoom out and get all sorts of different perspectives in the snap of a finger."
On the other hand, prime lenses have their own particular pluses and minuses.
"Obviously with a prime lens you're stuck at that one focal length so in order to change your perspective you actually have to move your feet, so you've got to walk back further or walk closer to your subject depending on what kind of framing you're looking to get," he adds. "Some cons with zoom lenses: they are a lot harder to design so generally they come with more imperfections such as distortion, chromatic aberration and they are a little less sharp across the board in general when you compare them to prime lenses."
So which type of lens did it better during the duo's portrait session with Fotinos? Check out the video below to find out, then go hop over to Lally's channel to see more of his content including this video where he compares a 35mm vs an 85mm lens for portrait photography.

FEATURED VIDEO