Zoner Photo Studio X Image Software is 100,000 Users Strong, Multi-Talented & Fits Your Budget
If you haven't discovered Zoner Photo Studio X yet, here's your chance. Download the Free Trial and join the 100,000 customers in the U.S. (and millions worldwide) who use ZPS X and understand why Zoner Photo Studio X is the proud winner of two prestigious awards for Best Photo Editing Software from the world-renowned TIPA and EISA associations.
Are you already a ZPS X user? The Spring 2022 Update brings a bundle of improvements! More about them in a minute.
Get a Bigger Box
Zoner Photo Studio X does not ask you to "think outside the box" like some photo apps do. All too often, that phrase is a euphemism that means you must learn an all-new way of doing things, undoing perhaps your years of experience.
Instead, Zoner Photo Studio X offers you a bigger box. You can do more things within the Zoner Photo Studio software than with most other standalones, including Raw processing, cataloging, developing, retouching, graphic layout, video editing and much more—you can even order photo books, calendars and prints without leaving the application.
New in the Spring 2022 Update, Zoner Photo Studio X now provides customized previews, customizable thumbnails, a completely redesigned browser, improved slideshow, faster catalog operations, updated video editing and improvements to Zonerama. Yeah, it's a lot of new stuff.
Zonerama is your FREE online photo reservoir where you enjoy unlimited space for photos—in their original, uncompressed format—and video (4K and AV1 included). Upload as many image files as you want and protect access with custom privacy and sharing settings. For spring 2022, Zonerama has added a second data center in Florida to provide even faster photo loading.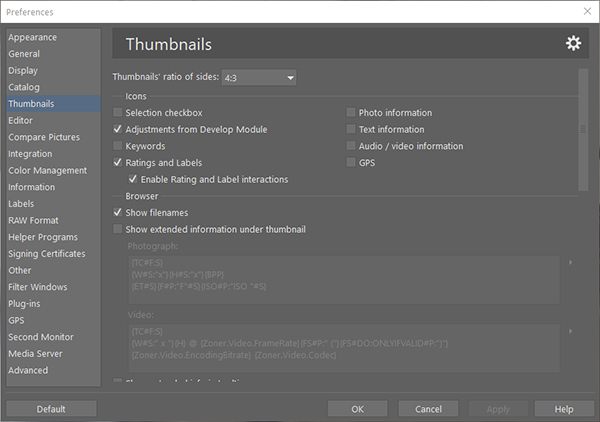 Exactly What Can I Do With Zoner Photo Studio X?
Edit JPEG and Raw images (including use of Layers and Masks) and perform all cropping, blemish removal, cloning and other photo tricks with ease. The unique retouching brush and the Facial Features tool in the Liquify submenu make portrait enhancement a snap. Edit video. Turn your photos into a video, a presentation, or a time-lapse without switching software. Enjoy creative presets. Change a photo's entire mood with just one click (one of the best-loved features in ZPS X). Catalog your images for easy organization and retrieval. Browse them by date, shot location, keywords, or folders.
Zoner Photo Studio X features five interface modules found as tabs labeled Manager, Develop, Editor, Print and Video. There are flexible workspace layout choices, too. And you can select the Browser view and see all images in a specific folder—without leaving the Photo Studio workspace.
When in the Manager module, you can review all image file information, view the histogram and more. This is also the GUI where you Acquire images from a camera or scanner, and extract JPEGs from a file. Plus you can view and edit EXIF information, add GPS coordinates and other optional advanced operations. Yes, you can batch edit the EXIF info of multiple files, adding your copyright statement, project number, etc., to help safeguard your ownership of images you post online.
In the Develop module, adjust White Balance, Exposure, Noise Reduction, Sharpening, Color Adjustment and apply functions like Split Toning, Color Shift and others. Zoner's advanced (but easy to use) color adjustment tools empower you to make any image color look exactly the way you want it too, for superior creative expression.
Editor is where Layer magic happens, that means you can apply a variety of included Effects in a fully reversible, nondestructive way. Effects include Tone Mapping, Oil Paint, Old Photograph, Cartoon and a couple dozen more. Of course, you can also apply conventional Adjustment Layers to affect Levels, Tone Curve and even a Quick Fix.
The Print module answers the question "What can I do with all of these beautiful images?" Included are templates and facilities to create and print Photo Books, Calendars, Collages, Canvas Prints and regular prints. Order online without leaving ZPS X. Plus you can produce Contact Sheets and export them as PDFs.
In the Video module, as the name suggests, you edit video footage. Store Video Projects in a convenient pick list and edit at your leisure. Note that if your ZPS X software does not have a Video tab, you have not yet updated to the latest version which includes the Spring 2022 enhancements mentioned here.
Escape the Catalog
Do you dislike mandatory Catalogs? Despite hating the requirement to cull images into an app-specific Catalog, some photographers use a popular Raw conversion platform because it's popular and fairly easy. If you truly enjoy making Catalogs, Zoner Photo Studio X allows you to continue the habit, but Zoner also allows you to access your full library of images and video regardless where they reside. So you can connect an external hard drive, for instance, and immediately begin editing images without going through the add-to-catalog ritual.
Save Real Dollars
Act now. Zoner Photo Studio X costs just $4.99 per month, or $49 for a full year. But at the end of April, the new price will be $5.99 monthly or $59.00 per year. Still a bargain, but don't miss out on the savings that are available now. Zoner Photo Studio is one of the best money-saving, genuine values available to photographers. Included at no cost (in fact, available even if you haven't tried Zoner Photo Studio yet) the Learn tab on the Zoner website offers a robust assortment of how-to tutorials, videos and inspiring stories.
Yes, Zoner Has Made Their Bones
Founded back in 1993 out of love for photography, Zoner Photo Studio is used by a growing number of photographers – 100,000 in the US alone – from the ranks of absolute beginners to seasoned professionals. Zoner Inc's corporate headquarters are located in the Czech Republic and the USA, with additional corporate offices located in North America, Central Europe, and Japan.
Award Winners, Please Step Forward
Add the power of an Award Winner to your photo editing workflow. Zoner Photo Studio X is the proud winner of two prestigious awards for Best Photo Editing Software from the world-renowned TIPA and EISA associations. Download the Free Trial. No attachments, no credit card needed.
Not Just for Professionals
You have a decent camera or maybe a high-end smartphone and you're getting some great shots. But you sense there's something lacking when you view them on your PC or print them. You sometimes hesitate to share them with others because you know that the images could be better if you could make a few adjustments to the colors, saturation, blemishes and so forth. You need a set of reliable photo editing tools, a software application you can put to work quickly and get results immediately. And it would be nice if you didn't have to skip lunch twice a week to afford it. Zoner Photo Studio X is the answer.
Get in the Zone
Zoner Photo Studio X does everything you need to do. It's powerful yet affordable. Let ZPS X show you how great your photos can be. Download the full-function Free Trial.
Shutterbug Staff

FEATURED VIDEO