A Yearning For The Wilderness
The Photography Of Brad Washburn
"I fully expect to hear someday that Bradford Washburn has visited the moon, climbed Copernicus, and photographed the lunar Apennines from a private, orbiting module. You recognize the explorer in Brad at first sight. His photographs look almost inevitable, perfectly composed. These are not simply documents of wilderness; we sense in each one the presence of an individual, highly intelligent eye. The photographs are the result of the explorer's consistent energy of mind and spirit--and so they truly mean something." --Ansel Adams
Though Adams surely said some of this in the spirit of fun, my guess is that Brad Washburn simply hasn't had time to visit the moon or to orbit around in a private module. His 93 years have gone by quickly, though he has managed to scale most of the tallest mountain ranges in the world and to produce a significant collection of high altitude photographs. A multitude of journals, including National Geographic, Life, and American Photographer, have documented his history as a photographer, explorer, filmmaker, and cartographer.
Mount McKinley, early morning over Nugget Pond, Camp Denali.
© 1940, Brad Washburn, All Rights Reserved
He is also an avid storyteller and today, dressed in a jaunty red-checked shirt, he greets me at his home in an upscale assisted living community in Lexington, Massachusetts, that he shares with his wife, Barbara.

The rooms are alive with his photographs and the clutter of papers on the table attest to the fact that though he is no longer scaling mountains, he is still busy collaborating with young scientists in their explorations. "I love getting together with bright young people and getting them to do what I wish I could do," Brad says. "It keeps me busy and involved and we are getting interesting results. One project deals with the altitude of mountains and their movement. Presently I am working with a batch of young scientists on a new altitude study of Mount Everest. They are drilling into the rocks near the summit to determine if the mountains are moving and have mapped statistics between two points on the mountain to get the altitudes and find where the good bedrock is. We have found that Mount Everest is slowly moving north-eastward so I wrote a letter to the King of Nepal and told him, `You're getting a little bit of China every day without firing a shot!'"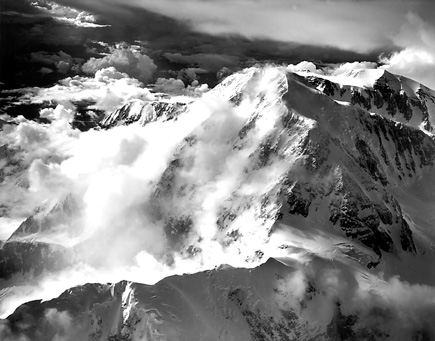 A tremendous thunderstorm overwhelms the South Face of 20,320-foot Mount McKinley. Ansel Adams' favorite Brad Washburn photograph.
Photos © Brad Washburn, All Rights Reserved
The rascal in Brad is emerging. We are looking at an image with a prominent cloud over a mountain range. "See that cloud there?" he asks. "That's a wind cloud. You only see those with a high wind. I call them `altocumulus, lenticularis sonofabitchecus.'"

Prominently displayed on the living room wall is a breathtaking image taken on the Doldenhorn in Switzerland. "There are six highly competent men climbing there," he says. "See them? You would never notice them unless someone pointed them out."
Scaling The Heights
Brad made the treacherous 20,320 ft climb up Mount McKinley three times, the first as a member of a US Army expedition in 1942. Five years later, shortly after they were married, Barbara joined him and became the first woman to scale McKinley. In 1951 he made the first ascent of McKinley's West Buttress, a route followed by almost all climbers today.
The beautiful crevasse patterns, as the Ruth Glacier pours out of the lower end of its Great Gorge.
"Look at the granite! This is what makes up McKinley. And there's the country rock that was all over the area before the granite came up tens of thousands of years ago." He points to the black pieces in a photograph. "There's some really interesting geology there. I call this photograph `Looking Out the Windows of Heaven.' In 1913 four men made the ascent of McKinley and one of these guys 20 years later was asked what the view over 100,000 square miles from the top of McKinley looked like. He said, `It's like looking out the windows of heaven.' A really wonderful description."

When Brad entered Harvard University in 1929 he had already published three books on mountaineering and a guidebook of the trails and peaks of the Presidential Range of the White Mountains. He had climbed Mont Blanc, Monte Rosa, and the Matterhorn in Europe by the age of 16, and in 1935 documented his first ascent of the 12,000 ft Mount Crillon in Alaska with his own photographs for National Geographic Magazine. A second assignment from the same magazine took him to the Yukon where he spent 84 days on the ice and mapped 5000 square miles of wilderness.
Brad and Barbara Washburn, on top of 10,000-foot Mount Bertha, Alaska Coast Range (first ascent), July 1940.
© 1940, Tom Winship, All Rights Reserved

Brad Washburn in the door of Bob Reeve's Fairchild 71 airplane, holding his 50 lb Fairchild
K-6 aerial camera. (Valdez, Alaska, summer 1937.)
© 1937, Brad Washburn, All Rights Reserved
In 1938 Brad took over the directorship of the Museum of Natural History that later became the famed Boston Museum of Science. Scientific organizations worldwide have honored him and he remained president and director of the museum for over a half a century.

Brad may be best known for his astounding aerial photography, taken as he sat in a rope cradle with the door of the plane removed, tethered to the inside of the aircraft and hanging onto his 55 lb Fairchild F-8 camera for dear life. The Fairchild was an aerial camera that produced detailed 7x9" negatives.