Year-End Wrap-Up
Photoshop Compatible Plug-Ins
After an image, such as this one of centuries old Bristlecone pines, has been acquired, the author likes to enhance the photograph using Extensis Intellihance Pro 4.0 by adjusting contrast, brightness, saturation, sharpness and other controls that the plug-in offers.
Photos © 1999, Joe Farace, All Rights Reserved
What does the Internet have to do with the invention of graphics plug-ins? More than you might think and you don't have to be a fan of James Burke's TV series Connections to make the necessary connections. It starts in the mind of computer visionary Ted Nelson who conceived "hypertext" as a way for making computers respond in the same way that humans process information. This was the fuel for the creation of HTML (Hyper-Text Markup Language) that powered Tim Berners-Lee's original concept of the World Wide Web. HyperText was also the same engine used by Apple Computer's HyperCard software which allowed regular human beings, not just computer gurus, to create customized databases. Because Hyper-Card used XCMDs (External Commands), it was expandable allowing the application to reach outside itself to accomplish feats it couldn't normally do. While working on Silicon Beach Software's Digital Dark-room--one of the first digital imaging programs--programmers envisioned using XCMD-like bits of software to extend Digital Darkroom's capabilities to include access to flat-bed scanners and software "filters" that could manipulate a photograph's look. They called this concept a "plug-in" and the name stuck.
Instead of merely acquiring an image using Photoshop's Open command, SilverFast Ai Photo CD allows you to maximize the quality of a Photo CD image using manual or automatic controls, as in this image of model Alicia Ericson.
One of Adobe Photoshop's best features is that it was originally designed with an open architecture. This open-ended design allowed Photoshop to accommodate small software applications --plug-ins--that could be used to extend the program's features. The use of plug-ins increases the functionality of off-the-shelf graphics programs and allows the digital imager to customize their software to match whatever kind of projects they may be working on.

Compatibility Issues. Don't let the name fool you. You don't need Photoshop to use Photoshop compatible plug-ins. Adobe Systems may have defined the standard, but compatible plug-ins can be used with many other companies' image-editing programs including Ulead Systems' Photo-Impact; MetaCreations' Painter and Dabbler; Apple Computer's PhotoFlash; Pixel Resource's Pixel-Paint Professional; Macromedia's xRes; MicroFrontier's Color-It!, Enhance, and neuvo Digital Dark-room; Corel's PhotoPaint; and Live Picture 2.5 or later. Even freeware image-editing programs, such as NIH Image, support Photoshop compatible plug-ins. Other graphics programs, such as Adobe PageMaker (after Version 6.0), Deneba's Canvas (5.0 and later), Equilibrium's DeBabelizer, Macromedia's Director and Freehand, and StrataVision 3D accept Photoshop compatible plug-ins.
MetaCreations' Kai's Power Tools 5.0 is a collection of plug-in filters, including the Blurrrr filter that lets you apply many different kinds of Blur effects including, Camera Optics, Motion Blur, and Spiral Weave effect, which is shown here with a photograph of model Sandy McDougall.
Eight Kinds Of Plug-Ins. There are eight different kinds of plug-ins, some of which you might care about, some not, and even two that I call "secret" plug-ins.

· Color Picker. These plug-ins provide an interface for color picker's that are used in addition to the host program and system color pickers. They appear whenever a user requests a unique or custom color.

· Import. Formerly called "Ac-quire," Import plug-ins open an image and interface with scanners, video frame grabbers, digital cameras, and even other image formats--such as Kodak's Photo CD. Import plug-ins are accessed through Photoshop's File/Import menu.

· Export. These plug-ins appear in the program's File/Export menu and are used to output an image, including making digital color separations. Export plug-ins also output an image to printers that lack driver support or save images in compressed file formats.

· Filter. Special effects plug-ins usually appear in the program's Filters menu, which is why these plug-ins are often called "filters." These plug-ins are used to modify a selected area of an existing image.

· Format. Sometimes called File or Image Format, these plug-ins provide support for reading and writing additional image formats that are not normally supported by the program and appear in the Format pop-up menu in the Open, Save As, and Save A Copy dialog boxes.

· Selection. These plug-ins appear under the Selection menu and are used to create shapes or paths--especially when used with text.

· The Secret Plug-Ins. "Extension" plug-ins are not accessible by the average computer users and allow implementation of session-start and session-end features, such as when initializing devices connected to the computer. They are only called at application execution, application quit time, and have no user interface.

"Parser" is another plug-in whose interface is not public and performs similarly to import and export modules, providing support for manipulating data between bitmapped programs and other formats.

While there are eight kinds of plug-ins, I like to think there are four major categories and the best introduced in 1999 in each category are listed below.
Vivid Details' Test Strip plug-in lets you color correct your digital file to match the kind of output device that you're using, such as this photograph of Saint Nicholas photographed in Georgetown, Colorado.
Acquiring An Image. I think the ultimate way to acquire an image from a Photo CD disc is by using LaserSoft's SilverFast Ai Photo CD 4.0 plug-in. SilverFast Ai (Artificial intelligence) is really a family of acquisition plug-ins that support scanners plus Photo CD discs. SilverFast Ai Photo CD 4.0 allows you to acquire an image from either a standard or Pro Kodak Photo CD disc and modify it using all of powerful tools and capabilities normally found in scanner plug-ins. SilverFast Ai allows all of its controls to be moved to a second monitor, permitting the image preview to be enlarged to the full size of the main monitor. If you're new to image acquisition, the ScanPilot feature will automatically guide you step by step through the process of making individual image corrections. All operations are done in real time allowing you to immediately see the effect of any changes you make and unwanted modifications can be undone on the fly. The plug-in has a two-level user interface: The novice user can be guided by the way built-in presets auto-adjust and image, while more experienced users can work with numerical input and monitor exact values using the plug-in's built-in densitometer. SilverFast allows you to define and match input and output color spaces using ICC (International Color Consortium) profiles. Using a new feature called "embedding profiles," applications such as Photoshop automatically adjust imported files to the internal working color space. The plug-in has a prescan feature which allows you to freely rotate and resize the image before it's acquired by Photoshop. SilverFast Ai offers color management features such as ColorSync. 2.5 for the Mac OS and ICM 2.0 for Windows 98, and 2000. The plug-in's Job Management feature lets you organize a project including many different Photo CD images scans, so you can tweak all of the images in the shortest possible time. You can download a demo version of the Mac OS or Windows version of the plug-in from LaserSoft's web site at: www.lasersoftint.com.

Enhancing That Image. After you acquire an image, the next step is to enhance it, making it look as good as it possibly can. That's when I reach for Extensis' Intellihance, the one plug-in I'd want if left stranded on a desert island. The latest version, called Intellihance Pro 4.0, expands the capabilities of previous versions and its redesign secures its position as an indispensable plug-in for the serious digital imager. Sure, the new version is more expensive ($199 vs. $99), but it also does a lot more. By individually analyzing each digital image, Intellihance Pro determines the optimal setting for enhancing and color correcting it. The plug-in consolidates all of your imaging options into a single, large dialog box that includes preset enhancement settings for images produced by a scanner, Photo CD, or digital camera. New image tweaking tools include a Clipped Pixel Display that shows which pixels are too bright, too dark, or too saturated. A new Dust & Scratch Removal controls finds dust specks and scratches and removes them without blurring or destroying detail, which is too often the case with similar tools. Digital imagers can create and save their own presets which can apply up to 50 image adjustment steps at one time for specific projects. The plug-in's PowerVariations feature uses a multi-pane window in which a single image can be split or repeated across user-defined previews. With a maximum of five rows and columns, up to 25 variations can be simultaneously previewed. Image adjustments can be made and previewed and a test print can be printed on any output device. The plug-in also contains paper and ink settings that will automatically adjust images for output to specific devices. If you want to download a demo version, visit Extensis' web site at: www.extensis.com.

Manipulating Your Images. Because you can always count on them for something fresh, Andromeda Software is one of my favorite plug-in companies. Their newest Photoshop plug-in is VariFocus and is currently bundled with their Shadow Filter. VariFocus is built around the concept that the human eye views parts of an image in the following order: sharpness, brightness, and warmth. VariFocus lets you defocus--then focus--selected parts of an image, much as you would use a lens aperture to control a photograph's depth of field. By adding dimensionality to a two-dimensional image, the plug-in lets you direct attention to where you want. Instead of the Gaussian blur technique used by many image-editing programs, VariFocus uses a palette of contoured masks that let you shift, distort, and scale to make that fine line between sharpness and blur a decision you can make after the image was created. Andromeda's Shadow Filter uses 3D technology allowing your artwork to cast realistic shadows. It does this by imposing a shadow of your image which is placed on a plane which you can move all around that image. The filter has four "lights" which can be individually selected and oriented in the space around the image to produce multiple shadows. The plug-in has a virtual camera that lets you pan through 3D space in front of and around the original image. Shadow Filter has six options including drop shadows, transparent shadows, and perspective shadows. VariFocus and Shadow Filters are compatible with Windows 95/NT or PowerPC Mac OS computers and demo versions can be downloaded from Andromeda's web site at: www.andromeda.com.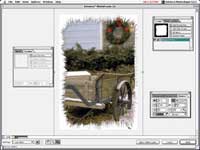 Extensis PhotoFrame 2.0 lets you add many different kinds of edges to your photographs and manipulate them too, such as these holiday wreath-like edges to an image photographed in Georgetown, Colorado.
Extensis' PhotoFrame 2.0, which may be the first Internet-aware plug-in, offers photographers over 1000 image frame effects to choose from, in addition to those available for downloading from a companion web site. This site, in partnership with Dynamic Graphics, can be reached from within PhotoFrame and provides access to new frames and borders. You have the option of subscribing to a monthly service offering new content as well as the ability to download additional files from a selection of professionally designed frames. Users can build their own custom frames and edges from scratch or by adapting existing frames, providing for lots of versatility and creativity. PhotoFrame 2.0 lets you enhance image edges by adding a variety of special effects including drop shadows, glows, bevels, textures, blur, noise, opacity, and blends. The new version includes real-time preview and the new interface adds dockable palettes to maximize usable screen area. As in Extensis Intellihance Pro 4.0, any combination of settings can be saved, assigned a preset name, and accessed from Photoshop's menu bar without even launching the plug-in. Mac OS and Windows versions of PhotoFrame 2.0 cost $199.95 and are compatible with all versions of Photoshop starting with 4.0 and up to 5.5. You can download a demo from www.extensis.com.

Kai's Power Tool 5.0 includes 10 plug-ins that MetaCreations calls "plug-in applications." Instead of a small dialog box, KPT takes over your entire screen much as an application would. If you're looking for updated tools from older versions, you'll only find an updated Fractal Explorer, now called FraxPlorer, along with a new spin on Blur tools; the rest are new. The weird little Weegie Board viewer/effects interface from KPT 3.0 is gone. Some may miss it, but I expect many won't notice it's gone. Here's a quick tour of Kai's Power Tool 5.0: Blurrrr is a suite of nine filters including zoom, spin, and other blurs with real-time previews and 64-bit color. FiberOptix creates everything from "furry" text to creeping vines, with every strand being a true 3D object. Frax4D is designed to create "four-dimensional" fractal sculptures and wraps them around texture maps, including gold or silver. FraxFlame produces fractals (mathematically produced graphics) that look like natural phenomena, such as flames. FraxPlorer features real-time flythrough and has an "infinite" zoom tool that has to be seen to be believed. Noize, my new favorite, includes a collection of noise effects that can be used for textures or painting. Orb-It will turn an image into thousands of spheres with variations in size, density, and lighting. It will produce fields of bubbles, raindrops, and lenses along with text effects and distortions. RadWarp warps the edge of an image to correct or produce barrel distortion and you can also use it to create type effects. ShapeShifter creates shapes and objects with refractive glass edges and 3D light sources on beveled, metallic sources. To make composting easier, the finished elements include masks. Smoothie is a plug-in that produces smooth edges on black masks.

Outputing That Image. Genuine Fractals Print Pro encodes CMYK, RGB, CIE-Lab, multi-channel, and gray scale images as files that can be used to generate any kind of output while remaining small enough to edit, store, and upload. The images have a feature called "resolution on demand" which means you don't have to store multiple copies of the same file--at different resolutions--for different purposes. You can encode an image once at medium resolution, then output it at any size or resolution you choose. Genuine Fractals Print Pro is a heavy-duty File Format plug-in that lets you save images in two ways: The Lossless option produces a file that uses an (approximate) 2:1 compression and produces the highest quality enlargements. Near Lossless encoding produces a file with 5:1 compression on average but still lets you output an image beyond 100 percent at high quality. Maybe that's why Epson bundles a LE version of Genuine Fractals with their Stylus Photo 1200 printer. An original 15-20MB file can be encoded with the Lossless option and can be printed in sizes up to the 1200's full printable size of 12.71x44". For more information on Genuine Fractals Print Pro, visit the company's web site at: www.altimira-group.com.

Vivid Details' Test Strip 2.0 is another useful output plug-in. If you've had trouble matching what you see on the monitor to what comes off your printer, you need Test Strip. It's the first color management software I've found that functions the way that photographers are used to working--by producing a test strip showing varying degrees of density and color. You can do this on screen, but printing a test proof lets you make the comparisons of how the printer has interpreted your on-screen image. Test Strip lets you work with color or density changes in 1 percent increments--on RGB or CMYK images--and has "before" and "after" screens that let you compare any changes to the original. Vivid Details also bundles 73 photographic and 115 special effects filters. For more information call (805) 646-0217 or visit Vivid Details' web site at: www.vividdetails.com.
Manufacturers/Distributors
Adobe Systems Inc.
345 Park Ave.
San Jose, CA 95110
(408) 536-6000
fax: (408) 537-6000
www.adobe.com
Andromeda Software, Inc.
699 Hampshire Rd., Ste. 109
Thousand Oaks, CA 91361
(800) 547-0055
(805) 379-4109
fax: (805) 379-5253
Extensis Corp.
1800 SW First Ave., Ste. 500
Portland, OR 97201
(800) 796-9798
(503) 274-2020
fax: (503) 274-0530
LaserSoft Int., Inc.
6529 Gulfside Rd.
Longboat Key, FL 34228
(941) 383-7496
fax: (941) 387-7574

MetaCreations Corp.
6303 Carpinteria Ave.
Carpinteria, CA 93013
(800) 846-0111
(805) 566-6200
fax: (805) 566-6385
www.metacreations.com
Vivid Details, Inc.
8228 Sulphur Mountain Rd.
Ojai, CA 93023
(805) 646-0217
fax: (805) 646-0021

FEATURED VIDEO