Winifred Meiser
Through Children's Eyes
Photos © 2003, Winifred Meiser, All Rights Reserved
To encourage a child to open their eyes and look at the world, to move him or her to create and use their imagination is what inspired Winifred Meiser when she founded the nonprofit educational organization "Through Children's Eyes" in 1982.
A Scottish-born gift to our country, Meiser was a photojournalist, a Navy wife, and a mother. After traveling the globe for over 40 years, the family has now settled in Vista, California. One day, shortly after she returned to the US, an elementary school teacher asked her to participate in the educational program "GATE," designed for Gifted And Talented Education in the schools. It was to be a show-and-tell presentation in Los Angeles.
Meiser realized that if she were to make such a presentation it would be more useful to the children in the form of a hands-on kind of thing so she went to a few of the camera manufacturers--Nikon, Fuji, and Vivitar--and asked for cameras and film. Nikon donated the first camera and Fuji became one of the organization's founding sponsors and has donated film on request for years.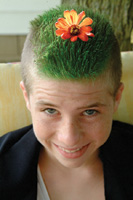 From Winifred Meiser's series "Faces in Unexpected Places."
Beginning with an SLR and then employing one-use cameras when the need increased for equipment, Meiser began to teach her school groups about the innards of a camera. "It's not the way one might teach photography as a rule," she says, "but rather it was using photography as an educational tool. No high-tech stuff--just learning how to be in control of a camera."
Show And Tell
Opening the back of a camera, Meiser showed the children the inner workings such as the shutter, how to turn the dial and watch the shutter close quickly or slowly so they could see how the eye of the camera works. She did the same with the aperture. They could see as the dial turned how the aperture got bigger. Then they learned the correlation of the aperture and the shutter, seeing the transition from the smallest to the biggest opening. Next Meiser explained the ISO and the difference between a 100 and a 400 ISO and how it is like a light bulb and the higher the ISO, the more light you've got. Moving their hands close to their face, then farther and farther away, demonstrated the idea of focus.
Birch Aquarium, La Jolla, California. Taken by Grace Vasquez, 10 years old.
The way Meiser teaches goes much deeper than the rudimentary tools, however. The children are getting a lesson in visual comprehension, interpreting the world around them, and above all, they are learning communication skills.
Posing The Big Folks
Recently Meiser had a barbeque party at her home. Her photographers were as young as 5 years old. Using a Sony camera, they had the opportunity to walk over and ask people to pose, to stand together so they would be close enough for the photographer to take the picture. For a shy kid, that's a pretty intimidating request. It was like telling a teacher or school principal to hold still in a certain spot. It wielded a position of being in charge, of power--the power of being a photographer.

"Building self-esteem and tasting success is a really tangible use of learning and communicating with others," Meiser says, "and we are doing all of this through photography. Even if someone says, `No, go away, I don't want you to take my picture,' I teach them it is not about them and they must not feel rejected. It is simply that that person doesn't want to be photographed, and that's okay."
Birch Aquarium, La Jolla, California. Taken by Eric Vasquez, 8 years old.
Making Pictures
When the big day comes to put actual film into the camera, students begin by photographing one another. Meiser has them start by working as a team, taking pictures within their group. They focus as they had learned by moving their hand incrementally away from their face. Sometimes they would talk about composition. A child may take a picture from too far away so Meiser covers the subject and asks them what else they were thinking when they were taking the picture.

This is just the icebreaker.

Now, as full-fledged photographers, Meiser or participating photographer-teachers from other communities take the children out on a "walkabout" through their neighborhood. They photograph people at work, at play, what their community looks like, and important things about where they live, from treasured historical sites to what Meiser calls "the negative aspects of graffiti." Their sense of individual expression begins to develop.
O Flower Power. Taken by Jessica Antonio, 11 years old.
Creating Awareness
Among Meiser's passions are creating public awareness of environmental and tobacco issues and her company "TartanStar" produces educational material for which she has earned a myriad of awards. Meiser now asks her students to address these issues with their cameras. One day they went to a farm for their inspiration, bringing back such photographic gems as a picture of a sheep, captioned, "Tobacco is Baaad for You!"

The children's minds are working in different channels now, focusing on new and diverse issues with the help of their cameras. Photographing has stimulated their interest in their surroundings.

Meiser speaks about her most emotional experience. After leaving some material in a local library, the librarian approached her to ask how a handicapped boy might enter her program. Meiser arranged to teach the boy on her own time since he had extremely limited capacity to move about. His life expectancy was short and he was unable to go to school. Once he became a photographer his mother would take him out in his wheelchair and he would shoot scenery.


Vista Wheels. Taken by Jessica Antonio, 11 years old.
"The images were exquisite," Meiser said. "The camera gave him the form to visualize and express. It became his lifeline and his communication. People asked him to take pictures and the hospital found out about it and made a special day for him. His enlarged prints were on exhibition in the hospital reception area and he received local television coverage. The camera helped him to give back pleasures so many people had given to him. Through his photography he had become a participant in life.

"He left a legacy and after he died his sister wrote a story about him for the local paper. It was there I learned that he had been blind in one eye.

"There are thousands of stories out there and when a young child puts a camera around his neck and we take them someplace to photograph, they are like our peers and they feel valued even if some may have failures in other areas of their life.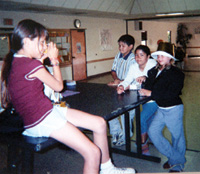 Eleven-year-old Jessica Antonio takes the high ground for a shoot of friends learning a magic trick. Taken by Winifred Meiser.
Community Programs
"I have done programs with children who are incarcerated and these are youngsters who can become either the leaders or the troublemakers of the future. Through photography they become part of the community and develop an awareness of themselves, many of them sensing their anger and possessiveness, their hurt. No two saw images alike. Then a friend who was an artist used her expertise to teach them to use their photographs to develop abstract paintings."

What Meiser is introducing can never be taken away from the children who have been fortunate enough to experience her teaching. Their sense of self becomes evident. Even if they took only one good picture in the whole program, the photography did its job, leaving them with a moment to shine, a memento to show that they have done something of value.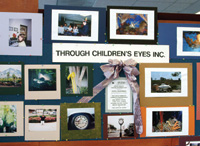 Through Children's Eyes Exhibit at the "Celebration of Arts & Entertainment," hosted by the Vista Village Business Association, at the opening of the Krikorian Theatre, Vista Village Center, Vista, California. Taken by Winifred Meiser.
Every time someone else brings the program to their community at a school or in an after-school program or to a YMCA it is heartwarming for Meiser. The communities with whom she shares her time and efforts are responding and participating gratefully in these not-for-profit programs, either as sponsors or teachers.
Participating communities have exhibitions of the children's work and those works selected for exhibit are enlarged into 8x10 prints. One of the criteria of the program is that the children's work is never competitive in any way. The photographs from each of the children go on exhibition. The organization has now crossed international boundaries and includes among other sites, New York City, Washington state, California, Washington DC, Indonesia, and Russia.

"Now," Meiser says, "I want my program `Seeing America Through Children's Eyes' to include at least one body of work from each state that will become a traveling exhibition."


Footbridge from the park to the library, Thousand Oaks, California. Taken by Cameron G. Lang, 9 years old, Baynan Elementary School, Newbury Park, California.
Hopefully someone who would like to become a sponsor or participate as a teacher will read this story and bring one of these programs to their community by contacting Meiser at her e-mail address: Tartanstar@earthlink.net.

Photography is Meiser's way to unite the children of the world--with pride and sharing, with a purity of ideas, imagination and creative thinking--to see the world as a photographer does.

Visit the Through Children's Eyes website at: www.throughchildrenseyes.org.
Winifred Meiser has worked as a free-lance photojournalist for military publications including "Stars and Stripes" and "Off Duty." She has exhibited her photography widely and was a featured artist in the traveling expo Women in Photography International.

LATEST VIDEO

SPONSORED VIDEO