What's New In Memory Cards?; Faster, Higher Capacity & More
There are three major things happening in the memory card world today. The first is wide-scale support for UDMA, or Ultra Direct Memory Access, which can provide much faster transfer rates with supported hardware such as the latest high burst rate D-SLRs. The second is a trend toward listing the capacities of SDHC cards in minutes rather than gigabytes—a clear nod to the growing popularity of digital video. The third, and potentially most important, is the announcement of a new SDXC—SD extended capacity—format. These cards will pick up where the current SDHC format ends—32GB, with capacities planned for up to 2TB in the future. Of course, these massive amounts of data won't be very useful at current speeds, so the SDXC cards will support read/write speeds of up to 300MB per second. Panasonic should be the first company out the door with these new cards. When camera support will be available is unknown, but since the form factor is the same, it's
possible a firmware upgrade will be all that is needed.
Lexar 2GB Shoot-n-Sync SD Card
Lexar joins the Eye-Fi bandwagon with a 2GB Shoot-n-Sync SD card with built-in Wi-Fi that uses the Eye-Fi system to wirelessly transfer images from camera to web or computer. Once you're within range of any Wi-Fi network you have access to, the card will upload the images according to the settings specified in the Eye-Fi Manager software. The price of the 2GB Shoot-n-Sync card is about $100.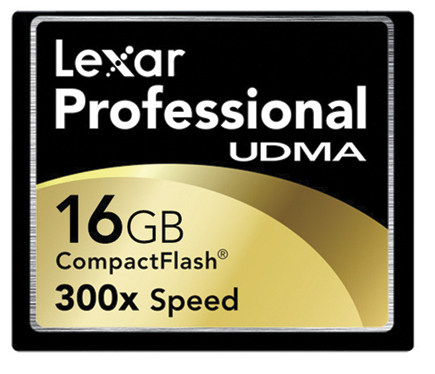 Lexar Professional UDMA 300x 16GB CF Card
For CompactFlash (CF) users, the new Lexar Professional UDMA 300x 16GB CF card has write speeds of 45MB per second and a price of about $300. Other cards in the Professional line have seen a speed increase from 133x to 233x in the 2GB, 4GB, and 8GB CF cards with prices ranging from about $45-$80. The SDHC Professional cards remain at 133x in 4GB ($50) and 8GB ($90) sizes.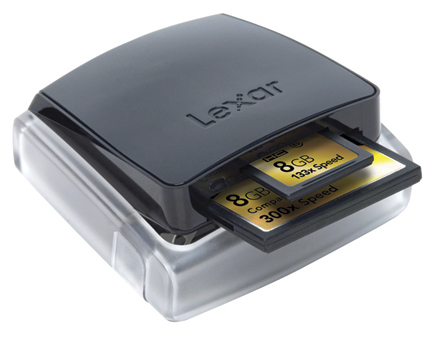 Lexar Professional UDMA Dual-Slot USB Reader
If you don't need quite that much performance, the Lexar Platinum II line is available in sizes from 2GB up to 16GB in CF. With 80x performance, this value line is priced from $20-$100. On the SD side, you'll see 60x speeds in 1GB and 2GB sizes, or 4GB to 16GB in SDHC format.
Lexar also offers two card readers that take advantage of the UDMA speeds in their Professional line. The UDMA FireWire 800 Reader ($75) is CF only and up to four readers can be stacked for simultaneous copying. The UDMA Dual-Slot USB Reader ($45) with both CF and SDHC slots is a good choice for travel with a pop-up design that protects the slots when not in use.
The Delkin CompactFlash PRO UDMA cards have a speed rating of 305x with transfer rates of 45MB per second in sizes from 1GB to 16GB. On the SDHC side, the Delkin SDHC PRO cards are 150x with capacities of up to 32GB. CF cards start at $35, SDHC at $40.
Delkin also offers the card readers needed to take advantage of UDMA speeds. The CompactFlash FireWire 400/800 Reader is a $70 single-slot device while the ImageRouter is a USB 2.0 UDMA-enabled reader with four CF slots for simultaneous reading from multiple cards with a list price of $130. You can daisy-chain multiple units together if you need more slots.

Hoodman also has UDMA cards in 2GB to 16GB sizes with a 300x speed. What makes their cards unique is the ultrahigh cycles (filling and then formatting the card) they claim for their cards. While many manufacturers list a 10,000 cycle life, Hoodman says their RAW CompactFlash cards are good for 500,000 cycles. The RAW CompactFlash cards list from $50-$300.

Hoodman also has FireWire 800/400 and USB 2.0 UDMA card readers that support the full transfer rate of 300x.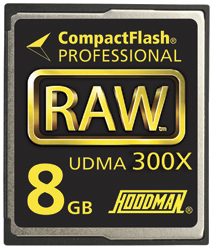 Kingston Technology doesn't get the award for the fastest speed listing with their Ultimate 266x CF cards, although the transfer rate of 45MB per second matches up with the others, but they do win in the price category with a 16GB card listing for $216. The Ultimate cards also include MediaRECOVER software to assist with recovering lost images. For a step down in speed, you can go with the Elite Pro CompactFlash 133x. With a 32GB capacity, I've seen this card for under $100.
Kingston Elite Pro CF 133x Card
The ATP ProMax II CF line of cards has the new standard 300x UDMA speed in sizes up to 16GB while the ProMax II SDHC line is rated at 150x in capacities of up to 8GB. Prices for the 16GB CF card and the new SDHC line were not available yet. The 8GB CF card sells for $170.

FEATURED VIDEO