We Tried It
ZTS Multi-Battery Tester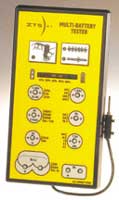 This helpful accessory automatically imparts a two-second power load to more than 25 different 1.44 to 9v sizes and/or types of lithium, alkaline, silver, zinc air, or conventional batteries. Then a single LED in the upper center lights to display the percentage of power left in the cell.
Today's highly-electronic cameras and flash units all require good, reliable batteries to keep their components functioning properly. Most modern cameras have an LCD readout that performs a battery check when first switched on, then provides a warning when the power weakens. What if your camera does not offer this feature? Or, what do you do to check the power remaining in the batteries in your electronic flash unit? If you store batteries when not in use, then want to use them again, how do you check their strength? This is when a separate battery test device is a handy accessory.

At the 1998 photokina trade show we saw a new model tester and obtained a sample to try. This was of particular interest to me since I own about a dozen different hot shoe, handle mount and slave flash units requiring varying sizes and quantities of batteries. Admittedly only a few of these units are used regularly, but when one of the older manual operating units must be used I have to check the condition of the batteries before inserting them into the unit. Naturally, I take the batteries out of any photographic device before storing it for even a few months, so there is no chance for a battery to leak and cause corrosion damage.

I already have two older battery test units, including an earlier, similar-sized model from this manufacturer. But the new ZTS Multi-Battery Tester has extra capabilities not found in the other units. This one automatically imparts a two-second power load on the battery prior to giving a readout. Then a single LED light displays the percentage of power left in the cell. The percentage is even color coded to give you a highly visible indication of the power with red showing for 10 to 20 percent, yellow for 40 to 60 percent, and green for 80 to 100 percent. You cannot easily mistake any of the readings with these universally recognized color-coded LED lights.

Another plus feature is this unit accepts more than 25 different 1.44 to 9v sizes and/or types of lithium, alkaline, silver, zinc air, or conventional batteries. There are six different single terminal contacts where you touch the positive (+) terminal of the battery, then the negative (-) terminal with a probe tip on a black flexible cord to complete the circuit. For batteries that have two terminals on one end (such as 6v lithium 2CR5, CR223, and CR or P2) or 9v batteries there are two terminal pairs which are well marked for the (+) and (-) contact positions.

For good test results, be sure the battery terminals are clean prior to performing a test, and make sure there is a firm contact between the battery and both terminals. If a battery accidentally slips off the small terminal contact while the LEDs blink, simply start a new test cycle.

Used batteries may "recover" when rested. Therefore it is recommended that two or three consecutive tests be made allowing a few seconds between each one to let a partially used battery recover. In this same vein, some new batteries fresh out of the package may test less than full capacity since they need to "wake-up" before being put to use. In this situation, it is recommended that you perform several tests, or warming the battery up in your hand for several seconds to overcome this dormant state.

The portable ZTS Multi-Battery Tester is about the same size as a standard VHS videocassette and requires four AA-size batteries to power it. The manufacturer says batteries will not be harmed by repeated testing or by holding the contact to the terminals after the test cycle. The only caution they recommend was, when testing zinc air batteries perform three consecutive tests for the best results due to the different discharge characteristics of this particular type of battery.

If your dealer does not have this nifty device in stock you can obtain information on where to purchase one by contacting ZTS, Inc., 6749 Bramble Ave., Cincinnati, OH 45227; (888) 796-2777; fax: (513) 272-1383; or visit their web site at: www.ztsinc.com where all the U.S.A. distributors are listed. The portable ZTS Multi-Battery Tester sells for $69. At photokina we also saw the prototype of a new Tester PRO device with a LCD readout for checking camera shutter speeds (from 2 to 1/2000 sec) and reflective flash exposure. This should be another handy accessory when it is introduced in 1999.

FEATURED VIDEO