WD Intros My Passport Wireless External Hard Drive For Backing Up Photos on the Go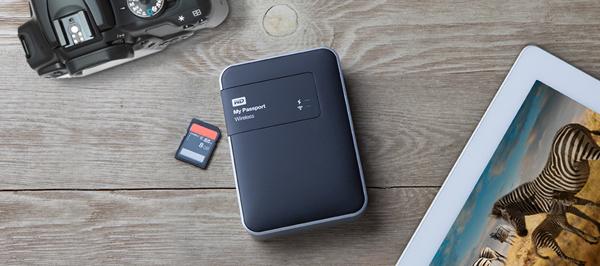 WD has just introduced the new My Passport Wireless, a Wi-Fi-connected external hard drive that lets photographers save and access their photos on the go via their laptops, tablets, or smartphones without needing to bring along a tangle of cords. If you want to transfer larger amounts of image data, My Passport Wireless also has a high speed USB 3.0 connection.
WD's My Passport Wireless drive broadcasts its own wireless network that lets up to eight devices connect to it simultaneously to access content stored on the drive. Available in 500GB, 1TB or 2TB models, photographers can store videos, photos, music, and other digital files to the device.
Photographers will like the My Passport Wireless' built-in SD card slot, which will let you copy content from your SD card directly to the My Passport Wireless drive. And thanks to its integrated FTP, the drive connects to compatible wireless cameras so photographers can automatically transfer photos from their cameras to the drive as they shoot them.
My Passport Wireless' built-in rechargeable battery will give you up to six hours of continuous streaming and up to 20 hours of standby power. WD's My Cloud mobile app for iOS or Android mobile devices connects to a My Passport Wireless drive for easy setup. Once it's set up, the app makes it fairly easy to navigate, share and play back the drive's content.
My Passport Wireless drive goes on sale today at select U.S. retailers and online at the wdstore.com. Price is $129.99 for the 500GB version, $179.99 USD for 1TB and $219.99 for 2 TB. You can download the WD My Cloud mobile app for free from the App Store and Google Play.
More info at www.wd.com.

FEATURED VIDEO