A Visual Diary
Gerald Parkers Brockton Project
(Above and below) In these two photographs I tried to show what little pulse remained downtown. The bus system was the nerve center that spread throughout the city and I recalled looking at Walker Evans' photographs of New York subway passengers and how their many expressions caught and motivated me.
Photos © 2002, Gerald Parker, All Rights Reserved
"I guess it's never easy to know why one does anything because the reasons that motivate us in the first place are never the same in the end. I was young and full of ambition, looking to make my mark in the world. I also knew the medium of photography was undeniably the way to capture the truth about humanity. I had a desperate need to try and understand myself, to find a purpose on this planet. After having read James Joyce's `Portrait of the Artist as a Young Man' it occurred to me that if I were to see the world clearly and understand my destiny I must start by looking where it all began, back to the streets of my youth."
--Gerald Parker
The demise of a small town ripped him apart. Brockton, Massachusetts, once a thriving industrial town, was where Gerald Parker grew up. Between 1977 and 1980 Parker returned and relentlessly recorded the pain of run-down neighborhoods, boarded up stores, movie houses, and cheap bargain entrepreneurs. Walking the streets he knew so well, he documented the lonely existence of barbers as they sat in their empty shops reading the daily paper or stepping outside to feed a crust of bread to the pigeons.

The pictures are disturbing, the scattered imagery taking in a culture where people wait expressionless at a bus stop and a young man, stoned and dangling a cigarette, lolls against a wall under the weathered sign of an electrologist. Parker unlocks a door that is complicated by the sheer emptiness of beauty. Yet, as he revisits his childhood, his own recollections are haunting as he invites us to share his personal, artistic, and philosophical stand.


The Blinker Cafe was one of the many bars that occupied the Polish section of Brockton. It stood next to the train tracks that defined the dividing line to what we called the village. I remember after this exposure of the old boxer out front was made I turned and saw my mother passing by. I don't think she really understood my mission at that time. She died shortly after--like the whole damned city.
"If all this change had taken place in such a short time it stood to reason that it was happening in other places," he thought. "If I could document the true essence of Brockton's decline it would be a valuable tool for future generations. In retrospect, it was my idealistic response to a situation in need and consequently my work barely raised an eyebrow.

"My journey was about the light of day, the smells and sounds, the moment when the eyes and hand click the shutter. It was about the loneliness and endless days of commitment and enduring financial turmoil. The deeper I became involved, the deeper my obsession took control of me. I had a way to speak for the beleaguered people who occupied the downtown area where my roots were planted."
The Discipline Of Seeing
Every day at sunrise Parker would head downtown, sometimes just looking. He was fascinated with many of the facades on the main street and would study the light as it hit the buildings and think about how he could make a good photograph there. With the compositional structure in place he could watch for things to happen from life and was quickly able to grab his images that way. Often he would make a statement by simply using the words on a building.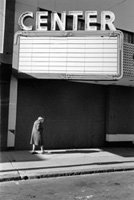 Every Saturday morning our gang of kids, 12 years of age and under, would scamper through the downtown streets and alleyways of Brockton making our way to the five-and-dime, then to the Center Theatre to see a double feature that cost 25 cents. There were other theaters downtown but only the Center Theatre was religious about showing horror films.
"I approached my photographs like a fly on the wall and rarely asked anyone if I could photograph them. I would come up on a person and be focused with the exposure ready so all I had to do was bring my eye to the camera and shoot."

The pictures were taken with a veteran Leica M3. Parker was living in abject poverty that hindered his productivity. He didn't always have the film, chemicals, or paper to be extravagant and would shoot for months without being able to make prints. He developed his film in the kitchen sink and then put the negatives away. Feeling strongly about the integrity of photography, Parker says, "I never tried to photograph commercially because I feared I would destroy myself. Only recently I have begun to sell my work."

He refers with reverence to Lewis Hine, Walker Evans, and Diane Arbus as his mentors and speaks modestly about his own five-year scholarship at the Boston School of the Museum of Fine Arts, the grant in 1980 from the National Endowment for the Arts, and his recent commitment to be featured in this year's journal of the Mass Historical Society. After his one-man show at the Brockton Art Museum in 1980, but with little response from galleries since photography was yet to become a serious art form, Parker says he "just ran out of gas." For the past 22 years he has worked as a stonemason and has given away many of his photographs to those who responded to them, including several major museums.


Peter's Lunch was my frequent hangout. The owner knew my family, especially my brother Roy. Frank, the proprietor, won money on many occasions betting on the horses my brother rode.
Fortunately Parker's work is now out of wraps and is being taken seriously. "Hopefully," he says, "my images, put away these many years, will be like a fine wine and retain a timelessness."
The Artist's Statement
"I could walk days aimlessly, then all at once life would unfold. As I walked the back streets my fondness for architecture became apparent and I photographed a number of houses. However, when the opportunity presented itself I would incorporate people, suggestions of life. Many times I could sense the mood of the architecture in the lonely streets where rows of three-deckers stood. Even on Main Street there were moments when a whole block of buildings could be seen standing timeless. I photographed everything my soul could hear.

"The artist who touched me most deeply was John Coltrane. For three years I carried his music in my heart. There was a direct relationship between the images I perceived and the sounds he created. His cries for us to help and understand can be heard in my images. The lonely streets of Brockton echoed like his music. His screechy, screaming, off-key notes cut like a razor through the downtown atmosphere, opening up this dead carcass of a city to infestations of the deprived souls who inhabit this godforsaken environment, calling it home."
--Gerald Parker